View From The Drumstool - Mike Monaghan - March 2017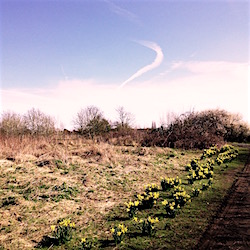 The path to The Perch - at least the daffs are out...
Greetings all from Oxford, UK, where it looks like spring has finally sprung!
So enticing was the sun today that I decided I would head out across the beautiful Port Meadow with the aim of putting pen to paper over a pint at The Perch on the other side.
Well what started out as a pleasant stroll along paved paths first fragmented into gravel and then disintegrated into dirt. As the trail took me into the woods, the damp shade turned everything to mud and before I knew it I was up to my ankles in filth and sludge.
I guess the suede brogues weren't the best choice, but in life, as in the road to The Perch, you never know what's around the corner … it could be sunny green pastures or it could be more mud.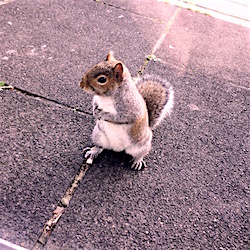 I'll miss this chap who joined me for coffee breaks
Case in point: last months Astra disaster (disAstra?). Thanks to the many who offered kind words and condolences on the loss of my faithful faded-red four-wheeler as she departed for a better place. I'm glad to report that I'm back on the road and with unintentional loyalty to the Vauxhall brand, have replaced her with a Vectra estate for a bargain £850 (I guess it'll be a Zafira next?).
A true beast in size, I can finally start touring that second kick drum I've always dreamed of!
I'm fortunate to have a fair amount in the diary music-wise at the moment and as such relinquished my latest temp-job last Friday. After a six-week shift in the office, it was time to bid my cherished colleagues goodbye and fill my days with drums once again.
For many years now I've relied upon temporary jobs for a source of income when the gigs 'n' tours 'n' recording dates aren't there. I'd suggest it to anyone who needs a convenient and fairly reliable source of work between engagements. I've a couple of agencies who take care of me and though the work may not be the most glamorous, they tend to be flexible and get me the work when I need it.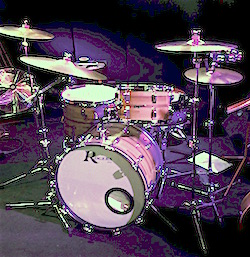 Rogers at the ready, toms cranked
Plus a few weeks in the office is also a really great motivator to get practicing and I was glad to put down the mouse and pick up the sticks again!
On my daily commutes I was oft accompanied by Led Zeppelin IV, an album that needs no introduction to the drum community. I'm really into the roomy drum sound (I'm sure I'm not the only one), in particular the toms. Check out When The Levee Breaks https://youtu.be/WbrjRKB586s?t=5m10s circa 5:10 as an example of some cool sounding tones around the kit.
Off I disappeared down a rabbit hole of research and ended up at this http://www.tbrucewittet.com/2010/12/the-secret-to-getting-john-bonhams-drumsound-distance-makes-depth-technique-is-the-rest/ interesting article on the subject by ''T Bruce Wittet''.
He raises some thought-provoking points about tom tunings and the physics behind how the sound travels. In short, low frequencies don''t travel well. As T Bruce explains (via a good anecdote courtesy of Dave Mattacks) "Perceived pitch also lowers the further you move away from the signal source" meaning that although a tom tuned higher may sound a bit ''boingy'' up close, what you hear as you get farther away can be quite different, indeed quite full and rounded sounding.
I think it''s interesting - and valuable - to understand how drums sound different (and in what way) depending on where you are relative to them (I''m still figuring out bass traps...).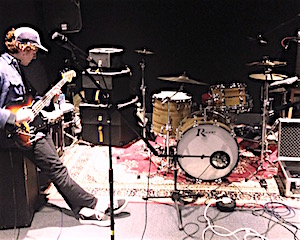 Don't get me started on bass tones...
For situations where the toms are close mic'd (for example in a decent recording studio or at larger gig) I figure it''s not such a problem but where there isn't such a facility (smaller pub gigs or a rehearsal) the toms can probably benefit from being tuned higher, thus projecting a nicer tone.
And if you''re looking to record more a roomy drum sound (i.e. to be reliant on the room mics in the mix a la John Bonham) then it's worth ensuring during the tracking that the toms are coming through well on those microphones - which will probably be helped by tuning them up a few steps.
But of course these things always come down to taste and it's ultimately all about the situation and the song. 
And no matter how high you tune your toms the Bonham sound is always going to be more to do with his incredible style and technique - not to mention huge drums and amazing band! Though an interesting consideration nonetheless.
On the subject of drum sounds I was excited this week to hear the final mixes of an album I've been recording over the last six months with my friend Willie J Healey.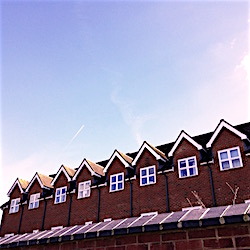 Blue skies and thin houses
The album was mixed at Wilco's studio, 'The Loft' in Chicago, by their engineer and producer Tom Schick. I was intrigued to hear what he had done and was totally delighted by the cool lo-fi vibe, using Wilco's real-life plate reverb on some of the drum tracks to make something unique and fitting. I feel really proud of that album and am excited to share it with the world later this year.
Meanwhile back at the ranch the diary's looking full and I''m optimistic about about March and April with a bunch of gigs dotted about the country (and a couple beyond!).
And although I never did make it to The Perch - it turned out the route I'd chosen looped right back around to where I'd started - the weather's looking good for tomorrow so I guess I'll just get up early and try again.
Until April,
M
Please log in below if you wish to add your comments on this item. If you are commenting for the first time, you will need to register for security reasons.