Vintage View - Nick Hopkin - Ludwig Black Beauty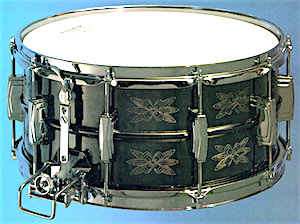 1980 Catalogue Engraved Black Beauty
Okay, so this month I'm going to take a look at the Ludwig Black Beauty snare drum. This is a snare drum that is hailed by many as 'the Holy grail' of drums. The drums of the late 1970's have developed a legendary status and prices are going up.  They are still, however, very much a players drum rather than a collectors piece to have purely for display. Before I get down to the sound and design of the drums and why these vintage Black Beauties are sought after, let's take a look at it's history.
A brief history:
I was glancing through Rob Cook's excellent Ludwig book this week and happened upon a story about the Ludwig Black Beauty snare drum and how it found its name.
On Feb 12th 1924, Paul Whiteman concluded his first performance of Rhapsody in Blue in New York's Aeolian Hall. The composer of the piece, George Gershwin, was at the piano; the percussion section included George Marsh. Marsh was playing his Ludwig & Ludwig Deluxe snare drum which Mr Whiteman described as his 'Black Beauty' because of 'its sleek appearance and brilliant sound'.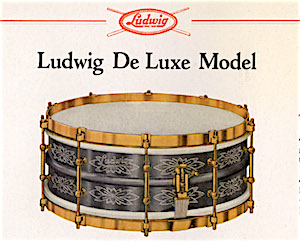 Ludwig Deluxe from the 1927 catalogue
The Ludwig Deluxe snare drum of the 1920's was a scroll engraved, black nickel plated brass snare drum. The drum featured plated hardware and today these drums are highly collectible. The drum was available in shell depths of 4",5" and 6.5" and diameters of 14" and 15". 
Prior to the 1970's, only drums appearing in the 1932–34 Ludwig catalogue are referred to as a 'Black Beauty'. It was very similar to the Deluxe drum but was upgraded to a professional strainer and hardware plating options were of chrome or Classic Gold. 
In 1977 Ludwig revived the Black Beauty. The 1977 Black Beauty was made from a single sheet of brass drawn and spun in a seamless construction. Plated with Black Chrome the shell was plain, with engraving only offered in 1979. From 1970 – 1981 most of the Black Beauties were machine engraved with a 'six leaf, four petal' design. The drum was available in shell depths of 5" and 6.5" and offered with a standard P85 strainer or Super Sensitive mechanism.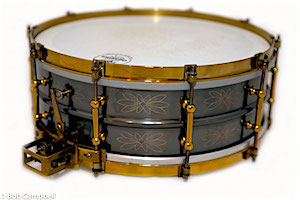 1930s Black Beauty - photo courtesy of Bob Campbell
In 1988 the Black Beauty returned. These drums were identical to the 1977 drums without engraving, but the shells were manufactured from bronze rather than brass. Shell depths of 5" and 6.5" were offered, again with the option of P85 or Super Sensitive snare strainer. 
In 1991 the line was expanded to 3",5" and 6.5" with a 6.5" Super Sensitive. Many of the 6.5" shells were engraved, but on a limited edition basis. Each size was also available with a hammered option. Since 1994 all shells have reverted to brass.
So what about the sound?
Ludwig describe their Black Beauties of today as offering 'a warm, round tone'. The warmth of the brass shell certainly offers a different characteristic to chrome on brass shells offered by Ludwig and other brands. It does have a unique voice, which some don't like. But ask most producers their top five studio snare drums (and probably most studio drummers), and the Black Beauty will be in there. I would imagine they rank in the top five of snare drums hired from rental companies for studio work around the world.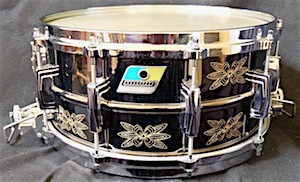 Late 1970s Engraved Black Beauty, photo copyright Olympic drums
You will have heard them on countless records over the years. From heavy metal giants like Metallica right through to pop tracks on BBC Radio 1. I recently read an interview with Ross Garfield (The Drum Doctor) talking about his top five snare drums; he had two Black Beauties in his top five! One of the drums was actually named 'The One' as it was the most requested snare drum in the 80's for studio hires. He said Jeff Porcaro always asked for 'the one' so in the end they labelled it 'The One'!
The 1920's and 1930's drums are playable, but offer a completely different sound. Although the modern Black Beauty owes it's origin to these beautiful drums from yesteryear, they aren't going to give you the sound of Lars Ulrich on Master of Puppets or Chad Smith on Blood Sugar Sex Magic! 
The late 70's drums are highly sought after, carrying a legendary status and despite the high price tag these snares are now demanding, they remain very much a player's drum. The bronze drums from the 80's have a different sound, obviously, but are still good drums. 
Drums from 1994 to the present are brass and so sound similar to the 70's drums to my ears, although personally I much prefer the vintage style Imperial lugs. Thankfully, Ludwig have returned to this design.
This isn't just a drum, it's a Legend.
Nick Hopkin
February 2017
Please log in below if you wish to add your comments on this item. If you are commenting for the first time, you will need to register for security reasons.