View From The Drumstool - Mike Monaghan - January 17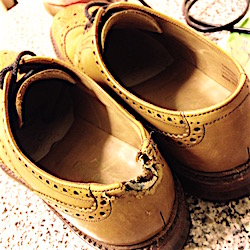 Bad Sneakers
Greetings one and all at the start of what I hope will be another fun-filled, drum-filled year for us all.
Christmas in the Monaghan household went off largely without a hitch - though it pains me to report that while the family tucked into the turkey, the dog lay undetected in the kitchen chomping on the tasty topline of my best brogues!
As usual it's been quieter on the gig front over the Xmas period but I've been busying myself in my home studio with a number of projects.
What was originally just my small practice booth has gradually developed into a modest but capable recording space. Not only is it useful for demoing and tracking my own projects, but over time I've received an increasing number of requests to provide drums - and percussion - for other artists. Mostly my collaborators are London based where prices are premium and they can't afford the studio time and studio space to record a full drum setup. I've never advertised and the work comes through word of mouth, but while it certainly doesn't pay the bills on it's own, it''s an enjoyable sideline that normally amounts to a few days paid work each month - something I hope will continue.
And of course it's so convenient for me to wander downstairs in my pyjamas and lay down a take!
For many years I've used a Tama Starclassic with 8, 10, 12, 14 & 16 toms that I bought a good while back on eBay. For studio recording, it's really useful to have a selection of easily-interchangeable sizes depending on the song, though I very rarely use more than two toms at one time.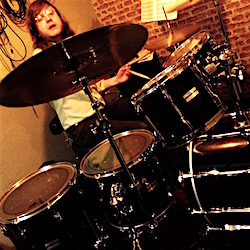 Black Cow
While it's surprising how different the kit can sound just by moving it to different parts of the room (even in a space as small as mine) I've never been wild for the sound of the 20" kick. When the opportunity recently arose to pull off Trade Of The Year, switching it for a glorious late-80's Yamaha 9000 Recording Custom with 10, 12, 13, 14, 15 & 16 toms I couldn't resist! Boy what a selection - and the beautiful 22" kick sounds better straight away!
In particular I love the 15" hanging tom: all the best qualities of a 14" and a 16" and goes great with the 12"! I doubt they stock the heads at my local music shop though...
Elsewhere this month I've been listening to lots of Earl Palmer. I was tipped off to him by Clive Deamer, a brilliant drummer favoured by Portishead, Robert Plant, Roni Size, Hawkwind and currently double-drumming alongside Phil Selway for Radiohead. If you've a couple of hours free have a look at THIS https://youtu.be/CpczagWydH4 fantastic (and quite in-depth) interview with Clive which is packed with wisdom, experience and insight. Circa 1 hour 11 minutes he talks a bit about Earl Palmers style and influence and it's well worth hearing.
Click HERE to listen to a Spotify playlist of some of his finest moments (and there''s plenty of them!).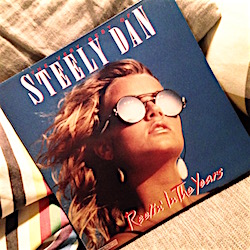 Time Out Of Mind
Last week I found the time for a quick trip to the local Oxfam bookshop: I oft enjoy a rummage through the secondhand music instructional books to see what I can find. There's normally something drum-related of interest and they rarely cost more than a few quid - perfect for sight-reading practise! (And you never know, someone might have donated Grandpa's old copy of Master Studies or Stick Control...). This month I happened upon ''FastTrack Drums 2'' complete with CD for £2.99! It''s great fun to play along with and all the songs have hilarious names like "Jamaican Me Crazy" (reggae), "Chain-link" (grunge) and "Disco Haze" (…).
And as an extra bonus prize they had 'The Very Best of Steely Dan: Reelin' In The Years' on double-disc gatefold vinyl which has barely been out from under the needle since; my January so far being a haze of Marotta, Purdie and Gordon on top of the Earl Palmer… it's been an education.
Finally it was into The Big Smoke with Willie J Healey and the gang for a Vevo 'dscvr' (it seems The Kids don't do vowels any more…) session in trendy Dalston. I hadn't seen this many MacBooks, moustaches and Doc Martens under one roof since Kreuzeberg but the film crew did a very professional job and the session was fun albeit as weird as filming these kinds of sessions can sometimes be.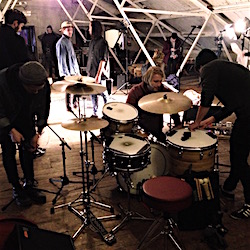 Glamour Profession
I see Mike Dolbear is off to NAMM 2017. It's always interesting to hear what new products and innovations will be appearing and the direction that drum world will be taking this year - I'll be watching with great interest. Personally I always hope to see new and innovative electronics - as well as more odd sized cymbals: 13's, 15's, 17's, 19's, & 21's.
Alas that's it from the Drum Stool today. See you same time next month...!
Happy New Year,
Mike
Twitter: @MikeGPMonaghan
Please log in below if you wish to add your comments on this item. If you are commenting for the first time, you will need to register for security reasons.