Vintage View - Nick Hopkin - Ludwig Acrolite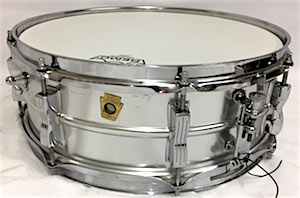 1960s Acrolite
Following from last month's article about Ludwig's Supra-phonic 400 snare drum, I thought we'd look at another classic metal shell Ludwig snare drum – the Acrolite.
The late 1963 Ludwig catalogue introduced their newest snare drum – the Acrolite. They announced "Ludwig's wonder metal, Acrolite, makes possible a new lightweight drum with resonance and tone found only in more expensive models." This drum featured Ludwig's famous one piece seamless shell in a smooth finish, with 8 self-aligning lugs and triple flange hoops. These drums were aimed at the student drummer and marketed as 'a student drum, with professional build quality.'
In the earlier part of 1963, Ludwig had introduced a new snare drum called the 404. This is often referred to as the Acrolite prototype, with an 'orange peel' finish and hoops and hardware made from the same aluminium as the shell. These are now highly collectible, although I'm unsure how many were made. As with all drums, there are rarities and prototypes to be found, some drums with a mixture of parts during transitional periods. Traditionally this drum was only offered in a 14x5" shell, but sometimes you'll see a 6.5" Acrolite up for sale followed by the word 'Rare'!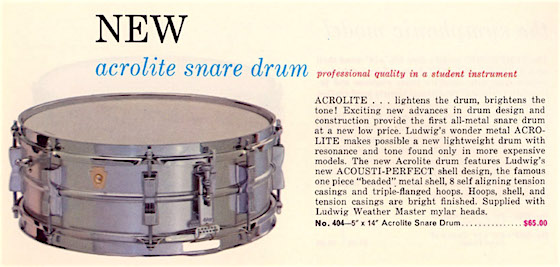 1964 Ludwig Acrolite Advert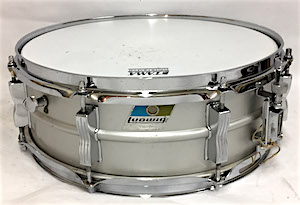 1970s Acrolite
In the first 10 years the only feature to change was the snare throw from a P83 to p85 with the black face, and a change from the baseball bat tone control dampener (P-4067) to round knob (P-4066). In the early 70's badges changed to Blue/Olive pointed. Sometime late 70's they changed the finish to grey anodized coating; in the mid 80's a powder coated shell (with a few variations through the 80's) with rounded corners on the Blue Olive badge. In the 90's they introduced a Black Galaxy finish ('Blackrolite') with a Black/White badge. The coating on these drums seemed to get thicker in each decade, and to my ears the later drums do have a denser sound, but that may just be psychological. 
Despite its student target audience, the drum became popular among pro players looking for a varied tone than other metal snares.  Due to its un-chromed shell and 8 lugs, the Acrolite offered a lighter, quicker, crisper tone than the famous Supra-phonic 400.  "New lightweight metal alloy…. Lightens the drum, Brightens the tone."
While in Chicago at last year's drum show, Bob Henrit did a masterclass and a talk about playing on many hits of the 60's & 70's. When asked what his all time favourite snare drum was, his reply – an Acrolite. He recalled that whenever in the studio and a snare drum wasn't working on a song, he'd quite often end up returning to his trusty Acrolite that always sounded great. I think I've read something similar of Clem Burke, but I'm willing to stand corrected.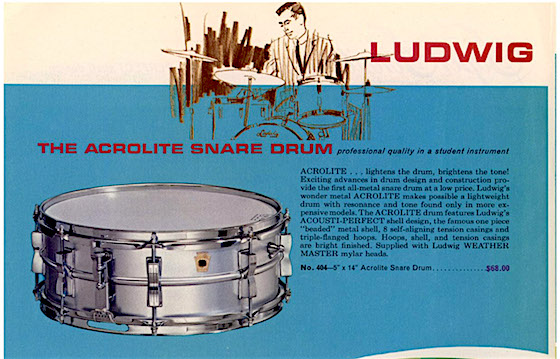 1967 Ludwig Acrolite Advert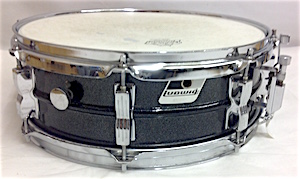 Blackrolite
There used to be a bit of stigma attached to these snares due to their student image, but that's changed in the last few years (especially here in the UK). Most players have one (or two) in their collection as until recently they were fairly inexpensive to pick up. Recent trends though have seen a hike in prices, although they are still a really great drum for the money and you can't go far wrong with one from any decade. The 60's models, especially with the lower serial numbers are becoming quite collectible.
You'll find one kicking around in most studios, often grabbed as a last resort and then used on everything because it sounds great! Many people fall in love with these drums, and will carry one in their snare arsenal to the studio. Some like leaving the original heads and wires on these drums, for that played-in vintage vibe; others like a fresh Remo coated ambassador and a set of Puresound 16 strand custom wires to really liven things up. Tuned up medium-high you get a lovely crisp, bright open sound which is a nice contrast to the Supraphonic 400 or a chrome over brass snare drum. Tuned low with some gels or gaffa tape and you're able to achieve that 80's thud with a bit of a breeze and some buzz in the snare wires. This snare sound is all over loads of records released in 2016.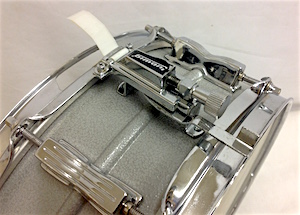 Powder Coated Late 80s
Just a couple of weeks ago I was at Rockfield studio with a newly signed band recording their debut album. The producer hired in a load of vintage gear from me, a kit and five snares. When I collected them two weeks later, they'd used the Acrolite on nine of the songs!  
Another studio owner recently he reminded me that Al Jackson Jr (who played on the majority of recordings for STAX records 1965-72) used an Acrolite. Listen to the classic Soul records from that era and there's a very good chance that's an Acrolite being played with his  Rogers kit. 
These are almost always available, and if not, they are usually pretty easy to find. 
Nick Hopkin
Please log in below if you wish to add your comments on this item. If you are commenting for the first time, you will need to register for security reasons.