View From The Drumstool - Mike Monaghan - December 16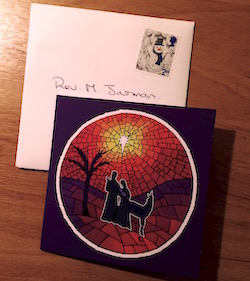 Margaret I have some post for you...
Good evening all and thanks for joining me for the final instalment of VFTDS in 2016.
It's December so soon, but although there are still two weeks until Christmas the house already smells like sprouts and Norman the Postman says his gammy back is playing up a treat. As per tradition the first card of the year came from Sister Ruth addressed to ''Reverend Margaret Jarman'', a nun who hasn't lived at this address for SEVENTEEN YEARS. I doubt she reads drum blogs but if you're out there Sister Ruth please include a return address...
Down to business and I'm glad to report it's been another busy month behind the tubs. First up myself and the Willie J Healey band headed out for a trio of shows in London, Manchester and Glasgow. For the latter two, we were main support to Spanish all-girl indie-rock four-piece Hinds. The girls are friendly and we're grateful to be playing in the kinds of venues where even the opening acts get their own dressing room! It's a luxury we don't take for granted.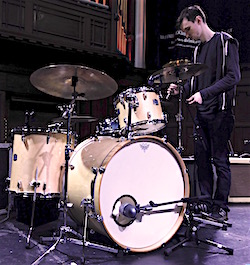 24 inches of succulent thump
I had my trustee Yamaha Stage Custom Birch (12", 16", 24") kit with me for these shows. The mid-range set has a beautiful kick but I'm not so wild for the toms which can be a little unstable on the tuning front.
(Speaking of which does anybody else suffer an addiction to tuning? Sometimes when I''m in a drum shop I wait until the staff have their backs turned, pull a drum key from my pocket - the little one on your jeans; that's what it was designed for - and tweak the lugs on the closest head at hand. It's a compulsion - perhaps I'm destined to be a drum tech?)
I have clear Emperors on the toms at the moment and use a little dampening to keep them dry. Moongel is okay but does anyone else notice they can buzz sometimes? A particular nuisance for recording. My favourite method, which I stole from those 70s Gadd videos is a liberal length of gaffa laid across both head and hoop. I like the woven type, but the best gaffa I''ve ever encountered was in a club in Berlin two years back. I forget the brand though, I didn't have a hand free to write it down.
But the gigs are good and the FOH love the drum set in both venues - if they''re happy out front then so am I.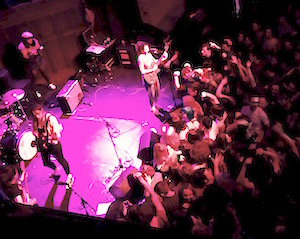 Hinds from above
En route to Glasgow we pull in at Villa Express just off the M55 for a car park meet with 'joy69' - which turns out to be a guy called Phil. Bassist Harry (the last time we heard from whom was stuck in Lucky Coin at Leigh Delamere services) is purchasing a bass guitar. Such random meets to buy gear are always peculiar and I'm sure many out there have amusing tales of the unexpected and strange. (Remind me to tell you about the time I went to a mans house to purchase a snare drum case only for his wife to stroll naked and brazen out of the bathroom. She feigned it was an accident but I wasn't convinced.) 
Phil (thankfully fully-clothed) rolls into the car park in his 99-plate Ford Escort with the windows down, his frosty white mane fluttering in the wind and a chilling likeness to a well-known now-deceased prison-dodging children''s entertainer. But he''s an upright chap happy enough to part ways with the Fender Jazz bass which he "only bought to play the Pink Panther on anyway"...
Elsewhere this month I was kindly invited to play with Nick Cope to celebrate the launch of his latest album 'A Round of Applause For The Dinosaurs' with a couple of gigs one Saturday morning at the famed Holywell Music Room in Oxford. The recording of the album I touched on a couple of months back and it features a combination of kit playing and percussion. It was interesting to recreate live, and for the most part I attempt my finest knock-off Jay Bellerose with stick in one hand and shakers in the other.
The venue being as old as it is - built in 1748 and said to be the first purpose-built music room in Europe no less - meant that it was a relic of times pre-PA and as such the lively acoustics were a challenge. I think it's a good thing to consider the space that you're playing in and not simply rely on the sound engineer to deal with any issues and such a venue made clear the need for control in your playing.
But the gigs went smoothly and the very young crowd, a little unsteady on their infantile legs and outspoken with their opinions, reminded me somewhat of the Saturday-night-Manchester crowd from the week before...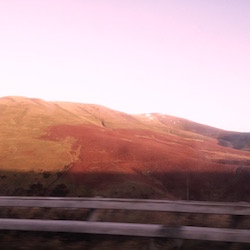 The panorama driving north that some may recognise
In final BIG news this month I'm proud to announce a new arrival to the Monaghan household. At thirty inches and a whopping 110 pounds she was a difficult delivery (Norman the Postie said his back may never recover…) but she's here now and doing well, if a little loud. Yep, I got me a Christmas gong (or possibly a tam-tam, I still haven''t worked out the difference). I think I'll call her Maggie in honour of the Reverend Jarman.
Alas so soon 2016 is very nearly at an end and it only remains for me to bid you all the best for the festive season and beyond.
I recently stumbled upon S2E7 of Mike''s Web Show in which Ian Thomas eloquently credits Mike for his role in UK drum world. Indeed we're very lucky to have such a strong drumming community here in the UK and I've noticed it's something that other instrumentalists don''t have. So thanks to Mike for keeping the wheels turning in 2016 and long may we celebrate one another's successes.
Have a wonderful Christmas. May your tempos be peppy and your gigs plentiful...
See you on the other side,
Mike
Please log in below if you wish to add your comments on this item. If you are commenting for the first time, you will need to register for security reasons.