View From The Drumstool - Mike Monaghan - November 16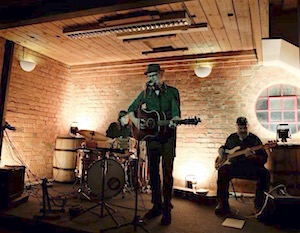 Three Chords And The Truth
Good evening drum fans, and thanks for tuning in.
It's November already - that came around fast (I'm sure I say that every year). As ever this month a number of different projects have been keeping me behind the kit and out of the pub.
Apart from a gig in a brewery of course! 
Paul McClure - the self-proclaimed Rutland Troubadour - is a singing songwriter from Oakham near Leicester. After playing on his recent album 'Songs For Anyone' he asked me if I would play live with him and we've been playing together where possible ever since.
He's tapped into an interesting market and rather than the usual venues on the usual circuit, his gigs seem to happen in quirky indie spots, working mens clubs and more unconventional locations.
And in true McClure fashion that's how we ended up in the second floor function room at The Mill Brewery, Towcester (pronounced Toaster – isn''t English wonderful?) just a few weeks back.
The gig was put on by a (plural for group of elderly men? A crumble? A shake?) crumble of enthusiastic local gents who were keen to have a stage for live music in their area. The gig was great with half the town turning up to show support - and sample the ales of course.
Paul and I even won £2 on the pub quiz machine before the show - a welcome contribution to the fuel expense.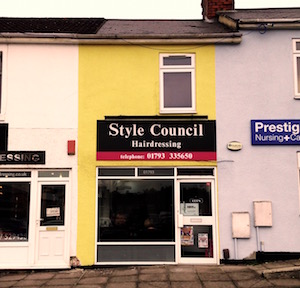 Also spotted in Swindon. Did Steve White have a hand in this?
But it was impressive - and reassuring - to see a small market town pull in such a decent paying crowd to watch music, thanks in no small part it seemed, to the dedication and passion of the crumble. I raise a (handle) glass to you chaps!
On the other hand you have Swindon which struggles despite being much larger. On my wanderings this month I found myself in the town, one which has long held a fascination for me. As a northerner by blood I find it earthy and genuine and a refreshing palette cleanser to the pomp and pretension of Oxford, my adopted hometown.
Attractions include the Museum of The Great Western Railway, 'The Magic Roundabout' (a road junction so epic that it has it's own Wikipedia entry) and the only football club in England or Scotland that does not contain any letters that appear in the word mackerel: Swindon Town (that might come in useful on the pub quiz machine!).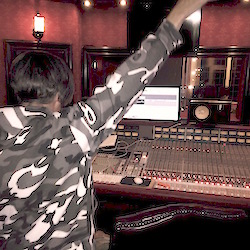 Celebration in the control room as more custard creams arrive
On this day I was in the town on pleasure rather than business, and indeed in my years of gigging and touring I have yet to be booked for a single show there! It's a vibrant bustling spot but unlike sleepy Towcester seems unable to sustain anything much musical - in contrast to Oxford only 30 miles up the road which has turned out a steady stream of world-beating bands for the last thirty years. I'm sure there's a fruitful academic study to be had on the comparison.
Nevertheless it does manage to sustain a clutch of great music shops! And the types where you'll still find hidden gems buried in a bargain bucket too. Next time you're missing a screw for an old Premier stand, the lugs off a Ludwig or that illusive Beverley slotted drum key just hop on the next train to Swindon.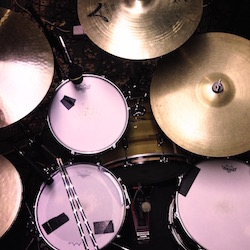 A second bite of the cherry for the sparkly sticks 
Elsewhere this month was recording sessions with the afore mentioned Willie J Healey and the afore-afore-mentioned Darling Boy with whom I reconvened in Stratford for more of the drums-and-cymbals-separately recordings mentioned in blog 1.
Having the first session under my belt made things a lot easier this time and I'd even say I'm warming to the recording technique for certain situations... but I look forward to hearing the final mixes!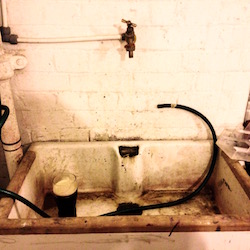 Backstage glamour, The Harrington, London, Nov '16
Meanwhile the temp agency has been on the phone a few times with offers to get me back in the office. Having not done the office temping thing for a few months now means I'm starting to feel the pinch financially - and the constant allure of eBay>Musical Instruments>Percussion doesn't help! But by keeping overheads down and using my days constructively I hope to stave off formal employment until the end of the year. We'll see how that goes!
Elsewhere I discovered the recent-ish Keith Richards album Crosseyed Heart this month. Steve Jordan is on drums of course, being an old collaborator of Richards'', and his playing on this album is incredible (not to mention beautifully captured). I love where he places the snare hits and the way that he plays the hats somewhere between straight and swung. Truly a thing of beauty.
Otherwise keeping me entertained this month has been 'All In' by young British collective Beats & Pieces Big Band and the Luke Haines book Bad Vibes. Both I wholeheartedly recommend!
That's about enough from me for this instalment - I'm off to start my Christmas shopping. If you need me I'll be in Swindon…
Mike
Please log in below if you wish to add your comments on this item. If you are commenting for the first time, you will need to register for security reasons.