Vintage View - Nick Hopkin - Slingerland Radio King
We're very pleased to welcome Nick Hopkin onto the contributors team here at mikedolbear.com. For those who dont know him, Nick runs Nick Hopkin Drums in Abergavenny and is incredibly experienced in the world of vintage drum retailing. 
(Dont worry, Bob Henrit hasn't gone anywhere – he's doing his Groovers and Shakers column as usual... but he's also working on something else hush-hush at the moment – shhh!).
So, please welcome Nick and enjoy what will be the first of many articles from him...
I've been reading 'Vintage View' by Bob Henrit for many years now and taking over his vintage blog on this website will be a hard act to follow. So I've been thinking about what I can bring to this column; I mean, there's only so much one can write about vintage drums without regurgitating what has already been said on several websites and in several books. 
Some of you may not know that much about vintage drums, and hear the words 'classic', 'Holy grail' and other such terms of sentiment attached to drums and wonder what the heck people are going on about! The vintage drum world can be an overwhelming place to jump into, with many vintage drum websites are aimed at its converts making it difficult for one to find basic information in order to form an opinion. 
So I thought I'd kick off with a series on what I consider to be the classic snare drums. 
Despite running a vintage drum shop, I still regularly come across snare drums that I've never physically seen or heard before; I've most likely read about them in books or on the internet but they've been elusive to me physically to try. Outside of the U.S.A, there are classic drums that remain unobtainable to most drummers; despite the internet making it easy for everyone to buy everyday essentials, most won't take a punt on an expensive drum without being able to check it out and play it and these days there aren't many shops stocking such drums where you can do that. There are still many I'd like to get my hands on and try, but I'll start by writing about the drums I've had first-hand experience of here at Nick Hopkin Drums. 
Getting into vintage drums for me was, and still is, incredibly exciting. It's a constant learning curve with every drum that comes into the shop having its own backstory, its own sound. Some drums need fully restoring back to their former glory having been stored away and forgotten for years on end, others are in great original condition including the heads and wires. But they are all different, they all possess their own character.  Some are mysteries, offering little clue as to what brand they are, taking me on a mission to find out more. Those with a thirst for knowledge and who go looking will be welcomed into an exciting community of fellow enthusiasts looking for that one last drum to add to their collection, or the ultimate snare to use live or in the studio. "Just one more snare drum…" is possibly the most overused phrase I hear!
So let's kick off with one of the classics, the Slingerland Radio King snare drum.
The Radio King first appeared in the 1936 Slingerland catalogue alongside an announcement that Gene Krupa was their new endorser. Gene Krupa was the first superstar drummer, and he played Slingerland for his whole career, adorning the cover of every Slingerland catalogue from 1936 to 1967. The Radio King snare drum was offered as both a one-piece metal shell and a solid wooden shell. It is the Solid wooden shell Radio King that has become a timeless classic. 
The very earliest models featured streamlined lugs without inserts, the rods tensioning directly into the lugs, and brass hoops engraved with 'Slingerland Radio King'. By 1938 the lugs had inserts (nicknamed 'cigar lugs'). These earlier drums feature the three-point strainer and the extended 'Radio King Brackets 'at each end of the drum, essentially pulling the snare wires outwards rather than upwards. This maximum wire contact with the bottom head combined with the solid shell gave the Radio King its unique voice. The existence of these brackets on a solid shell snare drum are what characterised the Radio King snare drum, and set it apart from all other snare drums on the market.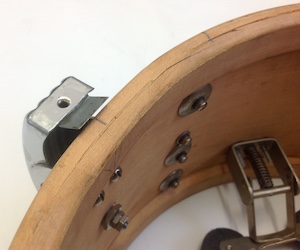 1950's reinforcement hoop at snare bed
When I get a Radio King in the shop, take off the heads and look inside I always pause and kind of take it all in. The shell interiors are usually pretty rough, and separation/ splits in the reinforcement hoop are common (some people re-glue these and recut the bearing edges, but personally I just leave them as they are). The reinforcement rings on some of these drums are the widest you're likely to see and with its rounded over bearing edges you get a lovely fat, warm tone. You can take a battered Radio King that cosmetically looks well past its time, place it on a snare stand and still the magic happens. Amazing.
A lot of the earlier drums have signatures inside in pencil and I often play a scenario in my head which goes along the lines of; guy gets home from work, his wife says 'good day in work, dear?' And he says 'yeah, I think I built my best snare shell yet'. I look at it, I smell the wood with the heads off (I know I'm not the only one who does that, we really should get those T-shirts done - 'Drum Sniffers') and I look at it in awe…If you think about the fact that these drums were steam bent into shape and fitted with hardware some 80 plus years ago by a pair of human hands, and are not only playable today but actually still sound like the best drums out there - it's about as far away as you can get from modern far east production lines. And that's why I love vintage drums so much. Back to the story…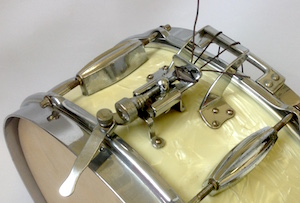 Early 50''s cigar lugs, 3 point strainer and RK brackets
Some argue that these 1930's drums are the true Radio Kings, far superior to later models with a better tone, but these drums are becoming harder to find in original condition. In 1940, Slingerland introduced the 'Super Strainer' (more often referred to as the 'Clamshell') on their 'Super Gene Krupa Radio King' drum, alongside single clamshell lugs top and bottom. The three-point strainer remained on drums for some time (I've seen them on early 50's drums) but the Clamshell strainer became most common. The snare wires still extended further than the diameter of the bottom head, but screwed directly into the butt ends – doing away with the 'Radio King Brackets'. 
By 1955 the Sound King hardware was introduced with a more modern look and Slingerland stick saver hoops (which curved inwards) were fitted as standard. Radio king remained stamped in hoops until around 1956 and both the three point and clam shell strainer were offered. 
What's that famous saying 'If it ain't broke, don't fix it'? Through the 1930's, 40's and 50's the snare strainer saw only one major change in design, and the muffler felts changed colour! Design of the Lugs and hoop changed with the times, as did the badges, but essentially the drum was the same. Slingerland claimed in the 1950's that they were the only company still manufacturing solid shell snare drums. 
"Each solid snare shell is hand turned for exact sizing to a perfect circle. It is the strongest and most durable shell made. Makes for easier playing, greater sensitivity of snares and easily controlled power and volume".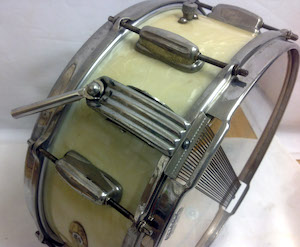 1950''s Clamshell strainer
Although music has evolved so much since these earlier drums were conceived and built, the sound they produce remains timeless and still very relevant today. Most name players have one in their collection for studio work, and these drums provide the backbeat for many classic records in every genre. When I play one I am immediately struck by how loud these drums are; The stick and snare response is fantastic at any point on the head, with no one sweet spot (common with other drums). The drums tune well and sound good at all tunings. It is easy to tune these drums high and get that classic Big Band / Swing vibe out of it, which was pretty much the sound when they were conceived. At a mid-tuning, you get a really lovely warm crack out of it, suitable for pop, rock, whatever you like. At that mid tuning, it's easy to see why they are loved as a studio drum; the warmth of the maple, the bite of the hoops, the response of the wires - a lovely rounded tone with plenty of volume and attack when required but subtle nuances when using ghost notes and lighter stick action.
I recently had a respected up-and-coming player come in to the shop and he took a Radio King off the rack and tuned it right down as low as could go, put a Drum Wallet on it and…Wow! I'd never heard one sound like that, it was the fattest snare sound either of us had heard, we were just laughing at how awesome it sounded. He couldn't believe the stick response it still had even with the head hardly tensioned! With the current trend for that fat, detuned thuddy snare sound with the wires buzzing, the Radio King manages to deliver with ease. Amazing!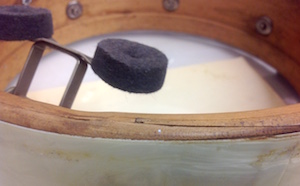 1950''s bearing edge close up
Watching the latest episode of Mike Dolbear Web Show, when asked his favourite drum, Keith Keough of British Drum Company says a 1930's Slingerland Radio King. Many others would say the same; just from running the shop I know of lots of name players, producers and studio owners who have one in their collection that sees regular use. You won't find lists online of who's played this drum and on what record, mainly because past the 70's not many big names endorsed Slingerland drums, so claiming to use such a drum may conflict with the brands that they played. But take it from me, there are hundreds of hit records where you've thought 'what a great snare drum sound, I wonder what that is?' and it's a Radio King!  Ask around your friends and see if you can come up with a list of Classic hits that feature a Radio King snare drum and post the results on the forum, I'd love to see them.
Today there are a few drum craftsmen steam bending shells and making great solid shell drums, but I think it's fair to say they use the Radio King as a benchmark for sound. For me, a timeless classic.
If you want to know more, there's plenty of sites online offering more detailed history of the drums and I could recommend Rob Cook's Slingerland drum book enough for a history of the whole company and all the amazing drums they made.
Nick Hopkin

This is a very informative and beautiful article on some some beautiful instruments. Excellent Nick thanks very much…… Joeyboom💥USA


Joe Mekler, 2 November 2016
Please log in below if you wish to add your comments on this item. If you are commenting for the first time, you will need to register for security reasons.