View From The Drumstool - Mike Monaghan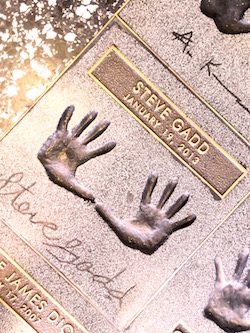 Where did Mike go...?
Greetings drum fans and welcome to the latest instalment of View From The Drum Stool.
A sunny start to the month and after a summer behind the desk it was nice to squeeze in a quick holiday with friends. Top marks for anyone who can name the destination from the picture to the right!
Back to work and first up this month was a recording session with Nick Cope.
Nick used to be in a band from Oxford called The Candyskins and has subsequently found great success writing music for children. His indie leanings mean his music makes equally great listening for adults alike and I really enjoyed the songs we were recording. He's fun to work with and open to ideas and we ended up using a combination of approaches, with some songs getting full kit and others arrangements of percussion.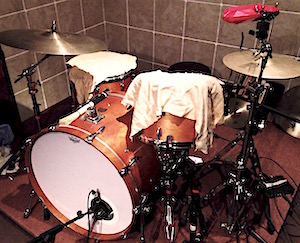 They may sound good but those chamois leathers smell weird!
But keeping me busiest this month has been live dates with Willie J Healey. His latest single Pipedreams was recorded earlier in the year with Stephen Street, the producer responsible for much of The Smiths' and Blur back catalogues, and we recorded it at The Pool Studio in south London. It's a room renowned for it's drum sound and we tracked pretty much live. Stephen Street had some interesting ideas about how to mic the drums for a sound that would suit the song and I felt like we worked together to make the drums what they are in the final recording.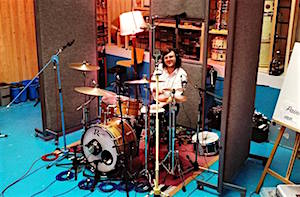 In situ with 74' Rogers at The Pool, Bermondsey
In order to promote the single we headed out on the road for a selection of dates in southern England. For the first run of gigs we're supporting a young band called The Magic Gang. They're popular among ''The Kids'' (!) and feature a very cool drummer called Paris with a slick groove and a sweet 70's Yamaha kit. As support band, we'll be using the headline act's shells on most of these dates and it's a pleasure to get to play his.
For these gigs I've been carrying with me a Tama Starclassic 5.5" x 14", a very reliable maple snare drum that the sound engineers always love. The ride is a 20" Zildjian 'Trio', a beautiful 70's piece with three rivet holes (I've actually never seen another like it - I wonder if anyone else is familiar with them?). The hats are 90's K's and for crashes I use either an 18" Paiste Giant Beat or a 17" A Custom depending on the situation and the room - the same with a 10" and 8" K and A splashes.
The cymbals sound great together and they suit Wills music - the splashes in particular are something I've really started to use more in recent times. Sonically they don't outstay their welcome and they're a useful punctuation.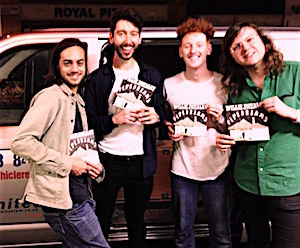 WJH and band with the Pipedreams 45 after the show at Scala, London
On the subject of gear I needed a new pair of sticks recently. Perhaps it was a lack of sleep but I found myself purchasing a set of shiny Silver-Sparkle wrapped sticks ahead of the Oxford show.
"This is a great idea! Why didn't I think of this earlier!".
Although my bandmates were supportive of the purchase there was a look in their eyes that suggested concern and I swear I overhear the guitarist mention something about a mid-life crisis. Probably just jealous of these eye-catching crowd-pleasers now in my possession!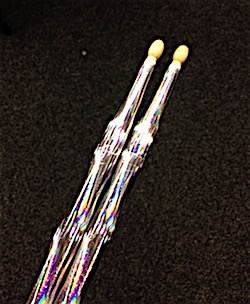 The offending articles pre-show
Now I'll admit the reaction that first night was not quite how I had imagined - perhaps the lighting was wrong? - but I was optimistic as we headed to Birmingham the following day, spinning them harder and faster than ever. But again they simply didn't go down well and to make it worse my cymbals and Paris' drums are now coated in glittery white stick marks and I was thankful for his easy nature as I apologised in the backstage.
By Bristol I'd abandoned them altogether (perhaps the youth of England aren't ready for this level of showmanship?) and figure I'll save them for the US tour…
Other than my ill-advised new accessories, the gigs are good and dramas minimal, although new bass player Harry proves himself ominous addition when he nearly chokes to death on a steak in Nottingham and then gets trapped in the Lucky Coin at Leigh Delamere Services. But his playing makes up for it and it''s good to have him on board.
Elsewhere I really enjoyed Mike Dolbear''s short podcast about depping gigs this month. I totally agree with his sentiment expressed that it's the role of the dep to honour the original drummer's parts. It's a matter of respect and I think there''s a lot to be learned from emulating someone else''s style too.
Back on the road and the final date this month is at The Joiners in Southampton as main support to Mike Watt, a legendary American bassist who has recorded and performed with Iggy & The Stooges, The Minutemen and many others indeed. He had a great Italian drummer called Andrea Belfi who has a beautiful birch Saari kit with him. I''d never seen one before - it really is a work of art. It reminds me of the old Slingerland Rolling Bomber kits you see Jay Bellerose playing: with exception to the tension rods the entire drum is made from wood.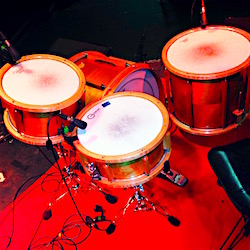 A terrible picture of a beautiful drum set
It's a pleasure to kit-share again and the whole band comment on how good they sounded. Thanks Andrea!
That's about it from the drum stool this month - I''m off to watch some country music.
See you in November!
Mike
If you want to see the Pipedreams video, click HERE
Please log in below if you wish to add your comments on this item. If you are commenting for the first time, you will need to register for security reasons.