View From The Drum Stool - Mike Monaghan - NEW FEATURE
Greetings readers, my name is Mike Monaghan and first up, thanks to Myke Heath for his insightful blogging over the past few years. I was sad to read that he's temporarily put down the pen, but thanks to Mike Dolbear and Simon for having me onboard for the next leg.
Much like Myke-with-a-Y, I too balance life behind the tubs with a regular 'day-job' and this summer I've been keeping my head above water (…) with a temporary gig in the swimming pool industry! Answering phones, placing orders and shipping out spare parts - nipples, flanges, rigid-pipe - you name it, I'll send it!
---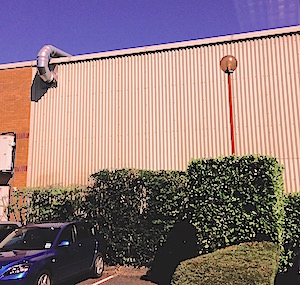 View From The Office Chair
As jobs go it suited well. My bosses were generous when I needed the afternoon off for a gig or rehearsal and forgiving when I came in tired the following mornings. Plus a full hour for lunch meant I could catch a decent kip in my trustee estate!
I've been doing temp-jobs for some years now and they tend to fit well around the irregular and oft-unpredictable scheduling of the muso lifestyle. The jobs aren't glamorous - I've emptied bins, cleaned windows, torn raffle tickets and processed more customer complaints than I care to recall. But provided the employer is happy then the agency will generally take care of me and can pretty much get me work when needed.
Alas my summer-contract came to an end mid-August and albeit sad to leave my accommodating, if differently-minded colleagues, it was liberating to regain my freedom once again.
First project on the cards: a long weekend in the studio with solo artist 'Darling BOY'. Real name Alex Gold, we've toured together in the backing band for country-popster Piney Gir last year and with studio time booked and a heavily pregnant drummer I was happy to step in and pick up the sticks.
I load up the aforementioned trustee estate (Vauxhall Astra, faded red) with all the snares 'n' cymbals she can hold and head north to Stratford-Upon-Avon. The residential Vada Recording Studio sits in the grounds of a beautiful mansion house of mixed Edwardian/Tudor/Medieval form and is owned by producer Matt Terry who will be guiding the sessions.
It's a pleasure to record in such opulent surroundings, with a beautiful big SSL desk and all the mics a drummer could dream of.
What's more, the main live room was previously a 12th Century priory and the drums are positioned atop an actual family crypt! Beneath my kick drum lay the remains of four members of the Fortescue family, the engineer claiming their hollowed-out rotten corpses adds a tone to the bass drum resonance…
"Easy on that right foot Monaghan, don't want to wake the dead…"
The producer was keen to record drums and cymbals separately, a technique used on albums such as Songs For The Deaf by Queens Of The Stone Age and Arctic Monkey's Humbug.
In short, one does a take with just snare, kick, and toms before overdubbing the cymbals separately. The benefit of this method is for the mix-engineer: more control over separate elements and no spill equals more sonic possibilities in the mix.
I'll confess I was hesitant at first, but I believe in honouring the wishes of the producer - and artist - and did what I could to make it work as quickly as possible.
But it's quite counter-intuitive compared to playing the usual full set and it takes a bit of reverse-thinking to pull off - especially on the cymbal overdubs.
All things considered I found the results sonically impressive though to my ears it could potentially lack the performance element. Although the drum set compromises separate sound sources, we play them as a single entity and the purist may argue they should be captured as such. But producer and artist were both happy and we got the job done quickly which to me is a good days work - I'll reserve judgement until I hear the final mix!
I'd love to hear some others thoughts on the technique?
But what a pleasure to be back behind the skins after a summer behind the desk.
In other recent drum news I spotted a snare for sale right around the corner and I couldn't resist going to take a peek, if only to meet another drummer so local. Much like my predecessor Myke H, I've a penchant for good gear and when the seller presented a beautiful maple Craviotto at a fair price, it was only ever going to end one way. 
The drum itself is a 14" x 7" 'Super Swing' design based on the early Ludwigs of similar spec. Although they aren't the cheapest, such a purchase will (hopefully!) hold it's value, as well as being a premium asset in the snare arsenal! How sad then to read on mikedolbear.com that the man himself, Johnny Craviotto ,would pass only days later.
Alas thanks for reading drum fans and I hope you'll join me next month for further updates from road and studio alike!
All the best,
Mike
Please log in below if you wish to add your comments on this item. If you are commenting for the first time, you will need to register for security reasons.