Vintage View - Hayman Revisited
To commemorate the release of 'The Hayman Drum Book' I thought it pertinent to revisit the marque to give you a clue what the book's about. I should also admit to a vested interest in it, as I wrote the book with my knowledgeable pal Nigel Constable. 
Hayman drums deserve to be called 'Classics' at least as much as any other instruments available here during the late sixties and early seventies - not least because it's roughly 47 years since they emerged and there's still a great deal of interest in them.
They were the brainchild of one Ivor Arbiter, who besides being the first to actually bring guitars into Britain in quantity in the fifties, was also the first to import Ludwig, Gretsch and even early Pearl drums during the `Beat Boom''''. It was he who in the sixties cleverly identified a gap in the market for a loud drum set, at a time when drummers, who were seldom mic'd-up outside of the studio, needed a boost.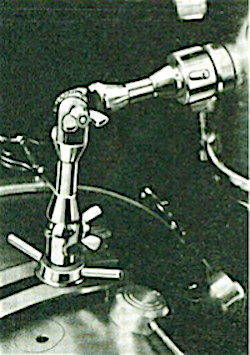 OUCH!
In the very beginning the original Hayman nutboxes were turned from brass on a lathe, much like George Way's originals, and consequently the drums were very heavy. Later, once they were up and running, they inevitably found it was considerably cheaper to cast them. Anyway, the evocative 'George' name was eventually shortened to the more identifiable Hayman - possibly as a 'cool' reference to the way certain drummers of the era may well have greeted one another.
The drums had a mixture of features which, prior to 1968/9 were only seen on expensive American products. These included triple-flange hoops, which gave rise to a more open sound and were new to European drums, non-telescopic outrigger spurs, adjustable swivelling shell-mount cymbal arms, a plethora of tension screws and, crucially, Remo heads.
Dallas-Arbiter designed their very own, cumbersome tom holder too. It might well have looked good on the drawing board, but in reality was something of a nightmare. A flat, curved and slotted rail, for horizontal tom placement, was jacked-up a little above the bass drum shell and to this was attached the body of the cast tom holder itself which was fitted with not one, but two ratchets. So by judicious (and extremely careful) use of both you could actually have exceedingly limited vertical adjustment. A solid radial-toothed block was fixed to the tom itself which mated with a ratchet (with a solid rod in the centre) on the holder to maintain its playing angle. Very large capstan nuts locked tom to holder and holder to bass drum rail. These capstans had a worrying tendency to crush your fingers against the drum and were neither particularly stable nor did they wear well. But, at the time it was the best around and, believe it or not, with all its shortcomings was actually copied by Rimmel, an East German drum company. Hayman spurs were modelled on Ludwig-type outrigger designs, but with large, cast circular holder blocks which matched the nutboxes and were also used to locate the floor tom legs. Hayman''s `lightning-bolt'' bass drum tensioners were the first I''d seen which were ergonomically designed - they were shaped to accommodate the thumb and forefinger better.
In those days drum companies didn't just make drums, they also made pedals and stands as well. The Dallas-Arbiter company made pretty good double-braced, tripod-based stands and pedals called 'Speedamatic', which were actually a lot more substantial (not to say sophisticated) than the greater majority of their competition. From various drum forums I find my way on to from time to time, I know they're still seeing service on drum sets not far off half a century after their conception. The snare stand was the first in Britain to use a basket-holding mechanism while the wide, industrial-fibre-belted bass pedal and double-sprung hi hat stand were particularly good with easily adjustable springs. They were more rugged than just about everything else around, although the extremely chunky, scalloped cast screws, which arrested all the adjustable bits, left quite a bit to be desired.
Initially the Hayman snare drums all had 5.5" deep wooden shells in common with the rest of the drums, but a year or so later aluminium-shelled versions were produced too which were loosely modelled along the lines of Ludwig''s 400. However,  in appearance their shells were much more like Gretsch''s. I know they didn''t make too many metal drums so they have to be worth collecting.
Hayman snare drums had  ten tensioners per head and boasted a simple, albeit also not particularly effective Ludwig-style on/off strainer attached to 22 strand snares. They also had an American style swivelling damper like Ludwig''s with an arm shaped like a baseball bat.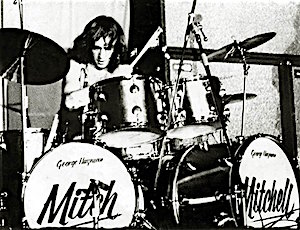 Mitch Mitchell with his early Hayman kit
Size-wise Hayman sets originally came with 22, 20 or 18" bass drums and 12, 13, 14 and 16" toms; but eventually 24, 26 and possibly even 28" basses appeared. The jazzers of the time went for the 18 x 12", 12 x 8" and 14 x 14" Recording outfit, while the rockers went for the larger-sized Showman kits.
As I said, the secret of the Hayman sound wasn't in the shells but the coating on the inside. It was indeed rather grandly called Vibrasonic but was simply five sprayed-on coats of ordinary domestic white polyurethane paint (originally with an unfortunate tendency to craze over time). What it did was harden and polish the inner surface of the drum and allow the sound to bounce around inside, not be absorbed by the wood and give a more cutting sound. Hayman drums didn''t exactly sound warm, but, for the mostly un-amplified drummers of the time this wasn't a priority. They cut through even the loudest of music , and it helped even more if you played all your off-beats as rimshots too.
The original Haymans were only available in three brushed metallic finishes: Solid Silver, Gold Ingot and Midnight Blue (Regal Red, Matt Black, Natural Pine and the holy grail, the see-through Iceberg were all introduced later), the first five of which I was reliably told by Gerry Evans (my partner in Henrit's Drumstore) came from a place opposite the Regal Cinema in Edmonton and were also used to cover refrigerators. These were metallised so if (when?) they peeled at the edges there was a serious danger of cutting the same fingers which had already been badly bruised by the tom holder.
In August 1969 when they were first introduced a five drum `Showman'''' set without stands would have cost £265.32, though nowadays you''d be extremely lucky to pick one up for that price in any condition.
There was actually a second generation of Haymans commissioned by Ivor Arbiter and his son John, which were launched in 1985 and came from Taiwan. A cursory glance would suggest they were the same as their predecessors, although with 9 ply mahogany shells without glue rings they certainly weren't. They had the same circular nutboxes, identical paintwork inside to give more or less the same brash sound, but with a vastly superior ''''generic'''' tom holder and the more regular (and available) solid-coloured plastic coverings. Unfortunately it was just about a decade after their real heyday and drums, their amplifying systems, the music, playing technique and even the guys who played them had moved on. So even at £550 complete with stands they weren''t successful.
History has a habit of repeating itself and there was actually a resurrection of the Hayman marque in 2010 and there's a review of them on www.mikedolbear.com. It wasn't successful although I know there are some of these Taye-built Mark III drums out there at knock-down prices even as we speak.
For those of you who are interested in the marque,  'The Hayman Drum Book' is available now from www. thehaymandrumbook.com
Bob Henrit
August 2016
By way of interest, can you guess who the drummer in the photos below is? He''s an ultra-famous Sixties drummer and he was in the studio with Bob Henrit. And thats Bob Henrit''s Hayman kit he''s playing. Any ideas? No prizes, but feel free to answer the question in the comments below.
Please log in below if you wish to add your comments on this item. If you are commenting for the first time, you will need to register for security reasons.