From The Frontline - Myke Heath Blog - July 2016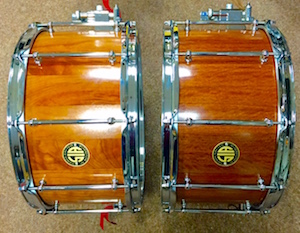 Cherry and Ironbark
Here we are again, beautiful readers of www.mikedolbear.com, post Brexit, post Euro 2016, post Glastonbury and whizzing rapidly past the mid way point of summer... 
As always I've been trying to get a pair of drumsticks into my hands as often as possible, but real life has done it's best to thwart my modest efforts. I mentioned some months back that I had bought a van and was excited at the prospect of making good use out of it for gigs and other wonderful, drum related things. Well sadly, it turns out that it was a bit of a turkey and had a list of problems as long as Keith Moons bar and hotel room bill, so that's had to go and at the moment that has left me without a vehicle and in a bit of an awkward money shaped hole.  I've been very lucky that George's (TWK singer/guitarist) good lady wife, Emma, has been very kind to lend me the use of her car to get us down to rehearsals for the last few weeks. Maybe she just want's to get him out of the house!? In all honesty it's a common problem for me to end up spending a few weeks of the year without a car due to money constraints. Should've paid more attention at school instead of drawing pictures of my perfect drum kit!
Drum wise I have been lucky enough to have a good ol' fashioned bash this month on some lovely SIA drums from sunny Sydney, Australia.  It's a privilege to get the opportunity to play such beautifully made drums right on my doorstep.  Matt from SIA Drums UK has got an extensive personal collection of some very tasty snares,  which is great as sadly around here, like most cities across the UK, we don't have a drum shop any more. This results in me usually having to buy off the back of watching YouTube videos and having to make an educated guess if it's the right piece of equipment for me. Matt''s close proximity allowed me to sit down and give these snares some welly and to feel and hear them for myself. 
It was a hard decision between the 14" x 8" Cherry or the same size in Ironbark. First World problems eh? The Ironbark won in the end simply because it will take the head off of anyone within half a mile of it! Plus, it has lots of tone, power and looks rather beautiful. Rather than me do my poetic best, check out Dave Batemen''s SIA review on the main site.
Another box of T''s
A little less glamorous perhaps, but equally just as important as acquiring new gear, is the posting of t-shirts for The Wounded Kings. No biggie really, but it's quite important for us to keep the cash flow moving to pay for travel and hotel expenses for any upcoming shows or tours. Sometimes we have to pay for these things in advance and then get the money back from the promoter after the show has been played, and if we haven't got the money for advance expenses we can't easily commit to playing the show. Ironically the pound taking a slamming against the euro and the dollar means we are getting quite a good take up from our more distant cousins around the globe so every cloud…. The only slight inconvenience is the space being taken up in the garage! 
The album release date for "Visions in Bone" has now been confirmed for the 26th August, and we've started the ball rolling (again) with booking tours and all the other bits and pieces that comes with it. Honestly speaking, the recent change of European relations has made it hard to get European promoters to put on shows and commit to dates. With so many already giving up on promoting live music after losing too much money or getting tangled up in bureaucracy, the last thing anyone needs are more hurdles to jump over. However, let's see how things settle down, and if not I guess we'll just get a day off to do a bit of sightseeing, but it's a chunk of money that will mean the tour might only just break-even. But hey, if we were in this for the money we would be millionaires by now right? 
So that about wraps her all up for now. I will further my study of instrumental clips of my favourite songs from YouTube, and I'll continue to keep tapping everything that makes a noise on the restaurant table whilst my wife looks disapprovingly at me. Hopefully before too long, I'll be back on the road again and I'll have a legitimate excuse for making noise by hitting things... and all being well a slightly more appreciative audience too. 
Please log in below if you wish to add your comments on this item. If you are commenting for the first time, you will need to register for security reasons.