Vintage View: Ludwig 'Super-Sensitive' - The Holy Grail(s)
Many a time I have told the story of my first 'real' snare drum. It was a Ludwig 'Super-Sensitive' which I bought in Ireland in 1962. Even though I was endorsed firstly by Trixon, then Hayman, and eventually Pearl, I used this drum up until 1977 when unbeknownst to me it found its way to Germany. But I'll tell the story, which now has an unexpected twist in it, to the best of my memory's ability, since it's now 54 years since I bought it. 
Ludwig's 'Super-Sensitive' was a wonderful snare drum which came out at the very beginning of the 'Swinging Sixties'. Its whole raison d'etre seemed to be as an orchestral instrument. Although it would have definitely suited his style and touch (much more than mine), I find it very interesting that the great Joe Morello didn't use one. It would certainly have suited his style and touch more than mine. 
The drum was ostensibly a Ludwig Supra-Phonic with an Acousti-Perfect one piece shell, a convex centre-bead and 45 degree inverse flanges. It was equipped with ten double-ended, self-aligning Imperial lugs, square-headed tensioners, triple-flange counter-hoops, a progressive internal damper with a round knurled knob, and new-fangled plastic heads. The main difference was it had a parallel-action snare mechanism. The brass keystone badge fixed to the shell had no serial number at that  time and was held in place with a brass grommet.  
The drum's snare wires were individually attached and screw-adjustable through a pair of machined brackets, attached indirectly to the shell and set diametrically opposite one another and independently tensionable - which was good. Each single coiled wire strand was technically replaceable when it broke which would have been good too, had it not been for the fact that you couldn't get hold of just one coiled wire. You had to swap them all which wasn't quite so good since you had to switch the whole bang-shoot for a new unit which was held under tension on what Ludwig called a 'bow'. Ludwig offered several different snare units: some with gut snares, some hybrids with wire and gut, and of course the usual coiled-steel versions like I had. This proved to be expensive and meant most shops didn't want to stock them because they might never sell them – and if they eventually sold one the chances of them ordering another were negligible. So mine, which believe it or not should have had just 12 snare wires, invariably had to make do with considerably less strands due to breakage. I don't remember playing with just a half-dozen wires but I think I must have done and it didn't make the drum any less playable. 
Other parts wore out over time, mostly to do with that parallel-action snare mechanism and the tension rods.  Long before tune-locks, we (make that I) had to tune-up the tension screws at the 5 and 7 o''clock position -where the sticks hit the hoops for the necessary rim shot - after every song!  
Two of the important moveable parts, which always used to wear out, were actually made from ''wear-resisting'' nylon which could be replaced if you could find the parts. For those who don't know, this sort of snare action maintains constant horizontal tension on the snares, even when they''re in the `off'' position, and as you tighten the knurled locking-washer/nuts at each side of the strainer, you''re actually stretching the wires horizontally. A 45 degree slot is formed into those replaceable nylon fittings called cam-slides which I mentioned earlier, and this affects the upward movement towards the head as you activate the lever. The distance between head and wires is ingeniously adjustable through moveable metal linkages which join those nylon fittings to the lever. This meant that the snare tension could be controlled from both sides without changing their position relative to the snare-side head itself.
I've written before about my own somewhat unique 'Super-Sensitive' which I bought in mid-1962. I used it throughout those swinging sixties on the likes of Unit 4 + 2's 'Concrete and Clay', Adam Faith's stuff, The Roulettes ensemble stuff and eventually a lot of the early Argent stuff including 'Hold Your Head up' and 'God Gave Rock and Roll to You'.  For those of you who didn't read my synopsis of the drum in my Vintage Views' piece on collecting I'll fill you in with a quick precis.
On my very first tour of Ireland with Adam Faith I went into what seemed to be mostly a record store in Dublin and saw a shiny Ludwig 'Super Sensitive' which I, in common with just about everybody on my side of the Atlantic at that time, knew nothing about. I bought it for something less than the Irish equivalent of 50 quid and took it across into Northern Ireland and posted it home. I happily used that drum exclusively for many years on all the gigs and records I played on and in 1970 I carried it with me on Argent's first American tour and took it to the Ludwig factory on N. Damen Avenue in Chicago to see if they could resuscitate it. In those days there really was a trouble-shooting guy at the plant and one of his jobs was to tune the drums before they left the premises, which is why they always sounded fabulous when you took them out of the box. He took my drum away to fettle it prior to replacing the pressed-steel snare guard along with most of the important knurled-nuts and what had become non-wear-resisting nylon brackets for its parallel action.  He came back with my resurrected drum and told me he'd examined it and mine was actually a rarity. No more than a dozen brass-shelled Super-Sensitives were produced and only in the very early sixties - when even though they were in the catalogue and designated brass, they were very, very rare. He was interested to know how had I got it. 
Naturally I was very pleased with the news about what I had and vowed to keep the drum for ever however this was not to be. In 1977 the drum was stored in my Wardour Street shop, and while I was away with Don McLean it was sold in a job-lot by my Drumstore guys along with a satisfyingly large van-load of other drum gear to a dealer from Berlin. The dealer probably had no idea what he had - other than a great-sounding drum. He might have also noticed it was fitted with a more substantial Mark II, non-pressed-steel snare guard which protected the snares where they extended past the edge of the drum, but then again, he might not.         
So where are we going with this? Well of late, brass shelled 'Super-Sensitive' drums seem to be turning up with surprising regularity. 
Bun E Carlos told me at Rob Cooke's Chicago Drum Fair in 2015 that he has one, my pal Terry from round the corner has just bought one,  Nick Hopkin called me up to tell me he has just acquired one, and he mentioned a guy in Scandinavia who recently contacted him to say he is also the proud owner of another! Someone in Germany would hopefully have the one which used to be mine. So that makes five, so the holy grails would appear to be coming to light.  Therefore they're obviously not quite as scarce as hen's teeth, and like London buses, you wait for ages and then four (or possibly five) come along together. 
Historically the idea for a Ludwig metal-shelled snare drum came about around the time of the Great War. William F. Ludwig (WFL) himself saw a Sonor snare from Germany being played by a chap called Tom Mills, who was John Phillip Sousa's drummer.  WFL envied the sound of the drum and decided he was going to eventually produce his own version. 
There was a Super-Ludwig metal-shell snare drum with cast nutboxes as early as 1938 and the 'Pioneer' metal drum with tube lugs was around before that in the 1930s; although these were completely different animals to the 'Supra-Phonic' and the 'Super-Sensitive'.  I always suspected there should have been a WFL version of the drum before the Ludwig Drum Company emerged, but if it existed I haven't yet managed to find any information on it anywhere. Their 'Super All Metal' model came close with Imperial nutboxes, triple-flange hoops, and a 'Micromatic' snare strainer. It didn't have a strengthening centre-bead though and was only available in a 6.5" depth. There was also a version which came with two side-by-side strainers for twice as much or, perhaps more accurately, half as much snare sound.
I once turned down a very early Ludwig Acrolite which I discovered  in Kansas City. It had an interim (blue- stencilled) Ludwig keystone badge and doubled-over flanges, but also a top to bottom butt join with a plate riveted inside to connect the open ends of the circle and aluminium triple-flange counter-hoops.  This dated from when the new Ludwig company took over from its namesake's WFL when it came back to the family in 1955, and the strainer actually still had WFL stamped on it.  The big difference between a 400 and an Acrolite was the cheaper drum had only eight tensioners, but there was a time when a few Acrolites had ten. This meant the only difference was in the chrome finish on the 400's shell. Yet another holy grail to search for!  
I don't want to blow anybody's mind, but just in case you didn't know Ludwig didn't actually make their own Acousti-Perfect metal shells when they were in Chicago. The shells were made around the corner by a company which made metal kettles and urns to prepare, amongst other things, toffee. These drums had a sticker on the inside which announced they were anti-galvanic. This meant they shouldn't have pitted and the brass ones certainly didn't. But, since aluminium evidently doesn't like being chromed there's sometimes a problem. 
As it happens, in my time I have seen quite a few Ludwig Ludalloy-shelled  drums with peeling flakes of chrome which doesn't harm the sound but certainly could harm your fingers if you weren't careful. I've heard stories about how they must have been electro-plated when the operators weren't paying quite so much attention because (say) the weekend was just around the corner. [The ''Friday afternoon model'' phrase came from Ford Motors at Dagenham and this was how any car with problems was referred to!] I once spoke on this very subject to Bill Ludwig who said they were more likely to be Monday morning drums which had not been degreased properly. When the vats of cleaning solutions (caustic soda) were turned on as the work force arrived after the weekend to work properly they needed to get to an optimum operating temperature and frequently to save time, the shells were put in before the liquid was warm enough. 
As I said the square-headed tensioners had the annoying propensity to undo directly underneath where the sticks hit the drum and in my Argent years I used to be forced to swiftly wind these up at best after every couple of songs, but since this was the golden era of 'Progressive Rock' this might turn out to be after half-an-hour!
Today's version of the famous 'Black Beauty' carries on the tradition of those venerable old drums although it''s different in several respects. For a start it''s not made from brass anymore, and hasn''t been since the early sixties. This may come as a shock to many people but it''s absolutely true. Nowadays it''s drawn and spun on a lathe as before but from a single plate of bronze, which means of course that it''s seamless. 
Ludwig's catalogues used to state: "only a seamless shell is perfectly round". There''s still a convex strengthening centre bead formed into the metal to stop it from buckling out of shape, but, the internal flanges on the modern drums are very different to those on the original twenties models. In the early days Ludwig bent the bearing edge completely over inside the drum until it touched the shell; which obviously made the head seating twice as thick. However, since at least the late fifties, their metal shell drums have all had a smooth bearing-edge formed by an 'inverse' flange which is accurately bent over at 45 degrees.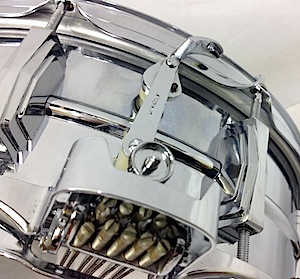 The actual snare beds are different now too. In the old days Ludwig pressed them in by pressing an elongated dimple in the shell therefore distorting the bearing edge below it enough to create a rebate, which was only slightly wider than the snares themselves. The idea, then as now, was to enable the snares to pull up slightly higher at the edges, therefore allowing the wires in the centre to come into contact with the head too. That was up to the mid-sixties though and from then they produced 'Acousti-Perfect' shells where the bottom flange is simply shaped to sink gently for an inch or so to a low point in the centre of the snares, it then climbs up again to form what is more of a snare `touch'' area than an actual bed. The beauty of the modern way of accomplishing this is that the plastic of the snare head is no longer forced into the hole formed by the bed, to crinkle (and possibly crack) as it used to, since the graduated dip maintains completely even and supported tension over the whole of the head. The old snare `bed'' was much more necessary in the days of calf heads which were fitted to the drum damp. This of course rendered them more malleable, so, they found their own position and more or less adapted themselves within the snare gap where they ultimately dried.
As with all their metal-shelled drums before and since, Ludwig first fitted a progressive internal damper to the Supraphonic and Super-Sensitive. In the beginning it was made from spring steel with a large circular felt pad and with a sturdy turned knob positioned on the outside of the shell to activate it. There was a slightly different damper lever fitted to the drum in the early sixties which worked on a swivel. It worked on a 'baseball bat' lever and was cleverly shaped to exert a little tension to the underside of the batter head, or a lot, depending on how far around  it was twisted.  In 1968 they reinstated the original knob operated sprung steel version.   
Examples of the genre which I remember selling in the mid-to-late seventies are changing hands for a great deal more now than they were originally bought from me for. And as I said, when they first burst onto the scene around 1962 a 400 with a numberless keystone badge would cost you £50, and FYI an Acrolite (according to Ivor Arbiter) was ten pounds cheaper.
Bob Henrit 
May 2016
Photos courtesy of Nick Hopkin

I have one of these myself,Its in a somewhat tatty condition but still being played often. Mine has a transitional Ludwig badge on ,and the only changes I think from the original are that it has a nickel plated baseball bat damper in it ,which doesnt match the chrome drum and Iv'e put new snare wires on it.It still sounds amazing to me.


Superfluffy, 8 September 2016

You claim that the shells are bronze, however, the Black Beauty is still advertised as a brass shell. Wouldn't this be false advertising? Jon


jonathan fogg, 22 November 2016
Please log in below if you wish to add your comments on this item. If you are commenting for the first time, you will need to register for security reasons.