Groover & Shakers - Ringo!
Well we've finally got around to the guy who, whether we like it or not (and I certainly do) is hands down the most famous drummer ever! Ringo. 
I make no excuses for introducing him like this without his surname because the measure of his fame is such that it renders any family name completely unnecessary. Even the most virulent rock music hater has to agree he is still the pre-eminent drummer. Unless you happen to actually be a dyed-in-the-wool drummer, all those other famous Christian names -  Baby, Gene, Chico, Buddy, Cozy, Charlie, Keith - don't have the same immediate cachet and could refer to anybody. As a further measure of his fame, in the middle of Beatle Mania a record was released called "Ringo for President".
This episode of Groovers & Shakers came about because while I was touring with Russ Ballard in March I was putting the finishing touches to Levon Helm's piece on the bus and Russell saw what I was doing and asked what I'd had to say about our pal Ringo. I admitted I hadn't got round to him yet and decided to rectify the situation asap.
When I started this piece I thought it might be complicated to write because I made the assumption that since everybody around the globe knew his name the chances were they would therefore know a great deal about the man too. But, having researched him and re-educated myself on some facts I'd forgotten, I think it's safe to assume we all have something to learn about Ringo Starr, aka Richard Starkey. 
Ringo was a contemporary of mine and as it happens I do know him enough to call him Ritchie. I  made an album in 1978 with himself,  Chas Hodges (of Chas & Dave fame), various musical reprobates and the aforementioned Mr Ballard at a studio called 'Sweet Silence' in Copenhagen. Russ wrote the songs, Ritchie sang them and I played drums.  I even sold him a Yamaha drum kit for his son, a very young Zak Starkey. His world-famous father came to my Drumstore and insisted on a discount! 
I had actually met him first in mid-1962 at a bespoke theatrical shoe-maker's in London's Theatre-District called 'Anello and Davide'. l was having a fitting for a hand-made pair of Chelsea  boots (those were the days!), and the soon to be 'Fab Four' Beatles were trying on ready-made Cuban-heeled footwear which at the time were called Ski-boots and which, as soon as they bought them, irrevocably became known (and subsequently marketed) as 'Beatle boots'. 
But I digress. He was born Richard Starkey on 7th July, 1940 at number 9, Madryn Street, Dingle which was a tough part of the city of Liverpool. He grew-up in the area and like his illustrious band mates (and the greater majority of his musical contemporaries in austere, post-war Britain) came from relatively humble beginnings. I'm not sure anybody thought they were impoverished at the time and it was seen to be just the way things were, and people were grateful to have survived the war.
Ritchie's parents split up in 1944 when he was just four years old and it was his stepfather who introduced him to the swing music he and his mother spent their time dancing to. It was he who bought him his first drum kit as a Christmas present in 1957 although it could hardly be described as a professional outfit since it consisted of a bass drum, a snare and a cymbal which really was a dustbin lid. Eventually he borrowed some money from his family for a more realistic kit but it wasn't until 1959 that he joined a proper group, however I'm getting way ahead of myself. 
At six years old he contracted appendicitis which unfortunately after an appendectomy led to peritonitis. This left him in a coma for six days and resulted in him spending a year in hospital. This seems to have played havoc with his schooling and because of this once he returned to formal education he began to play truant. Eventually he was helped in his studies by a next-door neighbour and managed to catch up with the rest of his peer group. Bad luck struck again though and he caught Tuberculosis which necessitated him being in a sanatorium for another couple of years. He joined the hospital band with home-made percussion instruments and the die was cast; he knew what he wanted to do - he wanted to be a drummer. Once he was back at school his friends called him Lazarus – presumably because he'd risen from the dead! 
He was well behind with his education so didn't take the 'scholarship' which would have given him entrance to a Grammar School like John Lennon and Paul McCartney. Instead he stayed at home listening to the music belonging to his stepfather – Big Band Music.  
Having left school at 15 he worked for a time for British Rail but was soon pensioned-off having failed a medical and he became a waiter on a boat sailing from Liverpool to North Wales. This didn't suit him either so he took another job as an apprentice joiner in Henry Hunt and Sons' factory - which made complicated attachments to turn regular bicycles into static exercise-bikes for home use. Here he, and a fellow worker started a lunchtime skiffle group called the Clayton Squares (after a place in Liverpool) and Ringo played the washboard. Like his parents it seems he enjoyed ballroom dancing and even took lessons, enough to go out to dance halls and meet the opposite sex. 
He really wanted to play rock 'n' roll music but it wasn't until 1959 that he got into a proper group. 'Al Caldwell's Texans' were initially a skiffle group and wanted to make the leap to playing rock 'n' roll and to do so needed a drummer. By the time they'd changed their name to 'Rory Storm and the Hurricanes' Richard Starkey had changed his (because of the rings he wore and his aspirations) to Ringo Starr! His new band had a summer season coming up at a Holiday Camp in Pwlhelli and Ringo gave up his steady job to go with them.   
The newly-named Ringo met The Beatles in Hamburg in 1960 when he was playing with Rory Storm and evidently sat in with them at the Kaiserkeller from time to time.  After returning to the UK he left Rory and the rest of the Hurricanes to work briefly with Tony Sheridan in Hamburg before returning once again to Liverpool to fortuitously join the Beatles on August 18th, 1962.  
I said at the beginning of this article that Ringo had a distinctive name but (John Lennon's famous disparaging remarks about his ability notwithstanding) he also had a very distinctive playing style and an even more distinguishing speaking voice. That's him narrating the stories on those Rev. Wilbert Awdry 'Thomas The Tank Engine' children's films. There's no voice I know which epitomises 'Scousers' as much as Ringo's - so much so that I still haven't given up on the project of getting him to do the voice-overs on my film about 'Drums, Drummers and Drumming' - once I've come up with the necessary mountain of cash of course!
By the way, and not to put too fine a point on it, if Ringo hadn't have replaced Pete Best in the group in 1962 I'm convinced the Beatles story would have been completely different. Sorry Pete! Pete''s a very nice down to earth guy (whom I interviewed when his book 'The Pete Best Story' came out) but, in my opinion he couldn't have taken them past their 'mop tops' phase and on to the next important stage in their musical career.  
Ringo however could and he said of his predecessor in a 'Modern Drummer' interview that: "It's no offence but I never felt he was a great drummer. He had sort of one style which was very good for them in those years, I suppose.  But I felt they wanted to move out of it more."
I'm certain that without Ringo Starr esq. there would have been a completely different outcome for The Beatles and possibly for the rest of the music world. Their A&R man George Martin (who had absolute control over EMI's signings) felt the same and decreed that sadly Pete Best wasn't good enough for The Beatles and insisted he was replaced.  Of course we know Ringo didn't play on the first recordings because George Martin wasn't confident he could cut it in the studio and instead of taking the risk replaced him with a session drummer named Andy White for "Love Me Do" and "PS I Love You". Eventually he was replaced once more in The Beatles when he contracted pharyngitis and tonsillitis just before an Australian tour and Jimmie Nicol got his hair cut, squeezed himself into Ringo's Dougie Millings' suit and stepped into the breach.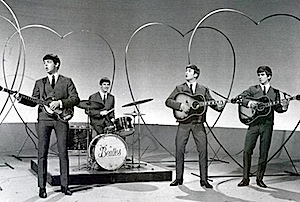 So what was different about Ringo's playing? His unique style and sound came about because he was actually genuinely left-handed but playing a right-handed drum kit – possibly because he was right footed? Besides this, like several Northerners he played with a 'matched grip' and attacked the hi-hat in a completely different way – waving the stick from side to side as he hit to produce a thicker, somehow more filling, sound. My favourite Ringo lick has always been one he played on the Beatles' version of the Little Richard song "Long Tall Sally". When it gets to the chorus "Gonna have some fun tonight" he goes into triplets for 12 bars on the snare drum hitting the left cymbal on beats 2 and 4, and the right cymbal on beats 1 and 3. It's invigorating and surprisingly tricky to play, but it looks good and sounds good. While I'm on the subject it doesn't seem like he had any lessons but what is pertinent is the fact I mentioned that even though he wasn't right-handed he set himself up as if he were - like most of the other drummers he would have seen at the time. This meant that even though everything was set up on the wrong side (for his hands at least) he persevered - and this is why he sounded like he did. You might describe it as playing 'backwards' because he started fills with the wrong hand relative to getting over to crash the cymbal and back to the hi-hat.  The other Beatles referred to them as 'silly fills' and there's a definite difference between playing a fill and leading with your weak hand – it sounds different because of the emphasis.  
It's possibly interesting to note that it's universally accepted that whenever anybody writes the name of the world's most celebrated group, in deference to their fame the definite article in their name takes a capital letter - as in 'The' Beatles. [On another note, nowadays we tend to call the 'Fab 4' a band but, in the late fifties and early sixties only strict-tempo dance musicians and brass-instrument blowing people from 'up north' were in bands – the rest of us were in groups. And don't get me started on the subject of 'girl bands'!]    
As far as his drums are concerned Ringo has played Ludwig pretty much for all his life - other than the Premier set he had with Rory Storm and used at the very beginning of The Beatles. It's fair to say he pretty much saved Ludwig from the fate of most of the original American companies. Within hours of his being on the prime-time Ed Sullivan television show in America orders were flooding in and in no time at all, the good people at the Ludwig factory in Chicago were literally working around the clock and seven days a week to keep up with demand. This also had an opportune knock-on effect on all the other manufacturers too because, if you couldn't get delivery on your very own Ludwig set to emulate Ringo for a few weeks, how about a Gretsch, Slingerland, or Rogers?
I was thinking that by now everybody must know the story about Ringo, Ivor Arbiter, Drum City, Brian Epstein and Ludwig drums but, just in case I'll tell it one more time.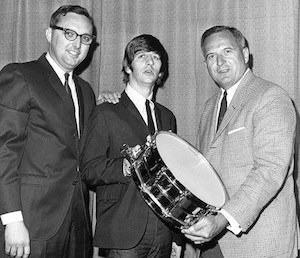 When Ringo arrived at 112, Shaftesbury Avenue in April 1963 he was looking for a kit to replace his old Premier '54' set and there was a good variety of the world's drums waiting for him to inspect in Drum City. The worldwide web has a picture of him playing someone else's Trixon Luxus set in a Hamburg  club and depending on who you believe, he had the same German set in mind at the time. He'd even brought The Beatles' dynamic manager along with him to cut a better deal. They looked at the Trixon drums in stock and I'm told Ringo was about to plump for a Luxus set but couldn't make his mind up about the colour he wanted. He caught sight of a swatch of plastic drum-covering samples on the counter and was struck by a horizontally striped grey and black finish called 'Black Oyster Pearl'. When he was told Trixon didn't actually have that colour, only Ludwig, he immediately decided to go for the American-built drums. It's conjecture on my part but, because of the squabble Ivor was having with Karl-Heinz Weimer Trixon's owner about the quality of his products, I suspect Ivor was secretly pleased the Germans had lost the battle they didn't even know they were in. 'Eppi', the Fab Four's hard-nosed manager began the negotiation which probably went along the lines of: "The Beatles are destined to be 'bigger than sliced bread' and it would be good for Drum City, Ivor Arbiter and the Ludwig Drum Company if he gave Ringo a kit." 
It was early in The Beatles career and Ivor, along with a great many other music people of his generation, was sceptical and didn't see it quite that way. In the end he did a deal which involved taking Ringo's old mahogany-finished Premier kit in part-exchange. I'm afraid I don't know whether any money passed hands at that moment since Ivor never told me and poor old Gerry Evans, who was there and put the case for the Beatles, is also unfortunately no longer with us. I suspect that knowing Ivor there would had to have been some money involved but that said, he immediately got on the transatlantic phone to 'Old Man' Ludwig in Chicago who evidently enquired whether Ringo was as good as Joe Morello! In spite of this tricky question Ivor successfully negotiated a completely free replacement for the kit he'd just 'sold' to Richard Starkey esq.! The rest of the story is of course history. The Ludwig small-sizes 'Downbeat' set in 'Black Oyster Pearl' with the unusual 5.5" deep Jazz Festival snare drum was delivered to Aston TV studios in Birmingham in time for the transmission of 'Thank Your Lucky Stars' on 12th May 1963.  
He had quite a few Ludwig sets over those Beatles' years the most famous of course being  that original Black Oyster Pearl set he bought from Drum City along with subsequent versions including the natural wood-set he used on top of the roof of the 'Apple' building in London's Saville Row for "Get Back". That first set, Black Oyster from 1963 which he played on "Can't buy Me Love", "She Loves You", "I Want To Hold Your Hand" and "All My Loving", was sold for 2.2 million dollars in 2015. In recognition of his best efforts which pretty much single-handedly saved the drum industry in the sixties, the Ludwig family presented Ringo with a gold 'Super-Sensitive' snare drum.
He seems to have been a Zildjian player almost as a long as he's been a Beatle. And there's a possibly apocryphal story which says that he set his cymbals at an angle as a protection against potential assassins because he'd received death threats!
I don't think too many of us 'rock' drummers from the sixties ever thought we'd still be playing aggressively once we reached three score years and ten, but 27 years after he started his own thing Ringo is still out there rocking with his 'All Starr Band' - and he's reached three score years and fifteen! I'm sure he's enjoying himself a great deal and obviously doesn't see the need to stop. What he does for each tour is to get a different set of pals around him whose music he likes and they take-off on the road to play all their songs together and everybody has a jolly good time. There are quite a few clips on Youtube of him but I suggest you check out the one featuring 'Up on Cripple Creek' with Levon Helm and Jim Keltner. I defy you to watch it without smiling all the way through. It's just so right!
Gregg Bissonette is playing drums alongside Ringo in the latest version of the 'All Starrs' even as we speak and he sent me some quotes: 
"Ringo has always been my favourite song drummer and I learn things every night on the gig from him about how to play better in a band . I play matched grip because of him. He has such a great swing and musicality to his playing, never overplays and always plays parts that make the song better. Just look at great songs like "Come Together", "In My Life", "Ticket to Ride", and so many others. He is also a great friend and a role-model with health, exercise, and attitude on life. With Ringo it''s all about Peace and Love".
Ringo managed to sing songs like "With a Little Help From my Friends" on all but two of The Beatle's albums and he's still making records now of course. Since The Beatles called it a day in 1970 he's had solo hits like: "It Don't Come Easy"," Photograph", "You're Sixteen" and "Back Off Boogaloo".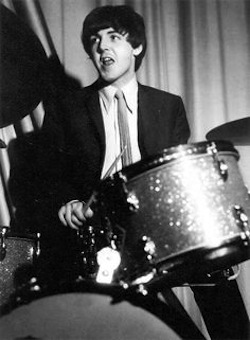 Macca on drums too...
Of course to add to his accomplishments he's also been a film star playing himself where all he had to do was "Act Naturally".  Besides The Beatles' own films including: 'A Hard Day's Night', 'Help' and 'Magical Mystery Tour' there were many feature films without the rest of the guys. These started with 'Candy', 'The Magic Christian', '200 Motels', 'Lisztomania' and he even made an appearance in an episode of 'Monty Python's Flying Circus'.     
Steve Smith said of him; "Before Ringo, drum stars were measured on their soloing ability and virtuosity. Ringo's popularity brought forth a new paradigm….we started to see the drummer as an equal participant in the compositional aspect. His parts are so signature to the songs that you can listen to a Ringo drumpart without the rest of the music and still identify the song". 
Rolling Stone Magazine readers voted him the fifth greatest drummer of all time and he was twice inducted into The Rock and Roll Hall of Fame – once with The Beatles and again on his own.     
And, with those plaudits in mind what of John Lennon's riposte to being asked whether Ringo was the best drummer in the world: "He's not even the best drummer in The Beatles!" To be accurate Paul McCartney did play drums on "Back In the USSR" and "Dear Prudence" when Ringo left the band for a couple of weeks while they were making the 'White Album'.  What Lennon did add when commenting on that quote was: "Ringo's a damn good drummer. He was always a good drummer. He's not technically good but I think Ringo's drumming is underrated in the same way Paul's bass playing is underrated". 
The other Beatles always talked fondly of Ringo's 'silly fills' and he himself admits in 'Modern Drummer' that in the very beginning: "Everybody put me down said that I couldn't play. They didn't realise that was my style and I wasn't playing like anyone else – I couldn't play like anyone else!" 
I sat with a bunch of eminent drummers over supper last year at Rob Cooke's Chicago Drum Show  (some of whom had played with Beatles and all with gold and platinum discs to their names). We started talking about Ringo (as drummers do), and were all absolutely agreed that nobody else could have played as successfully with the Beatles!
As Ringo himself once somewhat redundantly said : "I'd like to end up sort of unforgettable – drumming is my middle name."
Ringo Drumming Starr – it has something of a ring about it!  
© RJ Henrit 2016 
Please log in below if you wish to add your comments on this item. If you are commenting for the first time, you will need to register for security reasons.