From The Frontline - Myke Heath Blog - February 16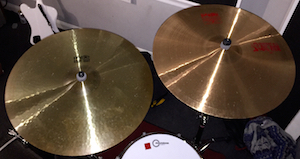 4 feet of Paiste
Hello everyone, how are we?†
What did you think of the new stuff launched at NAMM this year? I personally was very excited. Paiste released a 26Ē Giant Beat Multi and a whole new line of 2002ís have also been announced. Exactly the kind of cymbals Iíve been hoping for - big, warm and with my favourite cymbal sound all sitting right beneath it.†
Ludwig have also got me mega excited too particularly with the reissue split shell coliseum 14Ē x 8Ē snare. If you havenít seen one before they are pretty unusual. They have 12 lugs and the drum is in two different shell parts top and bottom leaving a large gap in between around the middle. I have no idea what they sound like but I definitely want one! Plenty of GAS (Gear Acquisition Syndrome) to deplete my credit card balance over the coming months. Did I also mention theyíve done a reissue Tequila Sunrise Vistalite too? Iím long overdue a re-head and a spruce up on various worn out bits and pieces but Iím still making the long road to financial recovery thanks to jolly Saint Nick and my lovely wifeís birthday which falls a little untimely at the end of January. All the more reason to get my chops together and to get out on the road and making some money! If only it was that easyÖ
So, yet again another month of rehearsals although some have them had to be cancelled due to man flu creeping up on some of the band members, and I myself had to concede defeat at one point and do the unthinkable. Itís been a good opportunity to re-evaluate my set up and experiment with a few different bits and pieces, although so far the biggest change has been adding another 24Ē crash next to my 24Ē crash/ride. I managed to swap another one of my cymbals with a lovely chap over Facebook. It sounds over the top, but Iím really enjoying the position and size change of my second crash. Itís changed how Iím playing around the kit, and making me think differently about how Iím approaching different fills and how Iím using the cymbals on the right hand side of the kit. Itís the little things that make a difference after all although a combined width of 4 feet for two cymbals isnít that small I guess. Iíve raised the height of my crash/ride too a bit like Max Roach or Art Blakey. Itís given me a lot more room and a real feeling of space as Iím playing.†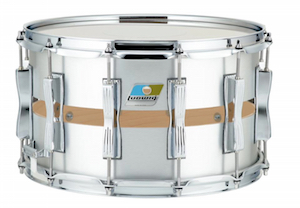 Some interesting developments have arisen for The Wounded Kings these last few weeks. It could turn out to be good or may turn out to be very bad. Weíll just have to wait and see. Our current record label Candlelight Records have been bought out by another label called Spinefarm who are a subsidiary of Universal Music Group. In the grand scheme of things it is now part of Universal, which means there is plenty of money involved but it also means that we have fallen a long way down the pecking order, which we were already nearing the bottom of previously. They have our new album and have issued a statement saying they will honour all contracts with Candlelight but so far we have no release date and havenít made any face-to-face contact with the new guys at Spinefarm. Itís a difficult situation and we are all itching to go out and promote the new album but for the year ahead with have one confirmed show and not even a hint of when (or even if) the album will be released by them. Only in time will we know whatís happening but for now we have to be patient and wait. We have also had to cancel an upcoming European tour in March but financially it was on a knife-edge and it makes no sense to promote an album that hasnít got a confirmed release date. Fingers crossed it will all go the right way eventually.
Iíve seen that a couple of well known drum shops have called it a day over the last few weeks which is very sad and I know that the big man himself Mike D likes to stress the point that itís a case of ''use it or lose it'' but is that the only reason for a drum shop going out of business? I remember as a kid seeing a lot of adverts from drum shops that Iím pretty sure have nearly all bitten the dust, and so did a good few years before the heavy discount Internet businesses took off. What caused them to shut up shop? A change in trends? Banks retrieving overdrafts? Suppliers not being fair with credit terms or pricing? Poor cash flow or mismanagement? Will new shops be opening with a different business model? Who knows for sure? I have run the odd drum department in my time and they have all now virtually disappeared and in some cases downsized before my departure. One thing that sticks in my mind was all the customers who were saying what a shame it was that we were downsizing or closing. If Iím being honest they were also usually the guys who would nail us for such heavy discount that we would only make a token few quid profit or go elsewhere and buy it cheaper. They would then take great delight in letting us know what a bargain it was or ask if we could sort out missing or broken parts which had got damaged during shipping after the seller/retailer had pleaded ignorance to any problem. We would always price match where we could too but it seemed to make little difference. Iím not pointing fingers, Iím just sharing my personal experience of it. Drum shops are the coolest places in the world when done right and when supported by a strong community of drummers who are realistic about what it requires to keep a shop open. Where that doesnít happen I think it can only go one way.†
Please log in below if you wish to add your comments on this item. If you are commenting for the first time, you will need to register for security reasons.