Groovers & Shakers - Bobby Elliott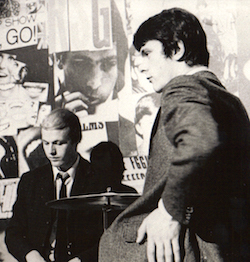 Bobbie with Bob
I've known Robert Hartley Elliott since the beginning of the sixties and I vividly remember the first time I met him. I was playing on the same bill with him at what they used to call a 'Summer Sunday Concert' in Morecambe, Lancashire. Bobby was playing with Shane Fenton (eventually aka Alvin Stardust) and I was a couple of years into my time with Adam Faith as one of his band – The Roulettes. It was made memorable for us Roulettes because we had driven from Bridlington (where we were in Summer Season for thirteen weeks) and had inadvertently left our stage-suits behind in the dressing room at the Grand Theatre. As you can imagine we struggled to get anything to replace them with on a windy Sunday in Morecambe! 
But, to get to the point I was very impressed with Bob and his (unusual-at-the-time matched grip) playing and we hit it off immediately. This was the summer of 1963 when the Hollies were a relatively unknown band from Manchester who wouldn't actually get started with Bobby Elliott or his pal Tony Hicks in their ranks for several months.  The Hollies had been pursuing Tony Hicks relentlessly, for quite some time. They were in a group called the Dolphins at a time when the Hollies were a really hot item having recently replaced the Beatles in their residency at The Cavern in Liverpool.  A few months later Tony Hicks gave in and said he'd join their group providing his pal Bobby could come too! The pair of them arrived in August 1963 just in time for the Hollies' third record: "Stay" – a cover of a Maurice Williams and the Zodiacs song which had already proved itself by becoming a US number 1 for them.  
Incidentally, Bobby says he was able to pull-off a minor miracle at EMI Studios by nagging Ron Richards, (the A& R man) and the engineer to allow him to have a microphone on the bass drum to to go along with the usual single over-head one. (Up until then, none of us drummers recording at Abbey Road were allowed a bass drum microphone, the overhead was always strategically placed to pick up everything.
Ron Richards was normally a mild-mannered character although he evidently became very unhappy with Phil Spector who somehow seems to have managed to damage Bobby's drums in EMI studios while producing 'All Things Must Pass' for George Harrison. He later confessed he might not have been so angry if he had known Spector frequently carried a gun.
Anyway, to start at the beginning, at 10 years old Bobby's introduction to music and drums came not by way of a drum teacher, but via his uncle who had jazz records with 'real' jazz drummers playing on them which he was able to listen to whenever he wanted. This encouraged him to make his own drumsticks and brushes so he could play along with them. He would swish these brushes around on a piece of newspaper resting on top of a bureau with an Oxo tin and a large chocolate box to act as the rest of his drum kit. He'd happily play along with Spike Jones on 'Cocktails For Two'. 
Obviously to get on with his planned domination of the drumming world he would need something better than a collection of confectionary tins borrowed from his mother's shop – he would need drums. These came along in the form of a snare drum which could hardly be described as a kit even though it came with factory-made sticks and brushes. His next acquisition was a proper kit, and a Premier one which was ultimately exchanged in Manchester for the ruby-coloured Trixon kit I saw him playing in Morecambe.   He played a lot of jazz in his formative years (sitting in with various local groups) before realising there was more money in rock''n''roll. When he started playing this new music, aka 'The Devil's Music' in America's Bible Belt, he knew he wanted to push the envelope a bit and this was evident in all his playing with the Hollies.
So in 1959 he headed off first to 'Johnny Theakstone and the Tremolos' which morphed into 'The Fentones' before joining 'The Dolphins'.   Like all ambitious bands of the time they sent a demo-tape to 'Saturday Club' which was a hugely popular radio programme presented by Brian Mathews. However, nothing seems to have come of it at the time Bobby was in the band. 
Bobby was born in Burnley and lived in Nelson, Lancashire which was 243 miles from London, so I don't believe we ever met where he lived, but we did lots of music TV shows together like 'Ready Steady Go', 'Thank Your Lucky Stars', 'Top of the Pops' and several others and we even made a record together called 'Drum and Coke'.  We often bumped into each other in Drum City too as well as in the various 'watering holes' where we would turn- up to find the likes of Moonie, Tony Mansfield, Viv Prince, Mick Avory, Kenney Jones, Ric Lee and a great many other drumming reprobates. 
Bobby Elliott's early heroes make up a diverse list:  Sonny Payne, Mel Lewis, Kenny Clare, Ronnie Verral, Eddie Cochran, Mel Tormé, Little Richard, Gerry Mulligan, Chet Baker, Thelonious Monk, Larry Bunker and Joe Morello.  Earl Palmer unknowingly takes the credit for turning him on to the possibilities offered by Rock 'n' Roll. Bobby has always been a drummer's drummer who influenced a whole generation of players many of whom have named him as their favourite including Bruce Springsteen, Max Weinberg, Ian Paice and Cozy Powell (the intro fill on 'Just One Look'' evidently inspiring Cozy to become a drummer).
That first Premier set was likely to have been used as a part exchange for the Trixon Luxus but as Bobby is known to be a drum collector I'm pretty certain he held on to a few of them besides the sets he bought back from America after every tour.   He was a Premier endorser and particularly partial to Ludwig but the most recent pics of him I've seen show him with a DW. Cymbal-wise, whilst once a Zildjian player (hence all the early photos), he signed with Paiste in the early 70's and is still with them. 
The Hollies went to America in April 1965 to help spear-head the British Invasion and found themselves at The Paramount Theatre in Brooklyn doing a short season with Little Richard who just happened to have Jim Hendrix playing guitar for him and the King Curtis Orchestra . Bobby of course lapped this up.  
Apart from having been doing proper gigs for well in excess of 50 years, Bobby's recording history ain't too shabby either including an album he made an appearance on with The Everly Brothers. Statistically it seems The Holies actually had more hit records than The Beatles and Bobby Elliott played on them all, including:
Bus Stop, I Can't Let Go, Just One Look, Look Through Every Window, On A Carousel, Stop, Stop, Stop; Carrie Anne, Jennifer Eccles, He Ain't Heavy, He's My Brother; Long Cool Woman In A Black Dress, and The Air That I Breathe to name but a few. 
The Hollies have always worked incessantly and Bobby  obviously still has the hunger and energy for touring even though he fell off a ladder in 2008 and evidently started contemplating his own mortality and what he should have on his gravestone. He wanted to have:  "I told you I was ill" but that had already been taken by Spike Milligan. So instead he laughingly settled for: "A great drummer and a nice guy".
I don't think anybody will argue with that.
Bob Henrit
February 2016
Please log in below if you wish to add your comments on this item. If you are commenting for the first time, you will need to register for security reasons.