Martin France Drums VSTi
Its not often that something comes along that is exactly what you were looking for. VSTi sample libraries have much more commonplace in the last few years – once only a few drummers used them, but now many drummers have had a bit of experience with them. However, one of my major gripes is that they all sound a little too... well, polished. Personally I don''t live in Abbey Road Studios so when I play drums at home, they sound different to how drums sound on records. I understand totally why companies do polish their recording, but I don''t always want that. Sometimes I want real.
(Enter Rattly and Raw who make sample instruments which sound more ''real'' than the usual over-polished products. That is not to say that R+R''s product sounds raw (or rattly for that matter), as it most definitely doesn''t – it is beautifully recorded through amazing gear - but what it sounds like is how a drum kit would sound if I were to sit down behind a nice kit in a great room and just play.
Or rather, it would if I were Martin France playing the kit.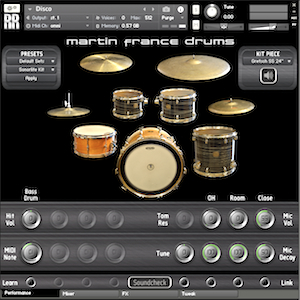 Club Custom toms with Craviotto snare and Gretsch kick maybe?
If you don''t know who Martin France is, then a) shame on you, but also b) it doesn''t really surprise me. Martin is one of the most amazing UK players who seems to stay firmly under the radar of the larger commercial world but who can run rings around most other drummers on the planet. If you ever see Martin play live, its a real treat. 
So what happened here is that Martin and Emre Ramazanoglu (fabulous drummer and producer in his own right) from R+R, got a load of Martin''s really nice drums and some of Martins really rare and old cymbals and took them to a church to sample them really closely. This produced 33,000 samples which have been painstakingly programmed back into a really responsive virtual drumkit. The sampled gear includes Gretsch, Sonor, and Yamaha Club Custom bass drums, Sonor, Yamaha, Craviotto, Slingerland, Puresound and Rogers snares, Gretsch, Sonor and Yamaha toms and oodles and oodles of rare vintage and modern K and A Zildjians.
The program itself runs in the Kontakt software sampler from Native Instruments. However, this does not mean you need to fork out for more software just to get it to run. Martin France Drums will run on the free Kontakt Player which can be got from the NI website. Install the sampler and the R+R software and you''ll be up and running in no time.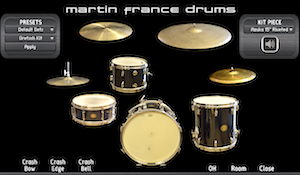 Or vintage Gretsch?
The package comes with 22 preset kits which cover acoustic sounds for everything from jazz to pop to electronic-y. These are created all using the same drum library but utilising the built in effects and differing mic channels. Its easy to create and save your own kits too, so you can take advantage of the sounds and processing to suit your ear.
I''m guessing most drummers would be using this with an electronic kit, and on this front, it is remarkably easy to set up. First you connect your electronic kit to your computer with a USB cable. You select the kit you want to play on the software, select the instrument (snare, bass drum, toms etc), and all the articulations for that drum or cymbal are shown at the bottom of the Performance page screen. Then you click on the ''Learn'' button for that articulation (be it centre, rimshot or X-stick for the snare for instance), hit the pad or trigger on your ekit that you want to play that sound and thats it – all done. Repeat for all the other pads and zones. It really couldn''t be easier. If you are in any doubt at any time, as to what pad on your kit is triggering what sound in MFD, then simply hit the ''Soundcheck'' button and hitting any pad on the ekit will show you, in big letters, what articulation you are playing.
On the ''Tweak'' page there is also a Velocity Control setting which allows you to match what you''re playing on the ekit (velocity wise) with the response from the program. It''s can really help to make it feel like you''re playing the kit rather than just triggering it.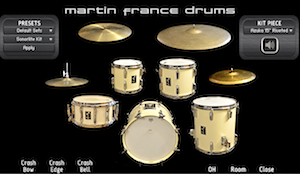 Or perhaps a Sonorlite?
There''s some very ''studio'' features in the program too, which are rather useful. For instance, on the toms, you can dial in how much head resonance you want. As well as tuning the drums or cymbals, you can also adjust the decays of each of the overhead, room, or close microphones. These allow you to take the kits from close mic''ed and dry to ''Phil Collins'' with great control and speedily. Raising the room mics lets you hear the sound of the church they were recorded in, and I don''t know where it is but it sounds great. The reverb you hear in the samples isn''t digital – its the actual sound of the church and it ties the sounds together really nicely (although you can add some additional digital reverb on the FX page if you want to go really massive or if theres a particular sound you''re after).
The FX page covers everything from Tape Saturation to Transient adjustment, the mixer is self explanatory and with the exception of a couple more tweaks (as R+R call them) thats it. It is simple, and very usable.
I''ve lived with Martin France Drums for a few months now and I''ve got to say that its become my go-to program for ''real'' drums. There''s plenty of programs out there for lush, studio recordings, but for real, I haven''t heard anything that comes close. Particular favourites are the Sonorlite and the Club Custom, and pretty much all the cymbals. I''ve also been using it for my own demos, including at the London Drum Show a couple of months back, I''m so impressed with it.
Martin France''s sound is pretty different to mine, but its all really playable and ''drummy''. I did notice that there wasn''t any snare buzz when the toms were played, but Emre told me that Martin''s kit doesn''t buzz – he tunes it all out so it really does sound as crisp and clean as the samples.  
As with all VSTi drum software, you need a good computer to run it. Don''t expect to use it on a 1990 laptop running Windows XP. I am running it on a 2012 MacBook Pro and I can run it at 32 samples which works out at 3.2ms latency which is faster than 99% of drum modules. 
If you are curious at this point as to how it sounds (and you should be), then look at the following videos which were my introduction to the program. I''m sure you''ll agree that they are rather impressive.
Simon Edgoose
January 2016
Please log in below if you wish to add your comments on this item. If you are commenting for the first time, you will need to register for security reasons.