Groovers and Shakers - Billy Gussak
We know Billy Gussak was born in 1920 but exactly when and where seems to be something of a mystery. He was a 'Swing' drummer during the thirties who had an exceedingly proper gig with the CBS Staff band. He played under a conductor called Leith Stevens (who was responsible for the music soundtracks for amongst many other films: 'The Gene Krupa Story' and 'War of the Worlds') on a popular radio show which was called 'Saturday Night Swing Club' and billed as a 'jam' session. Over the years it featured the likes of Benny Goodman, Tommy Dorsey, Red Norvo, Duke Ellington and many others. The show lasted from 1936 to 1939 although Billy wasn't the only drummer they used as Shelley Manne did the gig too.
In the thirties Billy Gussak was a successful musician because not only could he read music, but he could swing at the same time, and that got him gigs with guys of the calibre of Charlie Barnet. By the early fifties though he was settled as the house-drummer for Essex Records and based in New York. Arguably Billy's magnum opus has very little to do with jazz, the truth is he played on what is equivocally the first rock and roll record! Of course other records lay claim to this accolade, but what is indisputable though is the fact that 'Rock Around the Clock' (the opus in question) turned out to be seminal and changed the music world - albeit not quite as instantly and irrevocably as The Beatles did.
But 'Rock Around The Clock' was actually a 'B-side' to another track called "Thirteen Women And Only One Man In Town" which was one man's fanciful solution to having survived the explosion of the nuclear bomb which was America's big fear at that time. 'Rock Around the Clock'' wasn't at all successful until it was used as the theme music for the Glen Ford film 'Black-Board Jungle'.
Be that is it may though, Billy wasn't actually playing in 'Bill Haley and his Comets' at all, Dick Bocelli (aka Dick Richards) was Bill Haley's regular drummer then. He was the replacement for a young guy called Charlie Higgler who evidently left because of the usual musical differences – ie he wanted more money for his contribution to the music!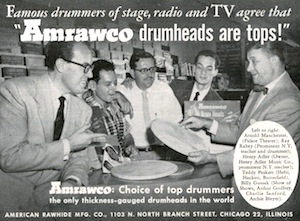 Bill Haley quite rightly figured some time before this that he needed a drummer in his band to move away from the Western Swing-style music he was playing and head-off in the direction of 'Jive' which was all the rage at that time. Dick Bocelli had already turned Bill Hayley down once before because the music he was playing simply wasn't his bag. But once the guy with the unbecoming 'spit curl' became better known, when the opportunity came again to throw his lot in with him after they met in Philadelphia, he grabbed it, even though the music was a great deal different to the piano and cocktail drums duo he was currently playing in called 'Richards and Lee'. Richards had quite a story coming from a musical family whose opera-singing father was (believe it or not) actually billed as 'The Blind Caruso'. Bocelli/Richards wasn't actually interested in music as a youngster - he really wanted to be an athlete and a teacher but his father persuaded him to take up singing and study the subject properly. His brother though was a drummer and having had a successful bash on his drums Dick decided to take it up and was soon able to play in local combos. From here he played in the college band before working with Stan Lee in that duo.
But, as I said he didn't play on the record although he was evidently present at the session. Of course Dick Richards wasn't the only drummer from a group to be replaced at the Record Company (or producer's) request for the all-important studio recording session. It famously happened to Ringo of course some time later and Dave Clark, and it's even rumoured to have almost happened to Moonie. Invariably the constraints put on the producer to come up with two tracks during a three hour session cause this to happen. But the 'Thirteen Women/ Rock Around the Clock' recording session which took place in New York at the studio inside 'The Pythian Temple' on April 12th, 1954 was different because Milt Gabler, the producer, knew exactly what he wanted - a seasoned session drummer capable of producing a different sound and feel . Since Billy Gussak was the house-drummer for Essex Records and he was used to the environment Milt felt he could more easily provide what he wanted within the time frame. What he actually wanted to exploit was what he called the aggressive 'Big Beat' sound that he knew he could get from that particular studio. So Billy Gussak began the track with those three snare beats and then proceeded to drop echoed bombs throughout evidently giving a dynamic to The Comet's music which hadn't been there before. As I seem to have frequently said in 'Groovers and Shakers' - the rest really is history!
Like every other drummer of my generation, it seems I have possibly inadvertently heard "Rock Around The Clock" at least as many times as I've had hot dinners and I'm sure I've grudgingly played it hundreds of times – although frankly never quite like Billy Gussak did on the record. To be honest as good as it is, it just doesn't go like you'd expect and to put it into perspective it's just the sort of thing Daniel Glass would like to get his teeth into and play exactly like its creator did. At the risk of exposing myself to universal disapprobation, hatred and possible ridicule, for my money it doesn't make a lot of sense. It's just not a logical drum part by modern standards but this is how it goes:
The first verse has 'dotted' accents on '& 4' on the following down beat and also on the last three off-beats. The second verse has double 'bombs' on every other fourth beat while the guitar solo has accents only on the last off-beat of every other bar. The third verse has new dotted accents every other bar on '1&' while the fourth verse has regular accented off-beats all through it. In the sax solo the drums simply mark the sax riff and the final verse is the same as the guitar solo with accents on the last off-beat on bars two, four, six and eight before the outro which has regular off-beats followed by a downbeat crash whereupon Billy Gussak closes the door with my favourite ending – four accented dotted crotchets joined to regular crotchets.
In Bill Haley's case the important track was recorded in two back-to-back takes at the very, very end of the session. This was just before it was about to go into overtime as far as the non-contracted musicians were concerned. With session fees at somewhere in between at worst $21 and at the very best $75 in the mid-fifties you wouldn't think extra-time payments would make that much difference to the overall budget! The Comets claim to have been paid 41 dollars and 25 cents! (FYI I speak from bitter experience - session money for three hours in the UK around that time was £5'15'6 in old money – at a time when one pound sterling was worth $2.80.)
Billy Gussak pocketed the session money and headed-off to Los Angeles where he played with Perry Como until he succumbed to arthritis and was forced to give-up live drumming. He did though begin teaching and also came up with some drum-related ideas like a tunable hourglass drum, a jingle stick and a dual-sound shaker and tambourine - all of which he took out patents on. Eventually he began to write songs with a chap called Stephen Friedler from a band called 'Brute Force' who was evidently a friend of his daughter.
As far as gear is concerned I have a picture of Billy discussing the merits of an Amrawco drumhead and another of him with an unrecognisable drumset. The Comets themselves were pictured in a Trixon catalogue with a blue metallic moc-croc Speedfire set but I'm afraid I can't tell you who the drummer is other than it's not Billy Gussak. In truth it could be any of the following guys who played with the Comets although it's generally accepted one or two of these guys' claims are spurious: Cliff Leeman, Ralph Jones, Buddy Dee, Ben Lane, Lou Abbott, Lou Baldino, Jerry Allison, Lou Fiest, Dave Bates, DJ Fontana, Blaine Batts, David 'Panama' Francis, Kenny Bender, Ritchie Frost, Tony Benson, Freddie Moore, Mark Blair, Ricky Lee Brawn, Jacko Buddin, Jim Buffington, Patrick Carmichael, Mike Collins, Paul Cowan, Max Daffner, Sticks Evans, Brian Fahley, Earl Famous, Karl Himmel, Owen Hale, Dave Holly, Joey Kay, Stan Kay, Ivan Krill, John 'Bam bam' Lane, Art Marotti, Bobby McCormack, Bobby Monk, Bobby Morris, Steve Murray, James E. Myers, Bill Nolte, Tom Pohorilla, Jerry Price, Don Raymond, Bernie Ries, Morgan Shumaker, Brad Skinner, Wayne Stevens, Dean Tinker and Ed Ward - to name but a few.
It seems Dick Richards made it into the Rock 'n' Roll Hall of Fame with the Comets although Billy Gussak didn't. Dick Richards went on to be a successful TV and film actor and is now in his mid-nineties. Billy Gussak died on the West Coast of America in 1994.
Bob Henrit
December 2015

Hi Bob, fascinating article, a great read! The Comet's drummer in the Trixon catalogue is Dave Holly (1961-64). Back to the 50s, Billy Gussak was the main, but not the only, recording drummer '51-'55 with Dick Richards being the touring sticksman '52-'55. In fact Dick Richards never appeared on any recordings except for playing the triangle on one of the tracks of their first album for Decca! Ralph Jones took over the seat '55-'60 playing white marine pearl WFL's and is the man on all Decca recordings from late '55 onwards, in the films (Rock Around The Clock and Don't Knock The Rock) etc. However interestingly enough used Black diamond pearl Premiers on their UK & European tours '57-'59! Hope this helps and season's greetings, Steve


Stephen Crossland, 24 December 2015
Please log in below if you wish to add your comments on this item. If you are commenting for the first time, you will need to register for security reasons.