Vintage View - GMS
GMS stands for Grand Master Series and they were probably the very first bijou/boutique/custom drum company at the middle of the eighties. I say bijou but that's for want of a better name. They certainly weren't cheap but were eventually distributed by Paiste which immediately put them firmly into the ''serious'' league.
They came out at a time when upmarket drummers would frequently acquire a drum kit and immediately take it to a 'drum doctor' to be breathed-on. It wasn't that there was necessarily anything wrong with the drums but these guys wanted them tailored to their styles of playing, simply because they could – and why not? This practice is prevalent in a great many other leisure activities to increase performance; think biking, skiing, sailing and especially playing the guitar.
The GMS company was formed in 1987 by Tony Gallino and Rob Mazzella who met each other at the Long Island Drum Center. The business in Hicksville, New York was owned by a chap called Tony Fabiano whose quest was to make production drums more usable, in much the same way Frank Ippolito had at Professional Percussion in New York City a couple of decades before. They weren''t exactly making a silk purse out of a sow's ear, simply a better silk purse! He specialised in re-cutting and truing bearing edges and eventually breathing on the hardware too. Their credo was to make a set which ultimately didn't need their (or anybody else's) ministrations.
Tony Gallino had been painstakingly making his own production drum shells, and even lugs and hardware, more usable when Tony Fabiano saw him struggling with the metalwork, He thought it would be a good idea to introduce him to Rob Mazella who was a machinist and who could really help him with the hardware enhancement side of custom drums. Rob would be able to produce better metal parts and more quickly. They got together and made some brass prototypes of what eventually became GMS lugs and snare throw-offs. This was around 1987 and they made their debut at the NAMM show a year later as arguably the world's first 'boutique brand' drum makers. So here endeth the history lesson.
It's no secret they don't make their own made-in-the-USA shells, the grandly titled 'Musical Canisters Division' of a company in Manchester, New Hampshire who are called Keller (and who you might just have heard of). But until relatively recently Keller didn't cut bearing-edges or snare-beds; so if you bought shells from them (and very many companies did) it was up to you to put these important features on your drum. How this was done and how much attention was paid to detail was what made the difference and the GMS guys did it rather well. What I'm saying is having laid-up the plies for a drum shell in a mould and squashed the plies tightly together and held them there until the glue hardened, like Keller do, is just the beginning. The next few steps to finish it off properly are crucial.
GMS shells were originally made from 8-plies of North American maple with triple-flange hoops and 12-ply maple bass drum hoops and when they started towards the end of the eighties they didn't adhere to any size parameters other than using the diameters Keller were already making. Of course they did the obvious sizes 12 x 8, 13 x 9, 14 x 14, 16 x 16" and so on. But, by and large the depths could be whatever your heart desired so long as you didn't mind waiting while the shells were cut to size and bearing edges were machined to the raw ends. All this of course before anybody started finishing the body of the drum. In the beginning, believe it or not you could have your drums in any size and any colour, and in 1994 GMS were the first to offer painted 'sparkle' finishes.
They started with the GMS series which is still available to special order but it's deemed to be unnecessarily heavy. So these days there's a great deal more available including 'Super Vintage 60's' with 20 x 14, 12 x 8 and 14 x 14" and 'Super Vintage 70's' drums with 22 x 14, 13 x 9 and 16 x 16" all of which have 6-ply shells with 8-ply glue-rings and round old-fashioned bearing edges.
There's also another series called SE which as ever seems to stand for 'Special Edition' which is considerably lighter in weight. These drums have 7-ply maple shells with 45 degree bearing edges. There are also the more affordable CL sets which are made in Taiwan and SL which aren't and have birch shells. They also offer exotic outer-ply finishes: white ash, zebra, ebony and eucalyptus.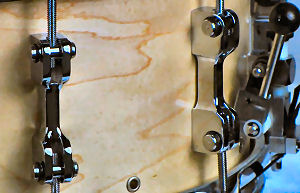 The very clever swivel lugs
Their revolutionary (to say the least) 'Perimeter Venting System' for snare drums came out in 2008 and were unique in that they had holes drilled through the top of the snare-side bearing edge which met-up at right-angles with holes drilled in the side of the shell below the nutbox to aerate the drum. These drums were designed to be more sensitive with 8-ply maple shells and 8-ply maple glue-rings which were an inch deep at the batter side and slightly deeper on the snare side. They were available with 13 or 14" diameters, both 6.5 deep.
GMS also had something else absolutely unique in the drum world in 2007: a wood-shelled drum called 'Revolution' sprayed on the inside with liquid metal to give it a harder sound – unsurprisingly not unlike a metal drum. You could specify bronze, brass, copper, steel, or nickel interiors. And, moving away from this in a completely unsophisticated direction they actually had snare drums with just a half-dozen tensioners which worked very well from a tuning point of view and gave it a fat tone, because since it had so few screws each one had a profound effect on the sound when you adjusted it. To show that nothing is new, something like fifty years ago I owned an ancient Ludwig 'Pioneer' snare drum with six tensioners which came as a spare when I hired a whole kit in America for a tour and liked it so much I bought it. The Pioneer responded rather well but unfortunately it suffered from seriously losing head tension over time as I hit it. I'm guessing GMS's was plagued with the same problem.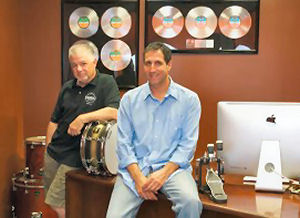 Rob and Tony
As I said Tony Gallino and Rob Mazzella still make and sell those original ground-breaking drums which first appeared in 1987, in their factory in Farmingdale, NY - although not so many. The rods and nutboxes being machined from brass make the drums rather heavy and that doesn't appear to be what drummers are looking for in the mainstream in this day and age.
Bob Henrit - December 2015
Please log in below if you wish to add your comments on this item. If you are commenting for the first time, you will need to register for security reasons.