Vintage View - Impact Drums
Impact drums are very much a rare bird and to be honest, I'm not sure if they ever made it to the UK, or anywhere else outside of North America for that matter. I used to see them at trade shows over in the US and was always intrigued. They were made in Wausau, Wisconsin in 1987 by a company called Impact Industries Inc and being made from what the company called "hand laid, double wall fiberglass for extra torque" were mainly thought to be along the lines of North and Staccato.
However Impact weren't quite the same. Their shells weren't as stiff as those others and they weren't horn-loaded, simply cut away and fitted with an alarmingly large slot at the front. This flexibility meant they projected better. I'm not sure how useful that very large chrome plastic-edged slot at the front (called a frontal sound hole) is on a single-headed drum (other than to carry it more easily) but Impact made double-headed drums too, still with that slot. It was meant to accentuate the attack on the field when used in the open air.
Their other selling point, according to the catalogue, was that the drums were designed to nest happily one inside the other to make them easy to transport.
Wassau itself is 157 miles from Milwaukee so pretty much in the middle of Wisconsin with no connection with regular drum manufacture which I can discern. However there could be a connection with storage tanks of which I discovered several manufacturers in the vicinity.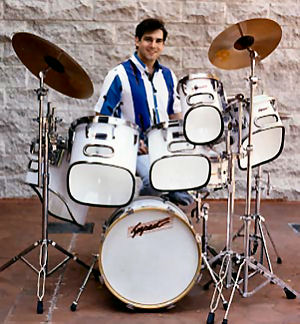 'Bermuda' Schwartz
Impact's original concept when they began in 1974 was to make exceedingly light marching drums and I do know they were popular with junior drum corps because they were claimed to be half the weight of conventional instruments. Since Impact also made vest-shaped fibre glass carriers which were really light too, this made the whole marching experience less painful for youngsters. I'm guessing that regular drums came along later when they simply stand-mounted the marching drums or put a receiver block on to a bass drum.
As I said they weren't horn-loaded, ie there was no bend in their shells to accelerate the sound forwards towards the audience. Instead the open ends were cut at an acute angle in an attempt to allow the sound to escape more quickly from the tube and improve the response. Impact weren't the only company to attempt this because Slingerland did it too with their 'Cutaway Toms' in the late seventies. Theirs didn't scoop forwards either but were shallower than Impact's and with a sharper cutaway.
As far as endorsers are concerned I can only find one: my pal John 'Bermuda' Schwartz. His nickname is the result of a word-play on Bermuda 'shorts' (geddit?) who has a great gig playing with 'Weird Al' Jankovic who gave him the name.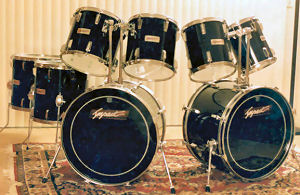 Impact Laser
It's interesting researching Impact because the only information I have is in my head, or the one brochure I have from 1978. 'Bermuda' was with the company from 1985 to 2006 and even though he's not endorsing them anymore, possibly because they don't make regular drums, he's still with them in their present incarnation: producing drum bags.
As I said Impact made those unusual toms and bass drums but they also made regular snare drums too which don't appear to have any gimmicks other than they had twelve tensioners per head (for total balanced tension?) and not one but two internal, under- head operating dampers. They had a dozen of these double-ended nutboxes which would certainly have added mass to the drum along with the cast parallel action snare mechanism attached to 20 strand snare wires. Mercifully the counterhoops weren't cast but pressed from heavy gauge steel which was just as well because, even with lighter than usual shells this should have made it a very, very heavy drum indeed. They produced three different depth drums: one 4.5" deep which was called a piccolo (but wasn't strictly one because it was 14" in diameter), 6" deep Regular and 7" deep Power. All three drums came with Remo Ambassador heads, coated on the batter and clear on the snare side. They also offered a metal shell snare drum which seems to be completely standard and Taiwan-produced.
They produced four sets: 'Lightning', 'Laser', 'Nitro' and 'Blast'. Laser was different to the others because it had double Remo heads, Pinstripe batters and Ambassador see-through below. All these drums were still fitted with those large forward-facing, sound enhancing slots. The last two sets were unusual in that they used Remo PTS black dot heads. PTS was an acronym for 'Pre Tuned System' and the heads were tensioned before you fitted them to the drum and this meant, since you didn't need to adjust their pitch instead of a nutbox and a tension screw, you simply had a latch to keep the heads in position. Impact nutboxes were essentially the same as Rogers 380.
As far as sizes were concerned there were 22 x 16" and 24 x 13" regular uncut bass drums, both with a port on the side to insert a microphone, a 16 x 22" floor tom (22 at its deepest) with a cutaway shell , 12 x 13 and 14 x 13" mounted toms although 8 x 13 and 10 x 13" were also available, all with mounting brackets. Double-headed drums were for the Laser series and you could get toms in 10 x 8 12 x 10, 13 x 11, 14 x 12" and as ever a 16 x 16" floor tom with legs.
They didn't make any hardware but they supplied it with your set if you wanted it. Double-braced hi hat stand, one straight and one boom cymbal stand, snare stand and footpedal. Spurs, legs, tom and leg holders all looked distinctly Taiwanese too and the whole bang shoot may well have been produced by a consortium called HRK who made Trak.
As far as I can ascertain all the drums were painted white inside although solid black, white, silver red, and two prisms: red and blue were available for the outsides.
The Impact drums were never budget-priced and according to Bermuda were evidently aimed at intermediate to pro-level players. As I said you can't get new Impact drums anymore but every now and then you'll see them for sale on Ebay.
Bob Henrit
November 2015
Please log in below if you wish to add your comments on this item. If you are commenting for the first time, you will need to register for security reasons.