From The Frontline - Myke Heath Blog - October 2015
Hello again! Iíve been travelling around a little bit this month. I started of in the sunny climbs of Sardinia, spent a few cloudy/sunny days in Chester and in the next couple of days Iíll be heading to a chilly but hopefully bright Helsinki.
As I possibly overstated previously I go for long periods time (or what feels like a long period of time) without anything happening and then suddenly it all happens at once.
Our new friends in Sardinia
The Sardinian trip was a bit of an anomaly. The Wounded Kings were due to play one show but due to flight and other logistical issues we ended up spending five days there. What a shame! We were treated to a very modest villa in a very unpretentious area on the edge of the capital Cagliari. The weather was stunning and the surroundings were very chilled and I was happy chasing lizards around on the pavements and in the garden of our villa. For each of the three nights we had spare around the gig we were treated to a lot of food and drink and some exceptional hospitality. It gave us some time to get to know some of the band members that were playing and the organisers of the festival.
I can honestly say we have never been treated better and I think we all walked away at the end of those five days as friends and not just some distant acquaintances.
What an amazing experience.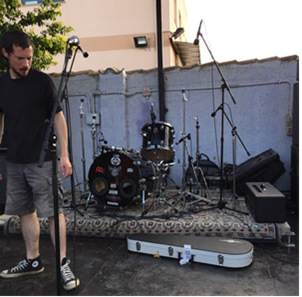 It got better too when we arrived at the venue which were grateful to hear had an outdoor stage which we would be playing on that night. Setup on the stage was a 90ís Black Premier Genista in all the right sizes and an excellent but slightly unusual snare drum, which I will come back to in a moment. Birch shell Premier drums are some of my favourite tubs ever to have graced the planet and i got quietly a little gushy knowing that I was along way away from England but I had an old friend to get reacquainted with. The wind was blowing and the sky was darker than I had ever seen. Perfect Doom Metal weather!! Now back to the snare. Anybody ever heard of Vibe drums? Well if you havenít they are made in Italy and do something I havenít seen before. The shell was 4mm spun aluminium with multiple rivets/studs added to it. It dries the sound out and gives the drum a lot of punch. It makes the drum very heavy and it feels as solid as a rock! It was super hard to return it after the gig but Iím not sure if would do the plane any good on the flight home! We all went home a bit sun burnt, slightly chewed by mosquitos but more importantly feeling very fortunate to have had the pleasure of five days with good people doing what we love to do best.
So after the sun, sea and sand of Sardinia the next matter of business was a hefty drive up to Chester and back to do some additional work and the final mixing for the new album. The record company had scared us a little bit by leaving it right up to the very last minute to transfer the money needed to complete the session but it all came good in the end. There was a lot of focus on making the drums sound as big and as natural as possible and I think we totally achieved it. The other guys were very understanding and sympathetic to my cause and Chris the engineer got right behind it too. The final mix and the mastering just enhanced it enough to make sure it could be clearly heard next to the avalanche of guitars and in the very quiet parts the drums have a smoky, jazzy sound to them. Chuffed to bits! The drums a I play are not high end and the studios we record in are not £2,000 per day swanky Californian ego palaces but the drums sound right and they fit perfectly with the music too. What more could I ask for?
So in-between writing this and a few lucky days off work I been putting in a bit of time building The Wounded Kings online and social media presence and making sure that Iíve got my sticks and breakables ready for the next show in Finland. Itís another fly in but the tech spec for the drums is again spot on. Big, black and well made! Iíve definitely lucked out over the last couple of shows. Iíve not been to Finland before and lots of people are scaring me with stories of £10 a pint. In all honesty I will be very lucky to see much of it and Iím not there for the beer anyway. The venue looks great and the festival seems very well organised. The only bummer is that we have to fly from Gatwick, which means we have to leave Devon at what Ricky Gervais rightly refers to as t**t oíclock Wednesday night/Thursday morning and then do the same again back from Helsinki on Friday night/Saturday morning but I know there are a lot worse ways I could be spending my time so itís all cool. Monday morning Iíll be back into work.
For some unknown reason Iím getting twitchy about my hardware at the moment and a little voice in my head is telling me that I need lightweight retro hardware. Why?! My hardware is fine! Seems silly. I donít know why. Iíll only probably change my mind again a few months later anyway. My playing is feeling a little bit retro inspired at present so maybe Iím imagining myself on an old 70ís concert tom kit with flush based hardware wearing a big collared satin shirt and a dodgy far-out bubble perm? Could it be that Iím getting older and lazy?
Itís more likely that Iíve just spent too much time on the Internet looking at new drum gear.
Oh well itís just a drummer thing I suppose.
Itís all good.

Please log in below if you wish to add your comments on this item. If you are commenting for the first time, you will need to register for security reasons.