Zoom H6 and Q8 Recorders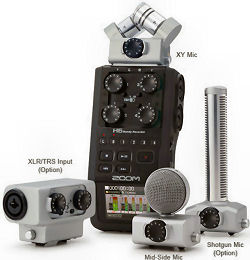 Zoom H6 with the other microphone attachments
I've been recording my gigs and rehearsals for over a decade. I've always found it helpful to have an audio or visual record of where I am at any point in time, as well for practice reference too. Sometimes listening back to something is the easiest way to improve on without actually having to go to the kit.
Over the years I've used mini disc recorders connected directly to a PA, to a fully mic'ed kit with mixer into a laptop. I've also used Zoom's popular H2 recorder.
Recording yourself when playing is almost a vital part of getting better and growing as a player, as well as just helping to work on that awesome groove or fill. However, as you grow as a player, you also start to record other things to like band rehearsals and gigs. To facilitate all of this recording, you need a gadget of some sort.
The two products which are the subject of this particular review are both made by Zoom, as you will have gathered. I will say now that both items have a lot of features to them, far too many for me to really go into or list here. But I will try to provide something of an overview.
First up is the H6. The H6 is a six-track audio (only) recorder.
It features – as standard – an X/Y removable mic capsule which has adjustable stereo mics from 90' to 120'. You can also get shotgun and mid-side (it's the big rounded one) mic capsules, as well another capsule that gives two further XLR/combination inputs. All of the four XLR/combo inputs have individual gain controls, while the X/Y capsules have a single control, and all four can provide phantom power via the menu.
The H6 records to either to an SD/SDHC/SDXC card or a laptop, utilizing the unit as a mic interface via USB.
Using the unit is fairly straightforward.
While I can't say I've tried every feature the H6 has to offer, what I have tried has been easy to use and straightforward. The unit does come with some effects such as low-cut filtering, a compressor and a limiter. It also features things such as a tuner, metronome, multi-track to stereo internal mixdown, independent monitor and playback mixes and virtual VU (peaking) meters.
The H6 can run on AA batteries – with which you get some really great performance life – or via the mains, and can provide phantom power to all of the four main mic ports.
Getting around the colour menu is done via a small switch/button combo on the right hand side which you move up or down and then press in to confirm. Too be honest, this is the one part of the H6 I don't really care for because it's just too fiddly. It is something I can live with though but ideally I would have liked something more robust and definite as it becomes too easy to miss the option you were going for.
The rest of the H6, I really like.
It fits on a standard tripod, is portable and can be used either as the heart of a mobile recording set up or as a sole device. Changing the capsules is a matter of pushing in two pins and pulling it out, so it can be done in a few seconds. You get a line out (mini jack) socket and a headphone output (again, mini jack) and also a built-in speaker underneath, which admittedly isn't fabulous quality but acts a useful reference source without having to plug anything else in. Recording formats are WAV and MP3.
The sound quality is good and I like the options you have in terms of the microphone selection. The sound capture spectrum seems to be quite wide too, in that the unit will pick up things which are loud to quite quiet. With the individually adjustable gains, it's possible to set things up just how you want them. These options mean that the H6 can be used for music capture but also film work using the shotgun mic capsule.
It terms of construction, the H6 has nice feel to it and is comfortable and secure in the hand. The colour screen is nice and sharp.
As a package, you get the X/Y and mid-side capsules, a 2GB SD card (it's a cheap no-name brand), 4 AA batteries, USB cable, sponge windscreen, Cubase LE software and a plastic carry case, all at a fairly reasonable price.
More on the H6 at https://www.zoom.co.jp/products/field-video-recording/field-recording/h6-handy-recorder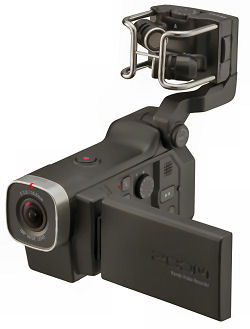 Zoom Q8 witth microphone ''up''
The Zoom Q8 camera is – or was to me anyway – something slightly different in the context of being a video camera.
It's different because of what's at the back end of it; an interchangeable microphone capsule system (the same ones as on the H6 so you can use these if you have that as well) and two XLR/combo ports. The back of the camera can be moved up when in use – see the photo – so the mics are front facing.
Traditionally, video cameras aren't really designed or intended for recording instruments, music, drums or bands, and therefore aren't specifically geared up for providing higher quality audio.
In terms of video, the Q8 has facility to record in 2k (@ 30fps /24mbps), 1080p HD plus several other formats below this. It has an F2.0 aperture, 160˚ wide-angle lens which allows three "scene" presets for use in a variety of different lighting conditions – auto/concert/night and a digital zoom. I tended to keep the unit on 'night' as I was mostly using it for gigging.
The Q8 can also be used as a stand-alone four track audio recorder (that's the X/Y on top plus the two XLRs), which I think is pretty useful.
In terms of using the Q8, it's mostly run by using the fold out colour touch screen panel. All of the menu options are accessed via this. While I've found you do have to be firm/precise with your touch when using the screen, it is easy to use and I had no issues with its responsiveness. Like the H6, the camera has individual channel gain dials and on/offs. The record button is nicely positioned on the top of the unit and can be pressed with one finger, something that is useful when you're reaching to it from behind the kit. Again like the H6, the Q8 has a small internal speaker which is really only good for reference, but is a helpful addition.
The picture, like any camera, is dependent to a degree on the amount of light available to the sensor. But, in a fairly typical pub gig setting, as you'll see from the accompanying video, it is possible to get a decent picture. The sound quality is good too, particularly if you utilise the XLR options. There's a visual gain monitor on the main screen which is particularly useful to help avoid peaking/clipping. I have to also say that, even when placed fairly close to cymbals, the Q8 still gives a decent balanced sound.
In use as a playing review tool, I found having the camera set up next to me at a gig with an additional line in from the bass drum gave a workable idea of where my playing was. You could, in theory though, run the whole band into a separate mixer and then into the Q8 as a stereo mix for a more full sounding video production.
When recording, the Q8 gives you the option to record audio with the video or as a separate file so as to make it easier to edit should you wish to. An onscreen mixer is available through the menu system.
In terms of battery life, I found I could get about two hours before needing to plug it in, but I mainly kept it running on the mains. There is a battery indicator on the screen. Recording-wise, on a 32GB SD card I could get 2 hours 37 minutes of video which would more than cover most gigs. The camera uses the same cards as the H6.
The Q8 is fairly sturdy in its build and design. It's made of a hard plastic and the lens cap is a soft rubber. Apart from the mics and mic ports on the back, you also get an HDMI port for connecting to an external screen a mini USB port and a headphone jack. The Q8 will fit on a standard tripod mount.
The accompanying video features input from the Q8's X/Y standard capsule mics, the H6's standard X/Y mics (both pointing directly at the kit) and the H6's X/Y mics with additional line inputs from two overheads and a kick drum mic. Both the Q8 and the H6 were about two feet from the kit and a few inches from each other, set at about four feet high. While there were other mics on the kit, these weren't plugged in. I've also included a quick section showing the video performance in lower light conditions.
Overall, I really like the H6 and Q8. They are both really useful tools, and provide great ways to record yourself or your band and don't cost a huge amount either.
David Bateman
October 2015

Please log in below if you wish to add your comments on this item. If you are commenting for the first time, you will need to register for security reasons.