From The Frontline - Myke Heath Blog - September 2015
Hello people of mikedolbear.com.
As I write this it's about 12 degrees outside grey, windy and raining so I guess that's summer over and done with then! Was it my imagination or did it go whizzing past quicker than the year before? Oh well there's one every year so not to worry I suppose.
I do find productivity in the kind of musical circles I move in does drop a fair bit during the summer months. Despite the huge number of festivals that are on during this time it does seem to be that the rock and metal crowd like to put their moshing hours in during the cooler and darker months and who can blame them? Black hoodies and matching black band t-shirts are not well suited to any temperature that you might find above ground and especially in direct sunlight.
So what's the point I'm trying to make then? Well I think it's as simple as this: I feel frustrated. Really frustrated. I feel bad about it if I'm being honest. I'm one of the lucky ones but the more I play and then longer I go without playing on stage the more frustrated I get.
I also feel guilty about writing this blog! The whole point of being on the front line is that you are in the action, right in the thick of it avoiding bottles of beer being thrown at you and drunken band mates falling over on stage and the bass player making suggestions for playing a jazz odyssey instrumental jam in the middle of your set. Instead I'm at home doing the hoovering and the washing up or at work doing the hoovering and the washing up! Please forgive me. I'm only venting and I know how many more people there must be out there who feel exactly the same or worse.
As is commonly reported in this blog I have again had another cymbal disaster. My beloved 22" crash was suddenly sounding very rough in rehearsals but I couldn't see any obvious damage on it. Very odd I thought. Maybe it was my ears playing tricks on me? I hit it again in isolation and thought there was definitely something up there but still couldn't see anything obvious. I started checking around the middle of the cymbal and started finding tiny little one-inch cracks all over it. Over the years I have seen many broken cymbals whilst working in music shops and sadly a few of my own and I have never seen anything like that.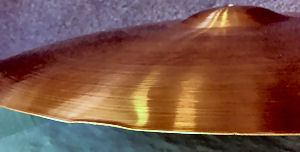 Oh dear...
So of course the next course of action was to find an emergency/temporary replacement on good old eBay. Straight away I found the perfect cymbal that happened to be in France but the seller was more than willing to send to the UK...
… and 6 weeks later, after an error made with the delivery address, the cymbal finally arrived. I flew down the stairs to answer the door and fling the box open in a matter of seconds and then quickly realised that it had been badly damaged around the edge both from playing (strangely left out from the description on the original listing) and what looks like the courier at some point practicing his Olympic hammer throw with it. Bugger. Actually it conjured up the use of much stronger words but I'll keep it clean and respectful here. As a grown man I don't cry very often but at that point I came very close to it.
At the moment there is a bit more work to do on the new Wounded Kings album and a couple of days of mixing. After that it will be sent away for mastering. After that it's a bit of a waiting game. Artwork will need to be finalised, release dates will need to be made, decisions on release formats, when, where and who is booking the tour and of course the biggest decision of them all…who is going to pay for all my Schwarzkopf hairspray?
There is a lot of talk at the moment about finding management and booking agents etc. The kind of level we play at now it would be very easy to get stuck in that circle and never get out of it. That's not a bad thing but all the guys in the band are ambitious and we all want to be doing more than just playing small club shows to a hundred people.
I think the days of making a living as a so-called rock musician may be over but I still think there are the means to be successful regardless of being well paid for it. I quite like the idea of being able to work a part time day job but to also be able to tour the world and play music to as many people as possible. I think its way more grounding and it'll be fun to live a bit of a double life. As pretentious as it may sound, the Myke Heath playing drums is not the same Myke Heath who goes to work. I am very happy with that, as I'm sure are my band mates, and my employer.
Please log in below if you wish to add your comments on this item. If you are commenting for the first time, you will need to register for security reasons.