Groovers and Shakers - Roger Hawkins
Roger Hawkins, born on October 15th, 1945 in Mishawaka, Indiana, is the drummer who played on a great many of the songs that I (and many other drummers of my ilk) love to play live. When someone in the band I'm playing with at a gig calls out: "Respect", "Chain Of Fools", "I'll Take You There", "Mustang Sally", "Think", "Giving It Up For Your Love", "Old Time Rock And Roll", or (better still) "When A Man Loves A Woman" I'm ecstatic - and I wouldn't dream of playing the song any differently to the way Roger played it. Why would I? He'd already interpreted it exactly as it should be. If I listed everybody he's recorded for since 1969 it would fill several pages but suffice it to say he made 50 albums a year and only seems to have played with well-known, top-class artists of the calibre of Percy Sledge, Aretha Franklin, Rod Stewart, Wilson Pickett, Paul Simon and Bob Dylan.
He got his first pair of sticks in 1959 and began playing when he was 11 years old on tubs and canisters he found around the house. At the time he was having piano lessons he had just one drum lesson to teach him 'doubles' before abandoning the piano and getting started on teaching himself to drum.
Roger began his formal drumming career playing at dances and clubs in Alabama and Tennessee with 'Dan Penn and The Pallbearers' so considering his ultimate achievements it's interesting that he didn't actually come from any of the recognised music capitals of America. He wasn't from Chicago, Detroit, New York, Austin or Los Angeles – and he wasn't then forced to move to one of those places to make it in the music business. Muscle Shoals is where he made his name and if it's near anywhere you'd recognise as being musical, by American standards it's only 120 miles from Nashville - so near enough. That said Roger certainly doesn't play traditional country music – if his needs a name, 'Swamp Music' is what it has been called. Denny Cordell used 'The Muscle Shoals Rhythm Section' and nick-named them 'The Swampers'. Actually it wasn't a recognisable band at all, (at last not one which got together to practice regularly) it was simply a collection of studio musicians who happened to live in the vicinity of 3614, Jackson Highway in Sheffield, Alabama.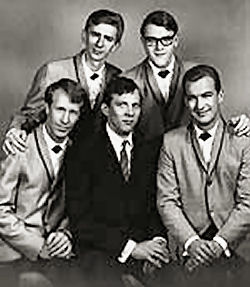 The Pallbearers
Fame was the name of the original studios in the sixties where Roger Hawkins began in the house band with David Hood on bass, Barry Beckett on keyboards and Jimmy Johnson on guitar. The name besides being portentous was an acronym for 'Florence Alabama Music Enterprises'. But in 1969 the drummer founded his own 'Muscle Shoals Sound Studio' with Jimmy Johnson and the rest is of course history.
Besides being the birthplace of WC Handy and Sam Phillips, Muscle Shoals initially had a few things which should have worked against it as a world-class music centre: you couldn't fly there directly from LA, NY or Chicago and especially not from London – and it was 'dry'! But on the plus side it had the music, and if you needed them it had Roger Hawkins and the other Swampers. The Stones went there to record 'Sticky Fingers', Clapton for 'Money and Cigarettes" and as I said Wilson Pickett recorded there too.
Incidentally, I heard a fabulous story on BBC Radio 2 about Wilson Pickett. Unsurprisingly he wasn't too happy about his songs and arrangements being appropriated by the British Invasion guys but when he was making an album in Roger's studio Duane Allman suggested he had a dynamite arrangement of "Hey Jude" and why didn't they try it? Pickett wasn't interested because he felt he'd been ripped-off by the Brits but eventually they discovered he needed another track so he begrudgingly gave in. His version of the Beatles song was nominated for a Grammy and once it was a huge success all over the world Duane Allman and Wilson Pickett happened to be sitting together when the record was played and Duane noticed something. He asked what exactly he was singing and Wilson said, the Beatle's lyrics of course - "Hey Jew"!
I suggest you have a listen to the song not just for that vocal aberration but also for Roger Hawkins sublime drumming. I could be doing him a serious disfavour but it's meant as a compliment, but I think he was finding his way around the song to see what fitted (as you did in those days of working things out in the studio), and playing 'fours' on the snare only in the second verse and off-beats thereafter. This leads me to believe it may well be a first take which everybody liked and decided to keep!
I have never met Roger Hawkins to ask him the question but to me his fills sound like he's leading with his left hand - just like Ringo. This of course makes a difference to the accents and nuances of the fill. His playing seems to be effortless but not particularly heavy yet with a rock-solid offbeat and his fills are sublime and frequently in unexpected places. His 'reggae' cross-stick on "I'll Take You There" is authentic and reminiscent of Bernard Purdie.
He's played on at least 500 albums, 75 of which have gone either gold or platinum which, if you'll pardon the pun, is a pretty good record.
As far as gear is concerned there are pictures of him in the studio using various pieces of sixties' drum equipment from Ludwig including a mix and match set with a burgundy 22" bass, a 16 x 16" blue glitter floor tom, and a 13 x 9" sky blue pearl mounted tom. He's pictured with a four-piece natural maple Ludwig set, both with keystone badges and used this one with a 400 snare drum although in one photo he wisely has an Acrolite on the floor beside him. By the eighties he was using Pearl. He seems to have been a Zildjian endorser although again it's difficult to ascertain exactly what cymbals he uses but he only had two cymbals and a pair of hi hats.
I was reading an article about Alan Schwartzberg who, having played modern jazz with anybody who really counted, became disillusioned with the financial side of that genre of music and hearing Roger Hawkins playing on record experienced a damascene moment. A light bulb went on in his head and he realised there was possibly more to rock music than he thought. The next thing was he found himself playing with James Brown!
I said they weren't actually a band but as the 'Swampers' actually did go out on the road from time to time with Traffic, Eric Clapton, Luther Ingram and The Staples Singers.
I said I wouldn't make a list of artists he's played for but... well, here''s a few: Bob Seger, Paul Simon, Eric Clapton, Traffic, Dusty Springfield, Canned Heat, Art Garfunkel, Aretha Franklin, Glen Frey, Levon Helm, George Michael, Joan Baez, Leon Russell, Rod Stewart, Don Covay, Cher, Willie Nelson, Joe Cocker, Ry Cooder and of course many, many more.
But it's not just the acts he was associated with which have made him successful. It's the songs Roger and the others breathed life into which have become so much part of our lives. Besides those already mentioned here goes: "I'm Your Puppet", "Kodachrome", "Land of 1000 Dances", "Sweet Soul Music", "C'mon Take Me To The Mardi Gras", "Loves Me Like a Rock", "Still Crazy After All These Years", "You'd Better Move On", "Sweet Soul Music", "The First Cut Is The Deepest", "If Loving You Is Wrong I Don't Wanna Be Right" and so on. So that's impressive!
Jerry Wexler was a record producer and journalist who worked at Atlantic records and incidentally coined the term Rhythm & Blues. He worked closely with Atlantic records and called Roger Hawkins the greatest drummer in the world. Roger though was somewhat more self-effacing about his prowess. He felt that playing with the same guys for so long made it difficult to impress them because they''d heard him do it all before. And it was the same with them. If one of them played a hot lick he didn''t go over the top to congratulate them, because they were supposed to do that!
Over the door into Muscle Shoals Sound Studios was an inscription which told it like it was:
"Through these doors walk the finest musicians, songwriters, artists and producers in the world".
Please log in below if you wish to add your comments on this item. If you are commenting for the first time, you will need to register for security reasons.