Groovers and Shakers - Charlie Watts
Charles Robert Watts was born at University College in London on June 2nd 1941, three years before Hitler's 'doodlebugs' were doing their best to wipe-out the inhabitants of the capital city.
I do know Charlie a bit having interviewed him on camera for a film I was working on. He's always very affable when we meet and, like almost all drummers, a jolly good bloke!
He was born to Charles Watts senior and his wife Lillian and having started his life in Wembley went on to grow up with his sister in Kingsbury -  three miles to the north.  At school he showed a penchant and ability for art, cricket and football. His next door neighbour was a slightly younger chap called Dave Green and they became great friends.
Charlie and Dave were into the jazz of Jelly Roll Morton, Charlie Parker and Thelonious Monk and eventually Charlie became a drummer and Dave a bass player who went on to work with Humphrey Lyttleton. In 1955 Charlie's parents invested their money wisely in a drum kit to replace the old banjo he'd taken the neck off and played with wire brushes. This was all in an attempt to sound like Chico Hamilton, and indeed Charlie and Dave formed the 'The Jo Jones Allstars' specifically to play the same style of music. (I suppose they could have easily called themselves 'Chas 'n' Dave' as that name had not yet been taken...) He began to play Rhythm and Blues music although he freely admits he didn't know much about the genre, assuming it was like Charlie Parker, but played slowly.
After finishing his education at Tylers Croft Secondary Modern he enrolled himself at Harrow Art School where he stayed until 1960 before taking-up the role of a Graphic Designer for a London Advertising Agency. He was still playing drums at the time although neither seriously nor successfully until he made the acquaintance of a chap called Alexis Korner who asked him if he'd like to join the group he was leading called Blues Incorporated. The band was a rite of passage for (amongst others) Jack Bruce, Ginger Baker, Terry Cox, Davey Graham, Cyril Davies, Graham Bond. Danny Thompson and Long John Baldry.
Charlie didn't join Alexis immediately because he had just landed a job as a graphic designer in Denmark, but two years later he took the gig for a short spell even though at the time he was also in contact with Mick Jagger, Keith Richards, Ian Stewart and Brian Jones.
In 1963 he saw the light and (fortunately for him) threw his lot in with 'The Rolling Stones'. A year or so later, possibly to show where his musical aspirations lay, he published a book of cartoons related to Charlie Parker called 'Ode To A High Flying Bird'.
Rock tour after rock tour after rock tour followed and (I'm not sure of the maths on this) he put it into perspective once, saying he'd done "two years' worth of playing" with the Stones "and forty years' worth of hanging around"!
Everybody knows Charlie is not just a rocker and in the fullness of time he was able to indulge his passion for jazz – simply because he could.
He started this alternative career in the seventies when he put together 'Rocket 88' which was named for the title of a 1949 instrumental record (with the suffix Boogie) by Pete Johnson, which was later popularised by Ike Turner and Jackie Brenston. The original band was composed of Charlie, Ian Stewart, Jack Bruce, Alexis Korner and Dick Morrissey but as time went by it became more of an ad hoc thing and a great many jazz and blues players including Zoot Money were part of it. This lead via a quintet to a bigger band called 'The Charlie Watts Tentet' again with Jack Bruce but also including Courtney Pine.
Charlie was inducted into 'The Rock and Roll Hall of Fame' with the rest of the Stones and into 'The Modern Drummer Hall of Fame' all by himself!
It's not difficult to spot his drumming idols and many of them have already appeared in 'Groovers and Shakers'. His absolute favourite would appear to be Kenny Clarke along with Max Roach and Roy Haynes and besides them he's recorded tributes to Elvin Jones (with Jim Keltner). Red Reece was an early hero whom he was able to see playing with Georgie Fame at the Flamingo along with Scotsmen Jackie Dougan and Bobby Orr.
These days in his spare time he's playing with a four-piece band called 'The A, B, C and D of Boogie Woogie' which I'm guessing is named for the initials of the guys in the band: Axel (Zwingenberger), Ben (Waters), Charlie (Watts) and Dave (Green).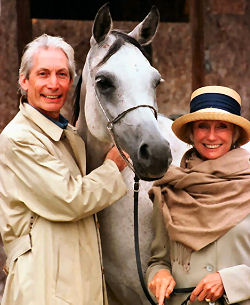 Charlie and Shirley with an Arabian friend
While the Stones were once invariably deemed 'scruffy' by the media, Charlie at least is sartorially perfect and buys his beautiful three-piece suits from a friend of mine at Tommy Nutter. Possibly because of these fabulous and expensive suits he was elected into Vanity Fair Magazine's Best-Dressed Hall of Fame.
Unlike his band mates Charlie is also the least matrimonious(? Or copyright Bob Henrit) of them having been married to Shirley for fifty years. They own a stud farm for Arabian horses in Devon, and have a daughter and a granddaughter.
Charlie is famously known to play Gretsch drums but hasn't always – I've seen pictures of him with Trixon and Hayman but whether these were actually owned by him is anybody's guess. In the sixties he played Ludwig like Ringo and there is even an instance of him using a Gretsch bass drum with Ludwig toms. What I do know is that other than the natural maple set he uses with the Stones he also has a Chico Hamilton-type, Cadillac-Green Gretsch set with gold-plated hardware. I filmed an interview with him as he sat in front of it and it's beautiful. I haven't seen them but he also has sets owned by Sonny Greer, Kenny Clarke and Sid Catlett. As far as his cymbals are concerned he's a Zildjian endorser.
Charlie Watts has developed a trademark playing style with The Rolling Stones and anybody who thinks it's easy to play rock music like Charlie has obviously never tried to. Playing those Stones songs is not easy and if you don't play them like him with 'broken' eighth notes on beats two and four and solid sixteenth note fills - it just doesn't sound right. Those broken quavers leave a wide and inviting pocket to drop the back beats into.
As you can see by his birthdate in the first paragraph Charles Robert Watts was 74 years old at the beginning of this very month. Sorry we're a bit belated with this but Happy Birthday Man - keep on rocking!
Bob Henrit
June 2015

Great article, Bob! A wonderful tribute to a wonderful man. Well done!


John DeChristopher, 28 June 2015
Please log in below if you wish to add your comments on this item. If you are commenting for the first time, you will need to register for security reasons.