Vintage View Special - Chcago Drum Show 2015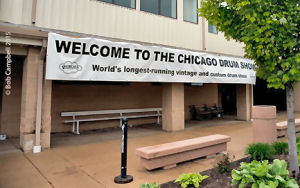 The Chicago Show 2015
Rob Cooke contacted me in the autumn of 2014 while he was over in the UK for the NDF and asked if I'd be interested in speaking at his Chicago Drum Show. Having done a great deal of talking about myself and my autobiography 'Banging On!' on radio programmes, in drum shops and print interviews I was up to speed with it and thought it would be a lot of fun to do. And of course it was in the 'Windy City', one of my most favourite places in America.
Because I was fortunate enough to have had a couple of gigs on the weekend of the NDF I couldn't make it there so Rob and I managed to get together in London. We met firstly at Foote's then moved on to one of the excellent coffee houses in the vicinity of Store Street to discuss the issue.
Rob and I batted the idea back and forth over cappuccino and decided I'd 'moderate' a discussion on the 'Beat Boom' of the sixties – something our American cousins more aggressively called 'The British Invasion'. (I would also be able to do my own thing in a clinic situation later.)
We shook hands, the die was cast and I was going to do it. Emails bounced backwards and forwards from Chicago to London.
But, as Rabbie Burns once wrote to a mouse: "the best laid plans o' mice an' men gang aft a-gley." Translated into colloquial English this phrase approximated to: "the sh1t was going to hit the fan".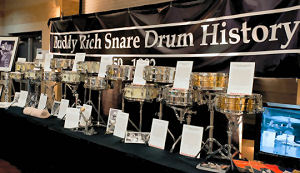 Buddy Rich Snare Drum Display
I was riding my bike on the Isle of Wight with a bunch of like-minded hedonists and while it's not a particularly large island, since it is a particularly hilly one (with lots of 'bastard climbs' it's not for the faint-hearted. Once we started our anti-clockwise ride around it I discovered that two word phrase included me – I was becoming faint-hearted. I began to get chest pains for the first few minutes every morning. I always managed to ride through this discomfort but it was obvious there was something wrong and I really needed to get myself checked out once we got back to the mainland. I'd had a slight problem with my heart a few years earlier which had been diagnosed as pericarditis and not deemed to be serious enough to warrant any intervention. This time though they decided they would take a closer look and within a day of seeing the lovely Dr Friel I was covered in electrodes and running up a treadmill for a stress test. And within a day or two of that I was being prepped for an angiogram so they could take a look at my blood vessels.
Now the thing about this particular procedure is they enter your body with a probe into an artery and the guided-wire is steered around inside your body on its way towards your heart. It checks for blockages by squirting dye out every few seconds which allows your blood vessels to show up on an X-ray screen. It's like looking at the Mekong delta in Vietnam - not that I ever have and all my knowledge comes from Marlon Brando and 'Apocalypse Now'! Now there are two ways to get the probe into the system, one through the groin and another through the wrist. Now the latter is not such a great idea for a drummer (or even, as Ray Davies told me for a guitarist) because for obvious reasons the arteries are not easily accessible. That would of course be dangerous. So they need to do a considerable amount of 'cutting and shutting' to get into them. I opted for an entry through the groin which isn't a lot of fun either but I reasoned I could manage to play with an impaired bass drum foot better than I could with an impaired right wrist! Anyway apart from a strange feeling when they push the probe around inside you on its way towards your heart the worst side-effect seems to be the head-ache/sick feeling you get from having the dye coursing through your body.
They discovered some anomalies while they were taking a look around inside my unfortunately rapidly-ageing body and decided I needed to be fitted with at least one stent. Sometimes this can be carried out at the same time as the angiogram but they didn't have the necessary equipment so weren't prepared for it with me – and neither as it happened was I, at least mentally! So they told me the ramifications of fitting me with a stent and let slip the not unimportant fact that I wouldn't be able to fly long-haul for several months after the operation. Since at this stage they couldn't give me a date for the procedure I wouldn't actually know when those several months would end.
Obviously I needed to start the ball rolling if I wanted to perform at Rob Cooke's show because that would necessitate getting to Chicago – on a long-haul flight.
So having made a great many calls to any health care professional who would listen to me, I eventually found myself talking to a sympathetic young guy who understood my plight because he was blessed (?) with musician friends. Better still he was actually responsible for admissions at the Royal Free Hospital in West Hampstead. I told him I desperately needed to get on with my career and since I only lived around the corner I could get there on the train using my old person's Freedom Pass so wouldn't need an ambulance! He was doubtful but said he'd look into it. About an hour later he phoned up to ask what I was doing next Monday? I was in the system and was now able to email Rob about my positive participation in the Chicago Drum Show 2015.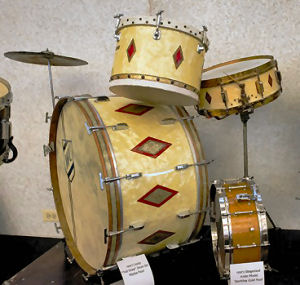 Leedy Full Dress Marine Pearl
Only as I lay waiting for my groin to stop bleeding immediately after the procedure did I discover that as far as long distance flying was concerned you didn't have to wait for three months, you could do it after a couple of weeks! Oh well I wouldn't be getting the chest pains anymore because I'd been mended.
I now had to get to work on what I was going to do.
Rob wanted me to chair a discussion about the 'British Invasion' not to be confused with "The British are coming" which Paul Revere never said, but which was definitely shouted at the Oscars by Colin Welland when 'Chariots of Fire' received the award. In the end we decided to call it the 'British Beat Boom' which was somehow more friendly and less aggressive.
I'd written and spoken on the subject of our Beat Boom before and about what I and all my contemporaries had stolen from American drummers in my formative years, like Peggy Sue which I don't believe anyone who hadn't seen Jerry Allison play his and Buddy Holly's song realised was a paradiddle. As a matter of fact that said I defy you to find a drummer who was completely original. The way we progress is to listen to other drummers and adopt their playing into our own. Mind you everybody didn't send it back to the Americans like we sixties drummers did.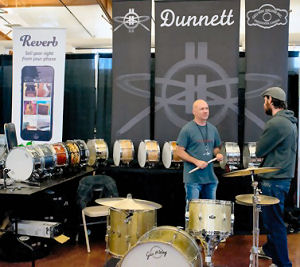 Dunnett
While I'm on the subject I'll pose the question I asked at the show: "how you can tell a drummer is from the sixties"? The answer is that, in those dark days before we had microphones on the drums, in an effort to be heard above the banks of amplifiers, drummers would play at least their off-beats as rim-shots. There were those (like me) who played their lead-hand on the snare as a rim-shot too!
The analogy I was planning to use in Chicago was that the fat end of the trumpet covered the whole of America and the thin end came out in the UK. So we Brits got to hear absolutely all the music produced at the fat end when it arrived at the thin end, whereas American musicians of my acquaintance on the West Coast, or in the middle of the continent wouldn't necessarily hear what was being played on the East Coast and vice-versa. Also there was some music we didn't realise we weren't supposed to like including the Country & Western Buddy Rich was allergic to!
So the adventure was about to begin and I was medically cleared to head for Heathrow to take United Airlines' Big Silver Bird to Chicago via Newark.
Call me a bit of a masochist but I chose to get to the airport on the tube to avoid the traffic on the M25 and the M4 and as the Piccadilly line came out into the open and crossed the old Bath Road at 6am I saw there were cars already stuck in traffic on their way into London. The tube arrived at terminals 1, 2 and 3 exactly 90 minutes after it left Oakwood which was just about right for an aged drummer with an equally aged bladder. Only another half day or so to go and I'd be landing at Chicago's O'Hare airport!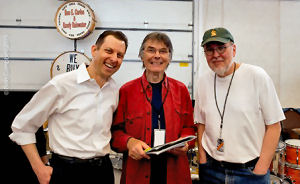 Messieurs Glass, Henrit and Carlos
I'd had problems trying to get a Boarding Card on United Airways so I was just a little apprehensive as to whether I'd be able to do it at Heathrow. In the event I was confronted by a large terminal into which I first inserted my passport then punched in the numbers and letters of my booking reference, address in Chicago and various other bits of information which Rob had sent me and which I had fortunately had the foresight to print-out and stuff into my laptop bag. The terminal spat-out a baggage tag for Chicago via Newark which I attached to my pull-along, and a couple of pieces of eminently-losable flimsy paper like old-time thermal fax paper which could never be described as boarding 'cards'. After I'd checked my luggage packed with a slack-handful of copies of 'Banging On!', which I would have to reclaim and recheck after immigration at Newark, I was good to go. I wandered with wonderment through Heathrow's rejuvenated Terminal 2 which is now absolutely humongous and astonishingly only one of the five airport buildings on offer there.
My Visitor's Visa had been sorted-out on-line and even though I had nothing to show for it in my passport, it must have been in evidence somewhere in the 'cloud' because I sailed through customs and immigration (and into a cup of coffee in the departure lounge) in no time at all. I mentioned my laptop bag earlier and I was taking that computer instead of the far more portable Ipad because I had a couple of things to write for www.mikedolbear.com - a 'Groovers & Shakers'' article on Charlie Watts and a 'Vintage Views' piece on Eddie Ryan's drums. Eventually flight UA28 was called and I power-walked off to gate B33 away from the 'hurry up and wait' holding area which, according to the overhead display, was 15 minutes away. Not too difficult for a reasonably fit Englishman but something of a challenge for some of our more obese cousins who were also heading for the gate via the moving walkways. We boarded the plane together, took our seats and waited. And waited. And waited. The captain told us it would take us 30 minutes to get to our take-off position, but only once we were able to get started. Once we were in the air it would take us seven hours to get to New Jersey flying at a maximum of 505 miles per hour at 38,000 feet.
I had specified an aisle seat for reasons of ease of escape to the facilities and having spotted the fact that 'whiplash' was one of the many films available decided that, even though I'd avoided it in the cinema after I'd had something to eat (beef or chicken sir? Yes it certainly could be!) I ought to watch it. My kids had asked me why I was avoiding it and told me that it was really about a rite of passage and the drumming in it was purely accidental. And, knowing me, I would like it. I was intrigued, and as it happened I didn't hate it, although how anybody could tell within no more than a single bar whether it was rushing or dragging was beyond me. And if Andrew Neiman had put plaster on his hands (like I do before I play) there wouldn't be any blood – and possibly no story.
I was a little apprehensive that with the very late take-off and subsequent arrival I might not have time to get safely through immigration, claim my pull-along, clear customs, re-check my luggage and get to the new gate in time. In the event I managed it but fortunately the tough immigration guy was more interested in when I was leaving than why I was arriving. It took a certain amount of running between terminals before I made it to the new gate and the absolutely packed plane to Chicago O'Hare which had only just arrived from Boston. United have not one but five queues to board their planes and for some reason, even though my seat was booked months earlier, I was invariably relegated to line number 5. This meant that since I always got on last that, as with Ryanair and EasyJet in Europe, by the time I took possession of my seat the storage above my head had been usurped by someone who got on earlier with the largest permissible carry-on luggage - who was comfortably sitting somewhere else. No one could explain to me the pecking order that United used.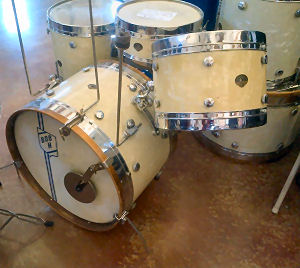 The Leedy and Ludwig Knob Tune kit
Hear endeth the plot-laying.
Eventually I arrived at Chicago, turned on my phone, picked up my pull-along, walked outside and, as if by magic, there was a young guy holding a sign with my name on. His name was Mike and he was there to pick me and Dave Mattacks up and take us to St Charles, Illinois the Marriott Hotel and the Kane County Fairgrounds where the show was to be taking place.
Mike number one's photographer/drummer cousin Mike number two (or was it Michael?) and I circled the perimeter of the airport waiting for the other Mike to locate Dave Mattacks whereupon we'd be in perfect position to load him into the big Jeep and head-off. In the event Dave had David Payne a drummer friend from England with him and we Brits sat in the back talking about life, the universe and more importantly the food we planned to eat as soon as the opportunity presented itself.
The Fairfield Marriott had no restaurant but it was close to a shopping mall and since the 'Red Lobster' was the nearest eatery to us it got our enthusiastic custom. After all what could go wrong with fish and chips, our national dish - after chicken tikka masala that is!
The hotel was rapidly filling up with drummers here for the show including Steve Smith, Todd Sucherman, Paul Wertico, Will Calhoun, Daniel Glass, Gregg Keplinger, Adrian Kirchler, - oh and me and Dave Mattacks.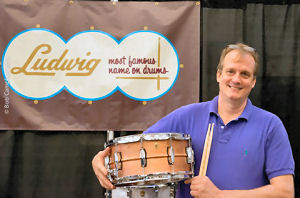 Ludwig Copperphonic
The next day was the first show day and DM was doing a tuning clinic at 7.00 which give me a great deal of time to nose around seeing old pals like Bill(y) Ludwig, Keith Larsen and Ronn Dunnett; making new ones and enviously looking at the hundreds of old drums, cymbals and accessories on display and all available to buy. So many drums so little time. Eventually even my eyes began to glaze over because of the embarrassment of riches. On display were in no particular order: Slingerland, Gretsch, Ludwig, Rogers, Duplex, Kent, Fibes, Zickos, Premier, Hayman, Trixon, Sonor and even Pearl, Yamaha, Tama and some stencil brands. My favourites though were a setful of Leedy and Ludwig 'knob tension' drums for sale for $1200. In my time I had owned many of the drums I was looking at but in a fit of misplaced (?) conscience I'd sold them all to dear old Lou Dias who subsequently set them free into the wide world of drum collectors. To be honest I wasn't planning to try to get them again. But, had I still been deep in the throes of buying everything I could (if the price was right), I would have been interested in the handful of beautiful Camco sets on one stand sitting innocently alongside a couple of George Ways. There were also displays of new drums like Bill Ludwig's WFL III snare drums, Canopus, DW, Craviotto, Holland Drums' hybrids, George Way, Chicago Drum & Restoration and cases from Humes & Berg. I must say was surprised to see a display of electronic drums in the main hall – although I suppose it was inevitable since they came out in the seventies we'd eventually start to see them at a vintage drum show.
As far as I could see there weren't any ASBA for sale although a guy did come up to me in the Rebeats Café to ask me what I knew about them. There were some drums on display I'd never seen before called Eko, a name which I only knew as the fruit of an Italian guitar maker from Recanatti. They had the distinct look of Meazzi about them and as I discovered once I got home they made three sets: Newport 6, 5 and 4. The looked great in root-beer swirl and served to prove the adage that drums don't need to have been produced in the USA, Germany, or the UK to be interesting and collectible. There were bucketsful of the essential nuts and bolts of collecting and I know our own Nick Hopkin was investing heavily in these so he should have some useful things available in Wales, once they arrive!
Daniel Glass captured everyone's attention with his talk on Gene Krupa and his blow by blow rendition of 'Sing, Sing, Sing'.
That night we headed for an Irish pub near the Marriott called the Cladagh where they did really good hamburgers and also sold a very potable pint of Smithwick's all the way from Kilkenny. Most of us made our excuses and left early because we were working the next day. And so to bed until jetlag woke me up and I watched several hours' worth of 'How it's made' on television.
The next day was Saturday and a school day. Dave Mattacks had a tuning and cymbal selection clinic first thing in the morning and he and I were going to be doing our round table thing at 2 pm. We were going to be joined for our discussion by Pete James (who'd been around for the Beat Boom and doing all the same things as the rest of us Baby Boomers us but living in Wales and playing with the likes of Matt Monro and Freddie Starr) and Colin Hilbourne (who had had a chequered career in music and I'd last bumped into when he was touring with Rod Stewart and The Faces). Even though we hadn't grown-up anywhere near one another we'd all been smitten with the same ambition to make it in the music business and all had funny and interesting stories to tell.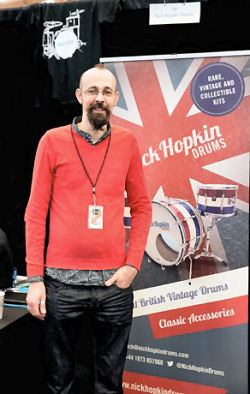 Nick Hopkins
We four were there representing our drumming generation and because I was the 'moderator' I was highest on the totem pole and got to start the proceedings by mentioning Lonnie Donegan and skiffle which was the do-it-yourself kick-start for all of us Brits who joined skiffle groups. This included Lennon, Macca, Jimmy Page, Cliff Richard, Adam Faith, yours truly and countless more - in short anybody who took-up music in the fifties. I explained that it was very like 'Western Swing' but without the expertise. I began with the washboard and of course the next obvious step was to a drum kit.
I questioned the others closely about their careers and we talked about working in German Clubs which weren't selling music at all, simply sex. We ended with the old Wilfred Pickles favourite: what was your most embarrassing moment? Eventually it was time for questions from the floor.
The audience were very knowledgeable which is hardly surprising since Daniel Glass, Steve Smith and Bun E. Carlos were part of it and asked searching questions about our contemporaries like Clem Cattini and Bobby Graham. Everybody in the crowd was of an age where they were interested in stories about Ringo, Moonie, Charlie Watts, Bobby Elliott, Ginger Baker, Tony Meehan and Brian Bennett and even Eric Delaney whom as a 'proper' drummer I'd never seen as being part of our Beat Boom.
Though I say it as shouldn't, we were good and managed to be informative and amusing. Arguably the most informative fact we passed-out to them concerned Dave Clark and I have to say the discerning audience were staggered to discover that, as mundane as the drumming on his group's records was, it wasn't Dave playing it at all, it was our pal Bobby Graham. This led to another question as to whether Ringo was the best drummer in the Beatles. We jumped to his defence saying that remark was John Lennon at his most mischievous and no other drummer (including us) could have done it as well. I felt we added a different slant to the 'Round Table Discussion' not least because it actually took place at a rectangular, collapsible refectory table.
The people all went away happy with what we'd told them and we didn't have to resort to Moonie's credo about "never letting the truth get in the way of a good story".
That night we stepped-out for a deep-dish Pizza with a galaxy of stars from the show including Paul Wertico, the two Daves: Mattacks and Payne, Daniel Glass, Todd Sucherman, and someone whom I knew from a previous life and I embarrassed myself by not recognising. The lovely Jools was now working with DW and all of their recently acquired products but I knew her as Julie when she was part of 'Backstage Arbiter' and along with a chap called Pat Rogers was looking after the AT drums. From the pizza parlour we shot over to the Cladagh for a quick half (or two) and listened to the band who played lots of Hendrix' songs really well.
It was one of those nights which just happened and without any effort on our part at all. We all counted ourselves privileged to be there.
The next day was Sunday and as usual due to jetlag I was the first person down for the do-it-yourself breakfast. This was when I got to talk to drum enthusiasts. One guy brought down from his room a maple 'AT' snare drum which I had thought were otherwise conspicuous by their absence from the show. Our guy managed to swop a couple of microphone stands for it and Ivor Arbiter would have turned in his grave if he'd known. I happily went into my Arbiter Product Specialist mode and before long I was back in the late nineties drawing diagrams of how the 'v-clamp' worked and boasting how I used to be able to change a head in 15 seconds!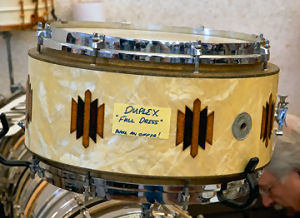 Duplex
My clinic appearance wasn't scheduled until noon but I needed to find a drum set for it because somehow the Mapex set I'd requested, which had already been used by Will Calhoun, had been sold the night before. I went cap-in-hand to talk to some super-nice Finns who made a very pretty set called Kumu which they were happy to bring it over for me to play. The idea was for me to sit at it, talk and play a few of the patterns I'd been associated with like what I thought (wrongly) was the rhumba rhythm of 'Hold Your Head Up', the Bossa Nova of 'Concrete and Clay', the frantic double-handed eights of 'It's Alright', the '10 to 2' swing of 'One Man Band' the Texas shuffle of 'Sweet Mary' the quarter-note triplets of 'God Gave Rock And Roll To You' et al.
Having implored the audience to "stop me when they were bored" - since nobody did I took that as a good sign. I talked about everybody I'd played with whom I could remember Don McLean, Roger Daltrey, Leo Sayer, Ringo, Sonny Curtis, Ritchie Havens, Ian Mathews, Ray and Dave and even told a few jokes. "There was once a family of balloons…."
Eventually we got to question time and a guy in the audience asked me why I'd used a Slingerland kit during my early Argent years. I struggled to explain how that was not because I was particularly discerning and that was my sound (maaaan). It was simply one of the sets I had at the time and I preferred it to the others. Another chap who I'd sat with at breakfast asked me what was my favourite snare drum and why? I explained how the Ludwig Acrolite I'd bought in America on Argent's first tour in 1970 was my all-time favourite. If I was recording I would always bring it out when the producer had heard all the others and was looking anxiously at his watch. A great many times they would let me use the Acrolite because it had a very contained sound which was ideal for seventies music. He asked if I still had the drum and I was sad to tell him I hadn't - and I didn't know what happened to it either. The questions then came thick and fast, like what was Russ Ballard up to, were Argent ever going to tour America, would I ever have another drum shop again and (the big one) would the Kinks ever get back together? The answer to the first question was that a tour was being planned and as usual I would be playing drums with him. The second question was easy to answer 'no' to because 50% of the band were on the road with the Zombies. According to my lovely and fragrant wife - the third was easy too – and how she feels about it is the same as the title of an Eagles live album! The last was much more difficult to answer and comes under the heading of "it beats the heck out of me!"
I sat happily signing copies of 'Banging On!' and the informative show programme when my friend who'd asked the question about my favourite snare drum came up with something behind his back. He produced a Ludwig Acrolite with a keystone badge and said how he couldn't resist it and since he already had one, and I didn't, he felt it was only fair that I should have this one! I was flabbergasted and told him that Moonie was the last person to try to give me a drum and I'd turned it down in embarrassment. I'd always regretted not keeping a memento of him and I wasn't going to let it happen again. I looked around for something to take it home on the plane in and one of the interns found a vintage 'cardboard' case. But I didn't need to use it because my benefactor, Perry came back with a brand, spanking new Humes and Berg bag which should have fitted easily into the overhead luggage bin on the plane home. I passed him over a pair of slightly-used Zildjian Session-Master sticks in exchange for the job-lot and he seemed very pleased with the deal! The two Daves had sat in the audience and laughed at the appropriate places and for some inexplicable reason thought the joke about the balloon family was absolutely brilliant. I'm not sure if was ironic enough for them though!
As far as prices were concerned the only absolute I can give you is for that 'Knob Tension' set which I already said was $1200 and a real piece of Americana for that price.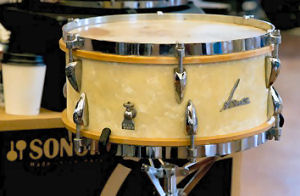 Sonor Teardrop
Every finish I'd ever metaphorically lusted after was available at the show including 'Top hat and cane' and my real favourite 'Mardi Gras'. After my second contribution I wandered around saying goodbye to everyone and making sure I hadn't missed anything or anybody.
Eventually I went back to the hotel to pack my case and get ready for the Mexican meal the two Daves and I were being driven to by Mr Mattacks' friend who lives in Chicago and knew all the best Mexican restaurants there. As it happened, except for the one we were going to, the best restaurants were all cerrados what with it being a Sunday and a day of worship for the Mexican people. We did find one though and even though it was certainly not the most prepossessing as far as its décor was concerned – formica tabletops, lino floors and a statue of the Virgen Maria in a corner near the loo. But the food was magnificent. We started with a bottle of Dos Equis each, followed by first salsa and chips then followed closely by Enchilladas Mixtas. All washed-down by another bottle of Dos Equis. Magnifico!
We rushed back to the Irish bar for 'last knockings' to find we were the Cladagh's only customers. They still served us though.
The next morning I was heading out to O'Hare airport with the two Daves and Steve Smith so needed an even earlier breakfast than usual. I sat with Gregg Keplinger and talked drums until it was time to stop drinking from the bottomless coffee pot and pick up all my belongings (now including the Acrolite snare with the numberless Keystone badge) from my room. We positively zoomed to the airport and with just enough time for a picture we said goodbye to the two Daves, one of whom was heading home to Boston, while the other was on his way to Nashville. Steve and I, were flying to two different East Coast destinations on United, but headed for the same frequent flyer lounge. We sat drinking coffee and watching my flight to Newark and his to New York suffering delays on the departure board.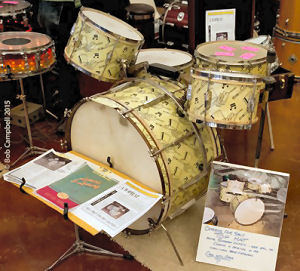 Top Hat and Cane
Once my flight was called I said goodbye to Steve and headed for the gate. As usual I queued for line number 5 and got on the plane last with my snare drum, laptop and the new warm zip-up jacket I'd bought from Gap just around the corner from the hotel. I had to find places for all these things on an exceedingly full airplane and ended up with the snare under the seat in front and the laptop on my lap.
Nothing untoward happened at Newark other than an hour or so's delay because of the same weather which had held us up earlier. I sat next to a drummer who was on his way to England a wanted to know what kind of drum I had in my bag. So did the flight attendant when it wouldn't fit into the overhead bin of a Boeing 767. She took it away and awarded it an upgrade to a cupboard in first class!
Seven short hours later we landed in 'The United Kingdom of Great Britain and Northern Island' as it says clearly on the front of my newish passport.
All in all I had a jolly good time and it was good for my ego finding so many people interested in my history. I was in my element and talked drums incessantly from seven in the morning till bedtime! I'd played a bit, shown-off a bit and laughed a lot. And I'd scored a snare drum!
So, will we do it again I asked myself. Well I was amazed at the appetite the audience had for our dissertation and the point is both Mattacks & Henrit certainly enjoyed themselves. We both agreed that if we had the possibility for a nice cup of tea and an even nicer comfort-break half-way through we could easily have spoken for twice as long. According to feedback there is some loose-talk about getting us back to speak but otherwise we're both available for weddings, bar mitzvahs and (with time to get into the right mood) we could probably manage a funeral.
Next year's bash will be at a new venue called the Odeum which is closer to Downtown Chicago and closer to the airport which Rob Cooke tells me will make a big difference to attendances. It will also include a guitar show so there may be long hair and Spandex. Only joking!
Bob Henrit
June 2015
Photos by kind permission of Bob Campbell
Please log in below if you wish to add your comments on this item. If you are commenting for the first time, you will need to register for security reasons.