From The Frontline - Myke Heath Blog - May 2015
Hello again, post election www.mikedolbear.com readers! Didn't the world seem like a different place the last time I posted my blog on here?
You'll be pleased to hear zero drum gear has been damaged this month, which is nice! We got to play a relatively local show in Plymouth. It was great fun and I'd like to think a bit of indicator of our (The Wounded Kings) progress. Nice to see some friendly faces including my wife, my Dad and my sister there too. The last time we played in Plymouth a few months ago it was to about 30 people. This time it was to around 70. Does that mean the attendance next time will be 100+? Not big numbers I know but a growing number of well established (albeit underground) bands are more than often grateful to play to more than 50 people per show at the moment. If our numbers are growing then I see that as a very positive thing right now. What better way to gauge it then on your own doorstep? It was the first show in a while that I got to play my own full kit, which was very nice indeed!
In the week between playing in Plymouth and our next show the following weekend in London, two unfortunate incidents happened. The first one was Al the bass player quitting. Honestly I think they may have been on the cards for a while but it was sad and still a little bit of a shock. He's a great bass player and the two of us really locked in well but due to what he cited as a "personal financial issue" he left and the London gig was the last one with him. Not to worry though as we have three guitarists and Al (guitarist) was only too happy to step up to play bass. Awesome! More room on stage and lowered travel and accommodation costs. Except he then bought a four speaker cabinet bass stack the size of a house with enough bottom end to level an army. The first rehearsal had quite a profound physical effect on one of my personal bodily functions. Should also be less confusing for other people now that we only have only one Al in the band and not two.
The second one was even scarier. At about 5pm on Saturday I got a very slightly panicked phone call saying that the van and driver we had booked for 10am the next morning wasn't available due to an accident. Thankfully nobody was hurt though. In Devon you don't exactly have the pick of splitter van/driver hire and for a brief moment it looked like we would have to cancel our headline slot at Desertfest. None of us wanted to cancel and I think would've done us a little bit of damage if we had. Thankfully Dan who booked us to play the weekend before in Plymouth has a splitter van and was only too happy to drive up to London and back for the gig. Top man! If we hadn't played the local show the week before than we wouldn't have been able to play the big London show the week after. A good example of some very fortunate networking. For this show I had to use the house kit due to the sound engineer not wanting to remove his mikes and put them on a different kit. It's a little bit frustrating but it's nothing new.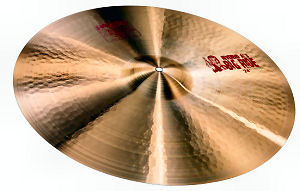 Time for a new ride!
The show is more important than my kit is what I keep telling myself in my head.
It was a fun gig but it was weird knowing that not all of us would be back on a stage together again. I have to use other gear quite often and although it pains me to do it if it's the choice between or not playing then it's really no choice at all is it? The more shows I play the more I want to be on stage playing.
I decided that I needed to change up my cymbal set up this month as well. With a week in the studio also looming I've been prowling eBay for things that I probably don't need but for some reason feel it necessary to have, like a drumming Magpie. Normally I play a medium/heavy ride with lighter crashes and medium weight hats for some reason I decided that what I really need is to play a light ride with heavy crashes and heavy hats.
I''m doing this just to change things up really and to play around with the dynamics a little bit. I've not had the chance to put it to use yet but I'm hoping it will turn out good. I am getting some pain in my right shoulder, thanks to my little bounce down the stairs a while back and I'm hoping that maybe a lighter ride will help too as I do quite a bit of crash-riding on it. I still keep pondering the idea of trying for an endorsement with my favourite cymbal company but even though we have some big shows coming up I'm still not confident that the numbers will add up high enough. I think I'll be better off for now to just concentrate on playing them!
Please log in below if you wish to add your comments on this item. If you are commenting for the first time, you will need to register for security reasons.