Groovers and Shakers - Chick Webb
Groovers & Shakers - William Henry 'Chick' Webb
'Chick' Webb was born in Baltimore, Maryland on February 10th, 1905 to William and Mary Webb. From an early age he suffered from tuberculosis of the spine, after a fall downstairs which deformed his back making him short and hunchbacked. Unfortunately at the time, TB was scandalously endemic in Baltimore amongst black people.
Having seen him playing on pots and pans at three years old, his doctor suggested he took up the drums because this would help to loosen him up. He saved the money from his paper round to buy proper drums and by the time he was 11 years old he was playing professionally.
He started with the 'Jazzola Orchestra' while he was in his teens with a guitarist called John Truehart who moved to New York in 1925 and Chick went with him. Once he arrived there he played sessions with the likes of Johnny Hodges (his cousin), Benny Carter and Duke Ellington.
So at 17 he was living in New York City which was close to 200 miles from his home in Baltimore and by the time he reached his majority, he was leading his own band in Harlem. In 1926 when he first arrived in The Big Apple, a guy called Tommy Benford (who eventually played with Duke Ellington, Fats Waller and Django Reinhardt amongst many others) gave him drum lessons. Once he settled in he began playing with a five-piece band at The Black Bottom Club before moving on with an Octet to the Paddock Club. Eventually he moved the group (now called the Harlem Stompers) to The Savoy in 1931 and in the fullness of time it became an eleven-piece. Chick's style was called 'power drive' and he was known as 'Harlem's King of Drums'.
But to rewind just a little, towards the end of the twenties Chick Webb was either on the road, or working New York residencies in prestigious clubs like the Roseland Ballroom and The Cotton Club. By the time the 'dirty thirties' began his eleven-piece band was elevated to being the house band at the Savoy Ballroom on Lenox Avenue in Harlem and its title had been promoted to the 'Chick Webb Orchestra'.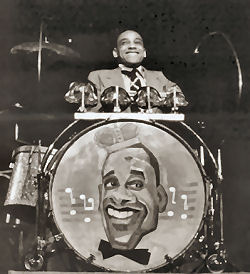 The 'Lindy Hop' was a dance named after the St Louis trans-Atlantic aviator Charles Lindberg and it was invented at The Savoy which was deliberately billed as an extremely competitive place for dancers. By 1937 this competitive urge had spread to the music too and the Savoy's 'Battle of the Bands' had captured the public's imagination. After several lesser bands had unsuccessfully taken on the house band's challenge, Benny Goodman faced- up to Chick's band in a play-off to be judged by the 3000 people dancing there. Webb's band won. The next year Count Basie threw down the gauntlet and again Chick won although according to some sources, Basie should have. In the fullness of time, Chick's orchestra was defeated by Duke Ellington's. The Duke is on record as saying he was extremely nervous about the encounter and certainly didn't want to be embarrassed by losing it. Nevertheless Chick was awarded the title of the' First King of Swing' which is why his bass drum had a crown on it and eventually the accolade 'The Savoy King' was bestowed on him, but more of this particular nickname later.

The Savoy was the venue in the US where thousands of people could congregate without discrimination whatever their colour, dance energetically together and otherwise just socialise and enjoy the 'Swing' music.
'Swing' music for those who don't know was music with a 'lilt' to it, ie a dotted crotchet or broken triplet 'feel' with emphasis on the offbeat. Anyway in the thirties it was definitely here to stay and Chick Webb was regarded along with his band as being the best exponents of this new music. So much so that Buddy Rich admitted he was heavily influenced by Chick and called him "the daddy of them all". Like Buddy, Chick was unable to read music but was able to memorise complicated arrangements and conducted his musicians from a platform in the centre of the stage. His drum pedals and stands were specially adapted so his extremely diminutive frame could still cope with them.

I mentioned 'The Savoy King' earlier and this is the title of a documentary film which came out in 2012. It's all about Chick Webb and I must admit I haven't seen it although if you're interested in getting the flavour of it there are various clips of it on Youtube. The film has lots of famous guests voicing the principals with Bill Cosby (a closet drummer) as Chick Webb and Janet Jackson as Ella Fitzgerald. Charlie Watts plays a British journalist named Stanley Dance who emigrated to America (like Leonard Feather) after the war.
Having heard quite a bit of Chick Webb's playing it's amazing to discover how modern he sounds on record - when he's playing on his own that is. Like most drummers of the era Chick didn't sound as good on record as he did live, simply because the recording equipment in use at the time couldn't cope with the dynamic sound they were producing on the drums. What we can discern from his records like 'A Tisket, a Tasket', 'Stompin at the Savoy', 'When I Get Low, I Get High', 'Lindy Hopper's Delight', 'Harlem Congo', 'The Dipsy Doodle' and 'Strictly Jive' is that he had a powerful sense of swing, great technique, brilliant dynamics and produced imaginative fills. We also know he influenced both Gene Krupa and Buddy Rich!
Chick Webb was inextricably involved in the meteoric rise to stardom of Ella Fitzgerald although he didn't actually single-handedly discover her - Chick's front-man Bardu Ali did when she sang in a talent competition at the Apollo in Harlem in 1935. He had the good sense to bring her to audition for the drummer and Chick immediately hired her for his band. Some reports say he adopted her (others that she sneaked into his dressing room with a desire to get him to take her into his bed) but other, possibly more reliable reports refute both of these rumours. Even though his health was worsening he continued to play gigs as the 'Great Depression' took hold to keep his band employed. Chick's was the only swing band to play at the Metropolitan Opera House in New York, and he was featured at the Savoy Ballroom's exhibit at the New York World's Fair which opened only a couple of months before his death in 1939.
We do know that Ella Fitzgerald enjoyed great success with him at the beginning of her illustrious career and struggled to keep her feelings together and sing at his funeral. She actually ran the Orchestra (still with Bardu Ali as front man) for four years after Chick's death. To hopefully prove these articles aren't just thrown together, Bardu Ali was a singer and guitarist who was master of ceremonies for all the bands he was in and after Chick died he took off to California and became Master of Ceremonies and business partner for one of our earlier 'Groovers and Shakers' subjects: Johnny Otis.
As far as his drums were concerned there are a great many pics of Chick using Gretsch-Gladstones with single post lugs covered in White Oriental Pearl with distinctive sparkle inlays. The most modern set comprised a 14 x 6.5" snare drum, just two tunable toms, one mounted 13 x 9" and one 16 x 16"on the floor. We know like everybody else he used a 28" bass drum and because he was so small (at four feet and one inch) he had specially-built pedals and sprung swan's necks for his suspended Zildjian cymbals. One picture shows him with toms with a tacked-on bottom head while others from slightly later show him with completely tuneable 3-ply toms, albeit they had bass drum type inlaid wooden hoops. He used just four temple blocks, a wood block and a cowbell. All his drums were mounted to a Console which was ostensibly made by Gretsch but very probably emanated from Beverley in the UK.
He played Avedis Zildjian cymbals and was able to make his 12" hi-hat cymbals do a great deal more than most other players. Otherwise he used a 12" splash and a 14" (or 13") fast crash, a 15" Chinese swish and that was
There is an awful lot of speculation as to the year Chick Webb was born with almost a ten year gap between various published dates from 1902 to 1909. 1905 has been proved to be the actual year, but there is no dispute about the day he died. It was June 16th, 1939 in hospital back home in Baltimore. As previously mentioned, he died from Spinal Tuberculosis, all his life, and well-founded rumour has it he asked his mother to sit him up on his death-bed before uttering his famous last words:
"I'm sorry I got to go!"
He was 34 years old when he died and both Duke Ellington and Art Blakey credited him with influencing their music. Gene Krupa said Chick had "raised the public's awareness of drummers and paved the way for drummer-led bands like his own".
Bob Henrit
April 2015
Please log in below if you wish to add your comments on this item. If you are commenting for the first time, you will need to register for security reasons.