Groovers and Shakers - Gene Krupa
Groovers & Shakers: Eugene Bertram Krupa
It's a fair cop, I'm embarrassed to say I didn't know as much about Gene Krupa as I did about many of his contemporaries whom I've already written of in Groovers and Shakers. That said, other than the obvious, my knowledge seems to have been gleaned from black and white photographs of him in magazines and on the internet. However as a Jesuit-educated drummer myself I did know that he 16 he started to train to be a priest 90 minutes away from his home in Chicago at St Joseph's College in Rensselaer, Indiana. Here he discovered he didn't have the vocation for religion his family desperately wanted him to have although he patently did have one for the drums. So the spiritual world's loss was definitely the drumming world's gain.
I also knew he almost single-handedly changed the shape of the drumkit and lastly (and in my opinion leastly) it is/was an open secret Krupa was busted for possession of marijuana in San Francisco and jailed for 90 days. Interestingly in the laissez-faire 21st century when drug possession is condoned and even decriminalised in some places and depending on the amount in question, laughingly commonplace in others. It's a very interesting and convoluted story you might like to look-up on the internet if you've a mind, and at his trial he refutes the suggestion from the prosecutor that marijuana would make him play faster! He claimed that only intense practise and technique could achieve that. This drug misdemeanour broke-up his band but perhaps it was an ill-wind because the incident evidently brought him back to religion. (Some internet accounts list him as having been a heroin addict which is of course a great deal more serious issue and I'm certainly not going to propagate that particular rumour.) That said, writing this was very much an enjoyable voyage of discovery for me.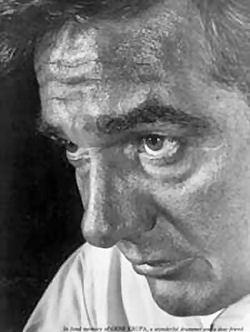 He was born in Chicago on January 15th, 1909 and was the youngest of 9 children born into a family of Slovak (some sources say Polish) Catholics who were left without a father and breadwinner early in their lives. When his father Bartley died, his mother Anna worked as a milliner to make ends meet. The siblings simply had to contribute to the family's finances and as Gene's brother Pete was working at a general music store in Chicago, the Brown Music company, he managed to get the young Eugene on the payroll as a 'chore boy'. I assume this job put him in the very lowest position on the totem-pole and entailed doing all the things nobody else wanted to do! Anyhow, this gave him access to instruments and having started-out playing the saxophone at school he also had a chance to try piano, trombone and cornet. The die was soon cast though and he settled for the drums because they were the cheapest instruments in the Brown Company's catalogue at $15. Rumour has it this was for a Japanese drum set with bass, snare, cymbal and woodblock. But since he was situated in the very heart of the US drum manufacturing world with Ludwig and Slingerland on his doorstep and Rogers and Duplex metaphorically not too far down the road, I have difficulty believing anybody would contemplate importing drums from the Orient, let alone buying them!
He started to drum for a living in 1921 while still at Grammar school and his first proper gig was with a band called 'The Frivolians'. These guys played during the Summer season at Madison in Wisconsin which was 150 miles away from Chicago and where traditionally they specialized in Polka music. He joined the Frivolians by default because their drummer was sick and they desperately needed to replace him!
In 1923 he went to Bowen High School on the west-side of Chicago and palled-up with 'The Austin High Gang'. Here he began to rub shoulders with the likes of Benny Goodman, Jimmy McPartland, Bud Freeman, Jimmy Lannigan and Dave North . These guys never actually recorded together under that name although all of them were on Krupa's first recording sessions and are credited, along with Davey Tough, with creating 'The Chicago style' school of jazz. Gene eventually acquired the nickname 'The Chicago flash' and besides helping to refine the hi-hat, is credited with standardising the cymbal terms: Crash, Ride, Splash, Pang and Swish with Avedis Zildjian. He actually used 14" hi hats, 1 x 16" fast Crash, 1 x 16" medium Crash, 8" paper thin Splash and a 24" Ride.
Gene Krupa will forever be known as the man who made drums a solo instrument. He was also the first kit drummer to record with a bass drum although the engineers only grudgingly allowed it. They claimed it (and his toms) would "knock the needle of the wax and into the street!"
Gene was very influenced by Baby Dodds and emulated his use of 'press' rolls. In 1925 he began lessons firstly with Sanford Moeller then Al Silverman, Roy Knapp and Ed Straight. Eventually he began to listen to (among others) Tubby Hall and Zutty Singleton.
He was a Slingerland endorser and not only single-handedly made that Chicago drum company a huge success, he inspired millions to become drummers. He persuaded Bud Slingerland to build a set which would allow him to do away with quite a lot of what he considered to be the less-important extraneous bits of the existing trapset like temple-blocks and Chinese tom toms. As far as he was concerned neither he, nor the music he was playing needed them. He stripped it down and ended up with a manageable bass drum, two or three toms (he originated the sizes 12 x 8 and 13 x 9 and requested they had tuneable heads for the batter and resonant sides for the first time), and an equally manageable snare drum; a few cymbals, and a cowbell or two.
As far as drums were concerned he was their first endorser and with a couple of anomalies he used Slingerland for the whole of his career and pretty much ran the gamut of bass drum sizes from 28 eventually through to 22". Of course there were his own signature snare drums including a 5.5 and a 6.5 chrome on brass versions although there was a 7" deep snare in 1941 along with a 28" bass, 13 x 9 and 14 x 12 mounted toms and a 16 x 16" floor tom. There was a four piece reissue Gene Krupa set from Slingerland as late as 1998 with a 24" bass and traditional 'cloud' badges.
I mentioned anomalies and these were a snare drum built for him by Billy Gladstone which he seldom used and a Dynasonic from Rogers which he ordered after seeing the one which was specifically built for Buddy Rich. Gene's was ordered without Rogers' fittings and Slingerland's own were substituted. The only thing which gave the game away and stopped him using it was the highly distinctive snare frame - which was easily visible underneath. He went back to using his Radio King.
In 1927 he made that first record with a 28" bass drum with the McKenzie-Condon Chicagoans and a year later he had moved to New York although for the next eight years he came and went between the windy city and the big apple with the bands of Red Nichols, Mal Hallet, Irvin Anderson, and Buddy Rogers. He also played in the orchestra pit with Benny Goodman and Glen Miller for a Gershwin play "Strike up the band". (Krupa couldn't read music and Glen Miller hummed the drum parts to him until he had them committed to memory.)
That Broadway show ended in 1930 and Gene threw his lot in with Hoagy Carmichael and played on what can only be described as historic jazz sessions with Joe Venuti, Bix Beiderbecke and Adrian Rollini. He went back into the pit for another Gershwin show, 'Girl Crazy' before joining firstly Russ Columbo's band and as a result of this, Benny Goodman's group.
In 1935 he began his stint with Benny Goodman because he was assured by the clarinettist it was going to be a 'real' jazz band not a dance-band. A couple of years later this produced the seminal "Sing, Sing, Sing" recording as well as the famous Carnegie Hall concert elongated drum-solo version. Other than his tom part where he accented the third beat of the bar behind Goodman's solo clarinet he had no part at all in the writing of Louis Prima's song which is of course par-for-the-course for drummers within a band. However he did write music viz "Drum Boogie" and many more. He actually wrote a tune called "To be or not to Bebop" although it's said he never quite adjusted to the 'Be bop' period when it burst onto the scene in the mid-forties.
Before this, in 1938 he started his own band with Charlie Ventura, Gerry Mulligan and Roy Eldridge. This led to him being voted the US's outstanding drummer' in 1944 when he was playing firstly with Tommy Dorsey then his own band. This lasted until the beginning of the fifties when he joined up with Norman Granz' 'Jazz at the Philharmonic' and for contractual reasons was billed as 'The Chicago Flash'. Jazz at the Phil was an upmarket jazz extravaganza which successfully toured around the world's most prestigious venues for almost 40 years and while he was appearing in it played drum battles with Buddy Rich, Louie Bellson and Cozy Cole and otherwise with the likes of Lionel Hampton, Dizzy Gillespie and Lester Young.
In 1951 he started to take timpani lessons from Saul Goodman from the New York Symphony Orchestra and in the fullness of time (1954 to be precise) he set-up what (for blindingly obvious reasons!) became a successful drum school in New York City with Cozy Cole and taught a lot of possibly unlikely people including Peter Criss from Kiss and Jerry Nolan from 'The New York Dolls'.
At the end of that decade Hollywood's take on his life came out, the 'Gene Krupa Story' with Sal Mineo portraying him even though Gene himself was responsible for the music.
Krupa was forced to slow down in the late fifties due to back pain and he survived a heart attack in 1960. He finally retired in 1967 saying: "I feel too lousy to play and I know I must sound lousy." But he got himself together practised hard and three years later came back to Benny Goodman's quartet.
Louie Bellson won the first National Slingerland/Gene Krupa contest in 1941 and described him as: "a wonderful kind man, and a great player. He brought drums to the foreground and is still a household name."
Buddy Rich said of Krupa that he was and I quote: "The beginning and the end of all jazz drummers!" He died of a heart attack in Yonkers, New York on October 16th, 1973. In 1978 was justifiably the first to be inducted into the Modern Drummer hall of fame.
Bob Henrit
March 2015
Please log in below if you wish to add your comments on this item. If you are commenting for the first time, you will need to register for security reasons.