Vic Firth New Products Review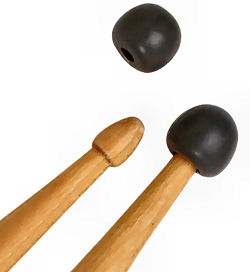 Universal Practice Tips
New Vic Firth Products 2015
I've been very lucky the last month or so to have been trying out the newest products from Vic Firth.
First up we have two new stick models, the 5A and 5B Barrel Tip.
As you would expect from Vic Firth these are top quality sticks and hold up as well as the regular models, the only difference comes in the form of the tip which is now a barrel shape; but you've probably figured that out for yourself!
I personally like barrel tips and have found the 5A model in particular to be to my liking. If you're a fan of the HD4 or SD4 combo, you'll find this model is very similar in dimensions and for me it's a very comfortable stick to play with.
That said the 5B is also great and worth a look if you're into a slightly heavier piece of wood!
I've also been checking out these "Universal Practice Tips". Essentially what we have here is a pack of four rubber tips (the same as on the "Chop Out" sticks) which you can pop onto more or less any pair of sticks you like, giving you a ridiculous number of options.
I love these and my primary concern that they may fly off the end of the stick seems to be unfounded as so far that hasn't happened once, although I did find they were a better fit on an acorn tip than a barrel.
They're fantastic if you're running around with your sticks and just want to practise, as you no longer need a pad and you can play quite literally on anything!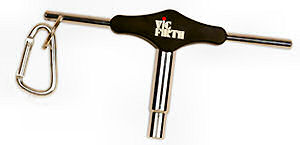 High Tension Drum Key
Vic Firth also released a new pair of gloves at the Winter NAMM show in California, but these didn't impress me as much as the other new products.
I'm in no doubt that these gloves are likely to prove popular with heavy hitters who hands are crying out for some protection, but for me the fit was just a bit too snug. I would say I have average sized hands and given these we're supposedly the larger gloves, I can't imagine many bigger players getting their fingers into them!
As far as the grip goes there is no problem there, although the rubber was initially quite firm. I play with my index finger loose and slightly extended; if you're more of a pincher with the index finder then the gloves will require you to work a little at first just to bed them in.
The new High Tension Drum Key is a bit of an exciting affair!
I'm fairly certain if you we're flying you'd be asked to check this in the hold as a "dangerous item" as it's a big T-Bar shaped piece of metal with the standard drum key on the bottom and a clip for your belt on one of the long ends.
This is a serious key and with the added torque you can get from the extended bar, tuning up a snare drum really tight is an absolute doddle. Its size also means you can "twirl" the key once reaching lower tensions very easily.
Probably suited more to marching snare drummers than kit players, it's a substantial piece of kit for sure and certainly does what it is intended to do.
We also have a brand new model of Steve Smith's Tala wands and I really dig them!
I've had some of the Yellow Birch wands for a while now and I've always liked them. If you're not familiar with these models, unlike Vic's regular Rutes, the Tala Wands feature a foam core which makes them lighter and also slightly bouncy.
The new style called the "Slats" has a turquoise colour grip and is made from strips of bamboo rather than dowels, each slat is also topped with a sheath presumably to protect the drum skins.
Because of this the stick has more of a square shape and the sound they create is a dark and full attack. Being lightweight they are also handy in quiet situations and are somewhere in between the other Tala Wands and a stick as far as volume goes.
I like these, they offer an interesting texture on the drum and percussionists I'm sure will find these enjoyable to play with.
The final new offering from Vic Firth is the "Split Brush".
They were designed with Florian Alexandru-Zorn, who I'll admit does have a slight edge on me when it comes to brush playing.
These brushes are designed to work in a variety of situations, from jazz upwards and feature two different lengths of wire which allow for different degrees of articulation.
The wire itself is a slightly heavier gauge than standard brushes, but when pushed flat they provide a rich, full sweeping sound as well as a nice attack when played staccato.
I like them and found them to be comfortable, but I question whether there is enough of a demand for them.
Brushes are an interesting one because any brush player who has built up control to really play them will have also undoubtedly built up enough technique to pull a heavier sound from the drum or lay down a fat back beat. I just wonder where they'll fit amongst Vic Firth's already impressive brush array.
Rob Crisp
Please log in below if you wish to add your comments on this item. If you are commenting for the first time, you will need to register for security reasons.