From The Frontline - Myke Heath Blog - March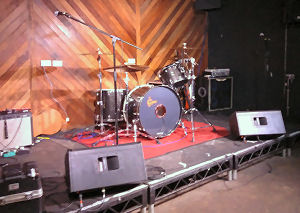 All set up and ready to go...
Hello lovely peeps and regular drum abusers of www.mikedolbear.com
This month preparations have been well under way for the next Wounded Kings album and the upcoming Scandinavian tour. Sometimes it''s frustrating to be flitting between pre-pro for recording and rehearsing for tours and shows. Just when you feel like you are getting in the groove with one thing you have to then switch into an entirely different headspace and as my wife and other members of the fairer sex constantly remind me, men are not very good at multi tasking. I would say that the correct hypothesis is that men are only able to clearly focus on one thing at a time! Anyway whatever happens it will have to come good in the end and it always nearly does anyway. It seems that you don't get very fair in this game if you don't.
Now the Scandinavian tour is an intriguing thing to me at the moment. We don't know where we are staying and we've been warned that the chance we will take any money home with us is also very slim. Money isn't the driving force for me to play at the moment anyway it is simply just to get out and play to as many people as possible in as many place s as possible. I feel very privileged that people want to pay for us to do that in the first place so as long as we don't run at a loss any money made is a bonus as far as I'm concerned. Luckily we do know the tour promoter, one of the bands we are playing with and one of the venues too. At least we'll see some familiar faces. Perhaps that's why nobody is worried about accommodation or travel.
The view of the crowd...
I have had to weigh up how best to take my cymbals and other bits with me and I think I got it sussed but I did have a long personal battle over whether I should invest in a hard case for flying. In the end I couldn't clearly decide so I just stuck with my old faithful Pro Racket bag which has done me proud in previous flights and is still going strong. I just wondered if I might now be pushing my luck a bit and if any of my beloved pies get damaged it would be very hard to replace them right now. If you happen to see a grown man with long dark hair and a beard at Bristol airport crying like a toddler who's had his ice cream taken away from him and then been handed back an apple you'll know that I got it wrong. As long as I can get my cosmetics and hair products on board as carry on I'll be fine!
This month I also did the traditionally silly six hours plus round trip to London and back to play for 40 minutes to five people with Ten Percenter. It was a showcase on a Sunday night in Camden which had another band/duo playing who were from our neck of the woods and lucky for us they had brought a few friends with them. It actually made for a really fun and pleasant evening but if they had left after they had finished playing we would've literally played to the bar staff and the sound engineer. One of our London friends did show up half way through our set and it was great to see him and afterwards he gave us the sage advice to "never play in Camden on a Sunday night. It's always dead!" Oh dear. Also to top it off the promoter didn't show up and as far as we could see there was absolutely no local promotion anywhere in the venue for the show either, but we still got paid and we did have an ulterior motive for playing the show and as a consequence bagged a local show on the main stage at Exeter Respect Festival which has an attendance of over 10,000 people over the two days it's on. With a bit of luck we'll get to play in front of more than five people on that gig! It's a great festival and is backed by the local council, which enables the organisers to make it a free entry event. In all honesty I don't mind doing the London thing and I know everybody goes through it at some point. It's a right of passage after all (that's what I keep telling myself!).
On a slightly sour note we did have our practice space broken into but oddly or luckily nothing was taken. It has a steel door with a heavy-duty padlock and somebody had gone to great effort to get in there but decided not to take anything. We decided to clear out all the valuable stuff so if they did come back there wouldn't be anything worth taking but it doesn't feel good to feel like the things you love and work hard for are vulnerable. The room costs a reasonable amount of money each month to rent and the only real justification for having the space was so the gear could be left set up to play and kept safe out of harms way. I think we'll all re-evaluating whether it's worth the risk of staying there now. It's a shame but it's not the end of the world but I have been the victim of burglary in my own home a few times previously and it's really not a good feeling. Stupidly I don't have any of my gear insured at the moment but maybe it's about time I did. I might have just been very lucky so far.
Stay safe, stay hungry and most of all stay happy!!
Please log in below if you wish to add your comments on this item. If you are commenting for the first time, you will need to register for security reasons.