Young Drummer Of The Year Finals 2015 - with video
Young Drummer Of The Year Finals 2015
The air was full of tension at the Royal Spa Centre in Leamington Spa when friends, families and especially the parents in the audience waited for the start of this years Young Drummer Of The Year final.
Going into its 14th year, the competition proved to be as popular as ever and again received over 380 entries. To enter the competition drummers (up to the age of 16) from all over the UK submitted a two-minute video of their playing. This was narrowed down to a short list of 40 entries before an independent jury picked the ten finalists.
The stage was set with three beautiful looking and sounding drum kits provided by this years sponsors, Yamaha and Sabian, and all fitted with heads provided by Evans.
After a brief welcome and introduction, Mike Dolbear talked the audience through the procedure and the three tasks awaiting this years contestants.
Firstly, a two minute free drum solo provided the young drummers with space to express themselves as performers. From groove playing over different styles and sounds to loads of chops, every contestant had their own way of expressing themselves on the instrument and it already became clear that finding a winner would prove to be a tricky task.
The second part of the performance consisted of playing to a backing track. Therefore, the drummers were sent an original recording of a song which was missing drums, so it was the competitors task to come up with their own parts and perform them live.
This year's tune was composed by 2008's Young Drummer Of The Year winner George Barnett. George has since gone on to be a very successful singer/songwriter and happily accepted Mike's request to compose a piece for the competition. Writing a prog rock tune including odd time signatures, he certainly didn't give the drummers an easy ride.
The third and final part of the performance was playing with a live band. Joined by a bass player and a guitarist the young musicians had to perform a fusion piece, which they had only heard a few times earlier in the afternoon. Multiple sections with stabs, hits and a fluid shuffle groove made this a hard challenge.
After explaining the days tasks Mike introduced the judges trusted with the very tricky decision of choosing this year's winner – a panel who's presence would have made the most experienced and professional drummer go weak at the knees: Jeremy Stacey (Tom Jones, Noel Gallagher's High Flying Birds), Bob Knight (Cee Lo Green, Rumer), Joe Clegg (Ellie Goulding), Mark Richardson (Skunk Anansie, Amy MacDonald), Cherisse Ofosu-Osei (Paloma Faith, MIKA) and Ade Holbrook (Co-founder of YDOTY).
Then it was time for the first batch of drummers. Tom Potter (14), Dillon Harrison (11), Sam Every (15), Zoe Pascal (13) and Oliver Spackman (15) gave impressive performances and set the bar incredibly high.
After these first five performances, and while the audience got a well-deserved break for the ears and grabbed some refreshments, each contestant got five minutes to chat to the judges. This gave the judges a good chance to get a personal impression of each drummer and the chance to ask questions about playing style and intentions.
The second half was kicked off by George Farrer (16), followed by John Holbrook (15), Oscar Odgen (15), Jordan Thompson (16) and Euan Leslie (15).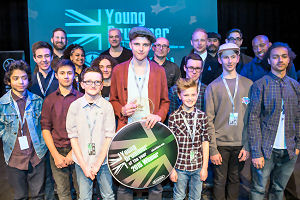 Euan with the other finalists and the judges
Whilst the judges retired to come to a decision the audience was treated to a very special highlight - a performance of last year's winner, Morgan Simpson. With a combination of solid groove playing and furious fills Morgan showed once again that he held the title 'Young Drummer Of The Year' for a very good reason, and made sure he will be remembered as part of the great talent associated with this competition.
After this grand farewell it was time for a new winner, so Mike Dolbear, the ten finalists and the judges took the stage.
While all contestants were presented with Goodie-Bags kindly provided by this years goodie bag sponsors Sabian, Yamaha, Evans drum heads, Vic Firth drum sticks, Protection racket, Tuner fish, Rhythm Magazine, Drummer magazine and ProMark. Mike concluded the event by saying his thank-yours and introduced special guest Dion Dublin (former Manchester United footballer and inventor of the 'Dube' percussion instrument) to announce that Young Drummer Of The Year 2015 is Euan Leslie!
Once again the level of all finalists this year was incredibly impressive! The talent, musicality and technical ability of drummers that young promises a bright future for the UK drumming scene, and events like this offer them a great stepping stone into the business. Many of the past YDOTY contestants - winners as well as runner-ups - are now found keeping the groove for some of the UK's biggest artists. This, plus the sheer amount of entries each year, shows just how important this event actually is.
Thanks to the passion and dedication of people like Mike Dolbear, Ade Holbrook and all the volunteers working behind the scenes to give todays young drummers a platform and the chance to become the musicians of tomorrow.
Words by: Tobias Miorin
Photos by : Dave Hughes

Please log in below if you wish to add your comments on this item. If you are commenting for the first time, you will need to register for security reasons.