Vintage View - Sonor Mini Mammut
Vintage Views: Mini Mammut Electronic Drums
Those German language scholars amongst us will of course be aware that Mammut is their word for mammoth - woolly or otherwise. This is an unusual name for an electronic drum set which is not at all large but actually rejoices in the oxymoronic name 'Mini Mammut'.
It was made (or should I really be saying marketed?) by a German company – Sonor no less. The set came out at a time when it was the fashion to use numbers to designate models of cars, hi-fi's, fridges, cookers and many domestic implements, rather than naming them. Even though this applied to drums too Sonor decided to break with very long-standing German tradition and give this new product a name.
But be that as it may, I know I saw the set in 1987 at the Frankfurt Music Messe although I know I saw it at the Sonor factory in Aue too. Anyway, from the moment I caught sight of Mammut it was obvious here was a very professional product which had obviously had a great deal of thought put into it. It had clearly been researched pretty thoroughly and I seem to remember a guy called Alex Muhlbauer had a great deal to do with that side of it. If my memory serves me well, Alex was part of the German drumworld with eventually at least a couple of drum shops to his name eventually called PPC: one in Munich and another in Hannover. Eventually he went on to own the UFIP cymbal company.
The 'Mini Mammut' was unusual in that it wasn't actually a bona fide electronic drum set simply made up of pads to trigger its sounds - it was unashamedly an e-drum add-on for a regular acoustic drum kit. Mammut was one of the first to do this but there was quite a lot more to it than that. It came out during the early days of digital sampling when the Germans were just beginning to get into the game. Memory for electronic percussion (and every other digital product really) was at a premium then and what Sonor (and some others) did was to encapsulate sounds on a memory-block which fitted into a slot in the brain and could be changed simply by pulling it out and slipping another one in. Sort of a bit like a pre-programmed, read-only memory stick. Sonor and Dynacord were considerably ahead of the game with this particular aspect.
There was no designated bass drum pad but Mammut could use its own circular pads to trigger its sounds, however it could just as easily trigger the electronic voices in its various 'brains' from microphones situated over the various acoustic drums. Unlike the original Simmons pads, these Sonor's were more conventionally drummy with regular heads and counterhoops and they even came with a second rimshot pickup. Also, (and again unlike Simmons) they were designed to replicate the 'feel' of an acoustic drum and were available in white, black or grey metallic finishes. There was also an ingenious 'trigger stick' available which had two rubber-coated prongs, each with four distinct segregated sections and which, depending on where you hit them, selected, changed or triggered up to eight sounds.
The brain itself was actually called 'Mini-Mammut Unit' and was simply a box fitted with 12 controls for processing its 14 bit sounds: Volume and Volume Dynamic, Pitch and Pitch Dynamic, Cut-Off and Cut-Off dynamic, Pitch Bend, Decay, Noise, Panorama Attack and Level. All of these parameters were controlled by faders called 'Slide Switches'. These mini units could be slid into a box which could contain up to 5 of them and of course you could have as many of these boxes as you could afford (and had inputs in your pa mixer for). As I said, they could also supply you with small, multi-directional condenser microphones to pick up and amplify acoustic drums and mix them with the samples, or of course simply trigger them. (These C8 microphones came off small goose necks which were attached to the counterhoops.)
As I said, besides their 'on-board' voices the mini brains had a slot at their bottoms for other sounds which were interchangeable. These were held on a series of pitch-adjustable cartridges and had been sampled at CD quality of 44.1kHz (there's a phrase I haven't written for a very long time). These 'carts' could hold one long sound (like a cymbal) or up to 8 shorter sounds (like drums or effects). So you could interchange 8 snare drums, or 4 toms, or 8 hand-percussion instruments and all the usual show-off novelty gizmos like 'breaking glass', frog croaks, applause and so on. (At the time these sounds, along with Orchestra 'hits' were sines qua non for all electronic drums.) Each Mammut cartridge contained up to 8 sounds which were switchable and could be rapidly plugged-in to change them.
As I said, Sonor's rationale with Mammut was that it was to be an electronic drum unit to add to any acoustic setup without changing your playing style. With all the options the complete system comprised the Mini Mammut brain; a sound library, drum pads, the trigger stick, microphone and the percussion instrument samples: Timbales, congas, bongos, cowbells, claves, temple-blocks, guiros, maracas, vibraslaps, castanets, tympani and a copious amount of 'real' bass drum, snare drum, tom and cymbal sounds. All of these were available in the Mammut sound library which for me was one of the real selling-points for it as far as the recording studio was concerned. (It took a great deal longer to set-up a microphone, find the best tambourine/cowbell/shaker for the task and then work at getting a good sound on it; than plugging in the pad with the correct sound block inserted in the brain and clonking away. That was that. More cowbell [never less!] from the comfort of your couch in the control room! And you could easily tune it.)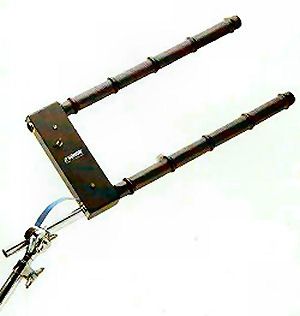 Trigger Finger
To be honest I don't have any idea if Mammut (mini or otherwise) was successful because I don't recall seeing any of them here in the UK. This was probably because by 1987 Simmons were getting ready to make a really quantum-leap here in the UK with their 'all-singing, all-dancing' SDX. It was about to be unleashed just six short years after the launch of SDSV and, with a great deal of different Simmons drum products to choose from at different price-points at that time, if you wanted an electronic set you'd be more likely to go for the brand leader – rather than the new, untried kid on the block.
I struggled to find anything I'd written about Mammut in my outbuildings so having been on www.sonormuseum.com (their museum site) and discovering quite a few reviews of my own reviews of their products which I'd written in a previous life, I was most surprised to see nothing about Mammut! Had I dreamt the whole thing up? Was it a figment of my imagination? Had Sonor forgotten about it, or were they abrogating all responsibility for it?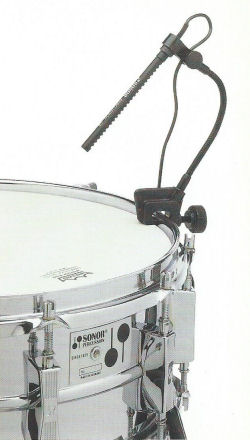 The microphone/trigger
I sent an email to Sonor on the subject and their website promised to get back to me in three days. Unfortunately they didn't so what you have here is what I've managed to dredge up from the depths of my memory. I've only been ignored twice in all the time I've been writing 'Vintage Views' and each time it was by a German company. Is it something I said? Tschuss.

Bob Henrit
February 2015
Please log in below if you wish to add your comments on this item. If you are commenting for the first time, you will need to register for security reasons.