Sabian New Cymbals - Holy China and Ozones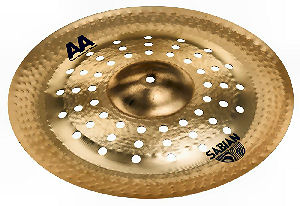 Sabian 17 AA Holy China
Sabian 17" Holy China and B8 Pro O-Zone Cymbals 2012
Sabian have created a lot of cymbals with holes in them lately. There are good reasons for this as we shall see and some real pleasant surprises as a result. Some of the latest of these are the Chad Smith (Red Hot Chilli Peppers) Signature Holy Chinas and some models in the mid range B8 Pro lineup.
Holes have quite an effect on cymbal sound as they interrupt the flow of sound (vibration) through the cymbal body, effectively acting as a barrier to the vibrations passage though the metal. And, as you might expect, the more holes and the bigger the holes, the more they affect the characteristics, often adding a trashy element to the tone. While this is not a new idea for cymbal manufacturers there currently seems to be something of a craze going for these vented designs - and with good reason. As ever, the best way to judge these instruments is with your own ears (get down to your local drum store) but I have had a good stint with the following cymbals in various gigs, recordings and practice sessions so here are my thoughts on what holes can do.
AA 17" Holy China – Chad Smith Signature model
Following on from the successful launch last year of the 19" and 21" Holy Chinas, promoted by Chad Smith seen in adverts wearing a clerical outfit complete with dog collar, this is the latest in the same line and, so far, is the smallest model at 17" diameter. In keeping with the Signature range this had 51 small, 1cm circular holes radiating across the main body of an otherwise classic profile modern Chinese type cymbal.
The flanged edge lip had no holes in it and the bell had a generally grubby natural or unpolished look in comparison to the shiny brilliant finish of the rest of the cymbal. A small, knobbly hammering pattern adorned the outer lip and light hammering patterns could be seen on the main bow of the cymbal around the holes. Quite a lot of design features in one cymbal, then, and at a glance more like a Sabian Cymbal Vault or HHX model than the AA logo identifying this particular specimen. Sabian themselves describe this as a B20 (alloy) vintage style model. I think it looked very modern with all the features loaded into it but this is not as important as how it sounded.
In action the AA 17" Holy China behaved exactly as I hoped it would. For a medium sized china it was quick and aggressive without being nasty. Chinas are great for that trashy characteristic and this offered a good accent sound squarely in the 'effects cymbal' category. It also had very little of that boom or gong-like flavour I generally dislike in a china and was well controlled in its balance of tone and white noise or hiss. There was also a kind of rattle to the sound that may have been down to my over-abused ears, but this was not detrimental to the overall characteristic. When struck with some enthusiasm (of which I am sure Chad Smith would approve) there was a quick, bright burst of sound with a rapid decay and no overtones to swamp the next accent or the music in general. I liked the control of volume and body of sound that can sometimes run away from you with other, larger Chinese type cymbals, so this fitted well in just about all genres of music I was called to do. Mallets offered a good enough and swift swell although, for china swells, I prefer larger diameters so the individual mallet hits are less obvious above the growing wash.
Do the holes make a difference here? This is harder to tell on a China as the addition of holes generally move an otherwise normal (crash) cymbal towards the China type sound. I suspect there is some control of overtone and reduction of that gong quality that can plague some Chinas. It would be interesting to hear the same cymbal before the holes are added (taken away!?!). In any case the whole (hole) is for me great than the sum of the parts and this was a really nice, controlled and controllable cymbal for effects accents and just general trashing!
B8 PRO 16" O-Zone Crash
The B8 Pro model range is designed and priced for the mid range market so in general this means you get a cheaper alloy metal and as a result a less controlled and (some would argue) less mature sound. B8 commonly offers volume and bright, crisp cutting tone. Until now.
This model had the classic B8 off-golden colour in brilliant finish, a fairly small bell with fine and close lathing across the body and two sets of large holes - effectively laid out as an inner ring and an outer ring each of six holes. Again the holes are designed to affect the sound and, as these are as large a set of holes as I have seen in a cymbal (there was lots of metal missing) there was always going to be some interesting results.
I love the description Sabian offer for the B8 Pro O-Zone Crash models: "These new B8 Bronze models respond rapidly, with brilliant explosion and dirty agitation". I wish I had thought of that phrase first because it is exactly what they do and it sounds cool even in the written word! And if that weren't enough the main surprise was yet to come.
These sound like top-end professional cymbals worth two or three times the price. The profile felt thin under the stick as there was a physical shimmer and 'give' to the cymbal when played. Offering a pretty rapid build with a stick, the response was right there when needed and the sound built up quickly to offer a good attack and a warm, fruity tonal body with a not too sharp hiss that died just as swiftly leaving no low tone or gong sound in the ears. The holes clearly added the very trashy, but passive-aggressive white noise hiss to the tone and stopped the B8 metal from overtaking the best bits. I suspect that, compared to holes size and layout in the Sabian AA Holy Chinas and others such as the HHX Evolution O-Zone models, these holes were bigger and more plentiful by necessity to ensure that the B8 nature was well tamed. Well, they certainly worked because the more I played it, the more I liked it.
This was also probably the first B8 cymbal I can remember playing where I was confident to hit it softly, knowing that the tone would still win out without any clang or unnecessary undertones taking over. Similarly swells with stick and mallets were a joy as there was only control, build and decay of the great combination of sizzly hiss and crash tone.
B8 PRO 18" O-Zone Crash
This larger model had many of the same great physical and sonic characteristics as the 16" but with two sets of eight holes, again laid out in two bands of inner and outer holes. All the control, sizzle, wash (and lack of clang) were obvious but here there was a deeper, darker tone and lower pitch with more body and soul. If anything the 18" sounded even more ' professional', more like a dark, thin hammered cymbal that had been through a rigorous handmade process than a mid range model. The lower tone offered more oomph than the 16" while still maintaining the wash of the China sound provided by the holes. It still offered a quick cut and brightness required in a crash but there was always that white noise of the oriental style cymbal right on top of the crash tone. Indeed I used this on occasion in place of a China cymbal and it did that job equally as well as it did as a main crash.
Holy cymbal action (Batman)
Holes have generally been the preserve of the higher end models as with the AA Holy Chinas and previous Evolution O-Zone cymbals from Sabian alone (many other companies offer holed cymbals also). This latest Chad Smith model is a great example of a good design made better by the careful and considered addition of holes and would be as good a 17" Chinese type cymbal as you could likely hear.
As for the B8 Pro O-Zone Crash models... I will admit that I left these until last in the review process. And I was wrong to judge these books (cymbals) by their cover (model/label). This is the first time that I can bring myself to offer such praise on a B8 cymbal which, while they can be very good on the whole these days, are still likely to sound like they cost. I was genuinely bowled over by how very good they sounded, indeed all the 'B8-ness' was gone and all that was left was the wash, trash and crash that would be a proud addition to any drummers setup alongside cymbals labelled as much more costly.
Suggested Selling Prices (UK):
AA 17" Holy China £263.00
B8 PRO 16" O-Zone Crash £114.00
B8 PRO 18" O-Zone Crash £130.00
Sabian www.sabian.com/en/
Westside Distribution www.westsidedistribution.com
Thanks once again to Andy at Westside Distribution.
Chris Dennis

Please log in below if you wish to add your comments on this item. If you are commenting for the first time, you will need to register for security reasons.