LP Percussion New Products Review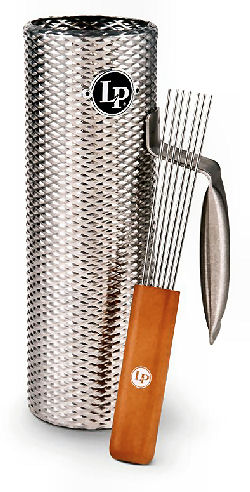 LP mini Merengue Guira
Latin Percussion New Products
Thinking back over the last ten years, I think I can safely say I have never really done any percussion reviews - I think the last thing I did was some cowbells, maybe five years ago - but there''s a reason for that too; I don''t really play percussion. OK, so with this in mind and my potential lack of percussive excellence aside, that didn''t still didn''t stop me from having a bit of fun with these two new items from LP, a Mini Merengue Guira and a Santana cowbell.
Now, the Guira isn''t an instrument I''d ever come across before. However, having said that, I''ve not quite been living under a rock with pictures of drums on the walls all my life and so I am slightly familiar with the more traditional wooden Guiro - look it up if you''re still not sure - which is something I''m sure most people have at least heard even if they didn''t know what it was.
The Mini Merengue Guira is made of metal and is about 9" long and 3" wide, and you hold it with an integral handle, also made of metal. The instrument is played with a seven pronged scraper which comes included.
When playing the Guira, I found it to be very bright and cutting and because of this, and it''s fairly modest size/pitch, I think it would easily do well in an acoustic setting without the benefit of micing.
It''s easy and light to hold and the scraper fits comfortably in the hand. I still can''t play it all that well though, but the audio clip should give you at least an idea on how it sounds.
Now, everyone knows what a cowbell is, and probably most of us have at least one knocking around at home. That makes things easier for me to explain...
The Santana cowbell is a steel bell finished in a white powder coating with a full-color Abraxas Angel [Santana] graphic on it, and is about 9" long with a large rectangular mouth.
It is, as you''ll hear, resonably loud and produces a fairly low-pitched clear tone with very even overtones underneath that initial note.
The construction is good and the body is of a uniform thickness all over which goes to provide that nice tone. The bell will mount to any 3/8" rod using the relatively common eyebolt and wing nut clamp assembly.
As you would expect from LP, both instruments are built really well and are solid and I''m confident they would survive a lot of usage over time.
For more products, check out www.lpmusic.com
David Bateman
August 2012
Please log in below if you wish to add your comments on this item. If you are commenting for the first time, you will need to register for security reasons.