Vintage View - Rimmel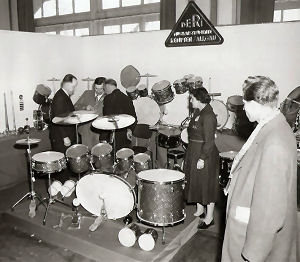 Deri at Messe
Vintage View - Rimmel
Rimmel drums from Germany were never available in the UK to the best of my knowledge although for many, many years they were always on display in exactly the same position to the right of the main door at the Frankfurt Messe.
Karl Rimmel began with a shop just before the war in 1935 in Kempten, Diepolz and since he had a partner name of Max Deibel their original drums were called DERI. In 1949, for some reason best known to themselves, they patented a fireproof drum shell made from Beech and in 1954 they moved to Lingstrasse, in Kempten where they stayed for a short time.
In 1955, having won the lottery, Herr Rimmel started a factory and a line of drums using his own name which lasted well into the eighties. The new factory had a wood shop, a foundry and its own plating facilities.
Allegedly by 1961 they supplied metal parts (many like their own cast aluminium teardrop-shaped nutboxes) to all German drum manufacturers: Trixon and Roxy from Hamburg, Tromsa, Trowa, Lefima and Tacton from the east. By the end of the fifties they were producing field drums, bongos, congas and timpani too.
As I said Rimmell drums were made in Kempten somewhere I had always had a suspicion must have been in the DDR simply because their products didn't travel to us. But, since I now know the city was in Bavaria that hypothesis doesn't work at all.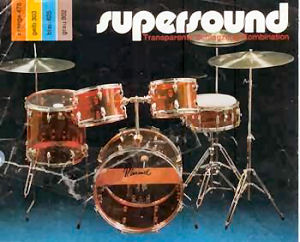 Supersound
In 1983 their weird and wonderful 'Showman' set (with elliptical bass drum) had a trade price of 1860 Deutsche marks at a time, when Wikipedia (I hope) reliably informs me, there were just 2.4 of them to the sterling pound. Showman was their most famous (or should I say infamous?) set because of its oval bass drum for a single pedal (nominally measuring 20" high by 24" wide and a model which Deri had already incorporated into a set called Dixi in the fifties).
Rather like those on Trixon's Speedfire, the Rimmel set had odd-sized, open-ended toms: 7 x 6, 9 x 6, 10 x 7, 11 x 7, 12 x 8, 13 x 9 and 16" x 16" along with a more regular 14 x 6" metal shelled snare drum. Unlike Trixon's toms however, Rimmel's ran more logically from high to low! The shells were beech with beech glue rings, and their Imperial-like fluted nutboxes were chisel-ended with slotted tension screws. To keep up with the trend of the time, at the end of the sixties they also offered a 'Supersound' set with the German version of Plexiglas shells in orange, blue or grey (and for those interested in minutiae the Germans invented Acrylic Plexiglas not long after the turn of the 20th century).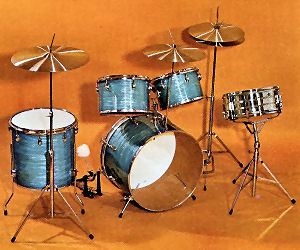 Playmaster
Of course there were bread and butter Rimmel sets too called 'Playmaster' simply designated 415S, 515S and 615S with 20, 22 and 24" basses all with 12, 13 and 16" toms and the same 6" deep, metal -shelled snare drum. Although, as with the plastic drums though there was an anomaly, the 13" tom was shallower than usual at 8" deep. All toms were single-headed with their open ends edged in metal and fitted with double-ply heads.
Rimmel's 'Professional' set was a lot more conventional with 22 x 14" bass, 16 x 16 and 18 x 16" floor toms, 12 x 8, 13 x 8, 14 x 10 and 15 x 12" double-headed mounted toms. All basses had metal hoops (except for the oval drum which had wooden ones) and the toms had inverse-flanged counter-hoops, much like Trixon's, and internal dampers. The drums were all finished-off with a flat chromed, cut-out script badge somewhat like American Rogers' but considerably wider.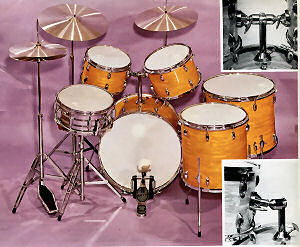 Rimmel Professional
I know that they started out with a patent on a footpedal in 1955 and another in 1961 on the plastic drum head but I'm afraid I can't verify where the stands and pedals which were built at the end of Rimmel's production came from. They were substantial but, in common with many other companies, theirs from 1985 look to be from the ROC.
The tom holder was strangely Hayman-like but with a ball and socket movement like the original playing angle adjustment for their basket holder type tripod based snare stand. Certainly there was a time when the stands and fittings were made in Germany and in the Deri days the stands had a look of three-legged spiders with tubular bent legs. The drums themselves were not particularly significant in those early days with straight sided hoops etc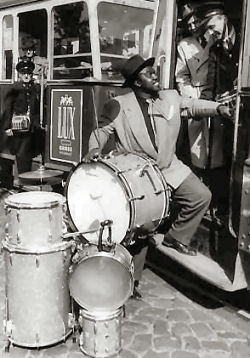 Big Fletchitt
You may have noticed a couple of unusual diameters in the Showman specifications: 7, 9 and 11". These appear to have presented no problem to Rimmel because I'm guessing Tromsa (or should I call them RKB) made their heads in West Germany.
The drums came in the usual silver, red and blue glitters; blue, red and silver metallic as well as gold and orange stripes and black marine pearl. Rimmel were actually granted a patent for finishes in 1961 although there is a certain amount of confusion about this because there is another story about an application for a patent at the same time for plastic heads in Germany, the UK, France and Switzerland.
A drummer from Panama, affectionately known as the German Gene Krupa, ended up playing Rimmel until his death in 1983. Prior to this though, Big Fletchitt had already played Trixon in the fifties and then moved on to Sonor.
Rimmel certainly still built their 'Showman' kit in 1975 along with another set called 'First Step' which had what nowadays would have been in-demand sizes, an 18 x 10 bass, 11 x 6 mounted tom and a 12 x 4 snare.
Also in that year they produced a four piece called 'Micky' along with various metal shelled snare drums: 13 x 4, 14 x 7, 14 x 5 and 14 x 6", some with regular and others with parallel actions.
While I'm on the subject Deri had a split bass drum set where for ease of transportation everything went into the bass drum and modern disappearing spurs.
They also had a bass drum called 'Luxus' and their sets were available covered in red, silver or gold glitters with wooden hoops.
As far as drums were concerned Rimmel abandoned the unequal struggle in 1985 although some sources say they were still involved with metalwork for the motor industry.
I've never seen any Rimmel products outside of the Music Messe so the only used price I could hazard a guess at is somewhere between what the seller is asking and the buyer wants to pay!
This article was possible with the help of information and photos from Drum Archive www.drumarchive.com and Fritz Steger www.drumhouse.com (who incidentally is working on a book called 'Sonor & Co" which will have much more information about smaller German drum companies as well as Sonor).
© Bob Henrit 2012
Please log in below if you wish to add your comments on this item. If you are commenting for the first time, you will need to register for security reasons.