Vintage View - Dragon Drums USA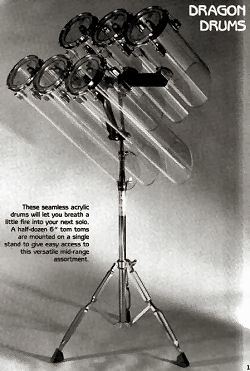 Dragon Drums
Vintage View - Dragon
The original US-built Dragon drums arrived in the UK in the very late seventies and I know we certainly had a few of them in Drumstore around 1980. The company was based in Denver and owned by a guy called Ralph 'Remo' Packer.
Mr Packer started out making drums exclusively from see-through acrylic which were uniquely seamless and half a dozen of their six inch diameter drums (which like octobans came in various different lengths to change their tone) were in their catalogue and called DDL-100.
Dragon 'Dwarfs' were exactly the same diameter but cut shorter (therefore higher-pitched) and numbered DDL-200. 'Dragoons' were designated DDL-300 and had 8, 10, and 12" diameters and all with equal depths and could be complemented by a 6" diameter drum.
'Latin' Dragons (DDL-400) were slightly different in that instead of having their open ends cut at a 45 degree angle, they were cut at right-angles to the shell and with diameters measuring 10 and 12" were designed to be used as timbales. I'm not sure how wise it would have been to play cascara rhythms on those plastic shells though...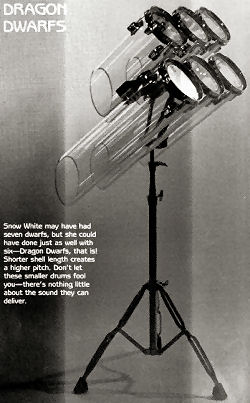 Dragon Dwarfs
All these drums had triple-flanged, pressed-steel hoops, their own distinctive patented lugs with foam-dampened springs sitting on 'sound absorbent' (rubber?) gaskets, square-headed tension screws and multiples were mounted on single Taiwanese double-braced, tripod-based stands made by Hoshino.
The story didn't end with drums with Plexiglass shells though, because pretty soon after that we had 'Dragonwood', the company's maple-shelled, regular drums in the shop – marketed as 'The American Alternative' at a time when Japanese drums were doing extremely well throughout the world. I'm guessing we imported them directly from Denver and don't recall a UK distributor being involved.
The shells I'm sure were made for them by Keller from 8 plies of Canadian rock maple without glue rings with staggered seams and hand-finished bearing edges. If my memory serves me well, we only had them finished in natural maple although I know they also produced them in walnut, cherry and blonde; all finished off with 7 coats of gloss lacquer. They had the same hoops and nutboxes as the see-through versions but for some strange reason we seemed to have some weird sized kits all with 18" floor toms. This appears to be because they don't seem to have been interested in a 16" diameter floor tom or a shallow snare drum in an era when big was definitely beautiful. Their tom sizes were uncompromising, measuring 12 x 8, 13 x 9, 14 x 10, 15 x 12, 18 x 16 and 18 x 18". Bass drums were 22 or 24 x 14".
Unfortunately for Drumstore (and Dragon) a single-headed set with a 22" bass, 12" and 13" tom, 18" floor tom and 14 x 8" 'Power' snare didn't have people queuing up all the way along Wardour Street to the Marquee to snap it up. That said the drums looked and sounded rather good in a no-nonsense way. They weren't that cheap in the UK and the extra deep snare drum was priced at $250 in 1980 - the 10 piece 'Mammoth II' set in the picture with loads of concert drums was yours for $5250.
Dragon had a patent on their 'Sturdi Stak' tom mount which was made from solid aluminium in black or silver and was like a short rack which allowed better drum spacing (at the time) on a single tripod stand and meant you could mount two floor toms this way if you were brave enough.

Sturdi Stak
As good luck would have it, as I was writing this Remo Packer contacted me out of the blue on Facebook so I was able to get a bit more info on the drums. He sold the acrylic manufacturing process to RDSI (who made Syndrums and Duraline) somewhere around 1983 or so and kept the wood shop in Denver under a different name and sold stuff throughout the US until his partner died of a heart attack whereupon he moved to LA and became involved with various on-line drumming projects.
Remo Packer is in a band mysteriously called 'Trudeau' and still plays sessions as part of his living although he also sensibly works in Real Estate on Sunset Strip selling mansions to celebrities!
I'm not sure where you're going to find any Dragon products since even Remo Packer doesn't seem to have any – he plays DW now!
Bob Henrit

Please log in below if you wish to add your comments on this item. If you are commenting for the first time, you will need to register for security reasons.