Interview with Donavan Hepburn - Take That, Olly Murs
Donavan Hepburn
Interview with Donavan Hepburn - Take That, Olly Murs
Over the 11 years of running mikedolbear.com, I have seen many drummers coming up and making a name for themselves. Donavan is one of those drummers. I was first made aware of this young (at the time) drummer from Birmingham when he was playing with Miss Dynamite, before he went on later to tour with Take That (minus Robbie). Since then, Donavan has gone from one big gig to another, which as many will tell you, is not easy in todays music industry. He was the man behind the tubs for the biggest selling UK tour of all time when Robbie went back out with Take That.
I caught up with him before a UK date with his latest boss and all round nice guy Olly Murs. As Olly told me; ''Not only is Donavan a great drummer who holds it all together every night, but a great guy to have around on the bus and in the downtime'', which is a lesson that many musicians should learn.
---
How did it all start?
It started around the age of between eight and ten. My older brother Martin was a drummer and he used to play in church. When his wife was expecting their first child, my brother wasnít at church so I saw that as my opportunity to get up and have a go, so I did. Epic fail. I got told to come off. The first time I plucked up the courage I was told ''No youíre not ready'' and it absolutely crushed me. So I came back the next Sunday, and had another go, it was cool. Until I was around 11 I was only playing in church, then there was local groups and bands around Birmingham and the West Midlands. From the age of 19 I was given an opportunity to play with a band that was signed to Massive Attackís label, called Day One, so I took that opportunity and that was the one sort of footing I needed.
So did you have lessons?
No I am self-taught. Obviously my brother was a massive influence, but there was just music always playing in the house. It was a big family. When I think of my childhood, I was the youngest, there was just always music playing, all different types - funk, hip hop and soul and jazz. There was always music and I could hear my brother in his room just tapping along to stuff, so when he would go out Iíd go in his room. Iíd play along to records and the radio. I didnít realize how much stuff I was soaking in, all those years of listening to music. It was always the drums I identified with, it was never bass, or keys or guitar or anything like that.
You had no formal training ever?
Maybe for a little bit between leaving school and then becoming a pro, maybe a year or so I was at Walsall College. Itís not like they taught me how to play, itís just what I felt I had to do - get a music qualification - so I went to music college. It was a bit strange for me because what freaked me out about being in college, and this is no diss on college whatsoever, but everybody sounded the same. It was like theyíd got a particular formula how they wanted guys to play and how they wanted guys to sound and how they wanted guys to express themselves behind the kit. That freaked me out because things just used to come to me and I just used to play Ďem. So to be taught ''Ok, this is the way, letís learn this song, this sort of style'', I donít know if it was immaturity or fear or a mixture of the two, but it just didn''t work for me. Isnít music a form of expression? Isnít drums a form of expression? I know youíre playing a song, but surely there canít be this narrow minded view of thatís how you play drums, so I dropped out before finishing the year. Then I got this opportunity to play in a band.
So when you first started playing along to records, did you know the basics?
Yes, I knew the fundamentals like kick, hihat and snare and thatís where your groove comes from, and you got to get that together. I felt like the rest was all improvising.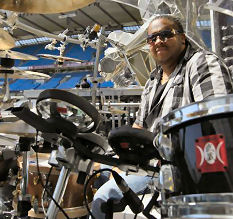 Photo; James Cumpsty
So you learnt from watching?
Yeah.
Why do you think over the last few years weíve seen a big influx from guys that have come from churches, making a good name for themselves?
I donít know, itís a hard question. I guess itís because of guys that have gone on before them and theyíve seen that you can make a living out of playing music. For me, looking ahead when I was younger, there were some real great examples of players out there, that I thought, ''oh man, I can achieve that''. So I would like to think that rather than thinking ''thatís easy, I can do that'', theyíve seen guys that are a good example to them. At least, thatís my hope.
When I was growing up we had working menís clubs and clubs we could play in, which don''t exist anymore. Iím wondering if church has become somewhere you can now play regularly. How many times did you play a week, was it just Sunday service?
We used to have two services on a Sunday and then thereíd be the odd gospel concert during the week, or youíd go and play at another church during the week, with a choir. There was a big gospel scene when I was growing up, between the age of 14 and 18. For those four years I was quite heavily involved in working with various choirs and solo artists that used to go out and do concerts and stuff. So yes, it is most certainly a good opportunity to play and learn.
Was there any drummer in particular that you can think of that you were influenced by at a young age? Anyone that you got into?
IĎd have to say guys like Peter Lewington, Velroy Bailey, Chris Bailey. Thereís a local guy from Birmingham, Ray Prince. Other influences were Bonnie Bryden and thereís some guys that donít play anymore. Thereís a guy called Lloyd OíBrien, and obviously my brother Martin.
Does Martin play still?
He doesnít actually. Every now and again. I think he likes the fact that Iíve carried it on and made a career out of it. Martinís the one brother that will always come and see me play and I think thereís a part of him thatís fulfilled to know that, ok, Donís carried it on, where I didnít go the full way. I got one of my Premier kits made in the exact same colour as my brotherís old kit. So the first kit I played was his Pearl Export and it was piano white and I remember he bought it in the ''80''s. When I was about five I remember coming downstairs and seeing this kit and it was just the best thing ever. So when I got with Premier and they asked me about colours of kits, I went for a piano white kit and when he came to the show he almost welled up. It was like ďHow come you went for that colour?Ē I said ďThatís my tribute to you man.Ē You know, a white kit, beautiful. I think heís very proud that Iíve gone forward and sustained it and maintained it.
So when you left college what did you do ?
I had a run of various jobs.
Did you always know that this is what you wanted to do?
Yes, the jobs were a means to an end. I worked in a sports shop, a hotel, all kinds of jobs. You know when thereís that particular point where you think ''my lifeís got no meaning'' or no direction. Iíd be working my arse off saving up to buy drum gear. I was about seventeen and I saved up all my money from working and got myself my first drum kit.
So how long until you got paid gigs?
It was October of í99. I was around 19 years old. I remember just asking for unpaid leave from my job to go on tour. When I got home after doing my first little mini tour there was this brown envelope for me. It was a P45 and I remember thinking to myself ''Right then, I guess Iím a drummer now!''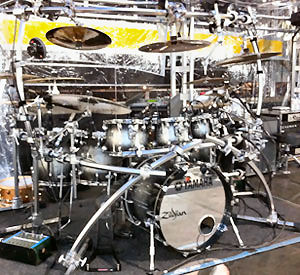 The Take That Progress Live Tour kit
So did you do function gigs? How did you earn your money at the time?
I joined a Gladys Knight covers band which I was in for ages, and weíd do all the holiday camps, which was great for me, plus function gigs and weddings and parties. I learnt so much and just liked the fact that I was playing and I was earning from it.
What do you think got you through the tough times when there was no gigs?
Youíve got to be stable mentally and have belief in yourself because it is just a waiting game really, but I always say, if somethingís meant to be, it will happen. I know itís a clichť thing, but I think when itís your time, your season, youíve gotta to know;

1: how to identify an opportunity, and
2: when somebody gives you that break, just donít screw it up.
There are so many more opportunities out there now with things like your ''Young Drummer of the Year'' competition to help give young musicians exposure. But just because you can win a competition which is cool, itís also a pivotal point. You then have to do the work to turn those into opportunities and don''t screw it up. Thereís a difference between maximizing an opportunity and taking advantage of an opportunity.
At the end of the day, winning a competition doesnít give you a gig. What it does is give you some exposure, contacts and then itís down to you how you use those contacts.
There you go! I think personally thatís what itís all about. So I say to younger guys to keep playing and just love the music, love your craft and then I think people identify with it. I donít know about you, but when you see someone whoís genuine, you can identify with it, straight off the bat and I think thatís what people saw in me. Hereís a kid, for one heís from Birmingham, so in comparison with that kind of big city London life, heís a country boy. I was just into music.
Looking back, what do you think was the gig that was the break for you?
I would have to say the Mis-Teeq gig because it was the first band that I worked for that had Top Ten records. I started doing that gig from 2001 and it was like ''Iím playing for an artist who songs are being played on music channels and on the radio and Iím the drummer for that band'', so definitely between 2001 and 2003 my profile started to raise, definitely.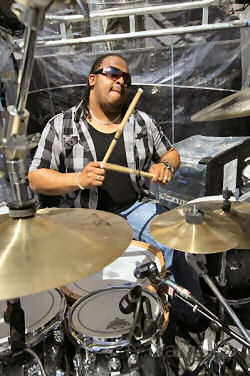 Photo; James Cumpsty
Had you done auditions at that stage and not got gigs?
Iíd done a load of TV mime promo bits. I was working for an agency at the time and they would have the odd Top of the Pops mime sort of thing. So I did a few little bits of that, but itís just a mime so youíre not really playing. I did that for a little while and thatís when I landed the Mis-Teeq gig. It was when the whole garage, two step thing was starting. We had the whole massive thing with Craig David and then the female version was Alesha, Su-Elise and Sabrina. Even then I remember thinking, as big as the gig was for me, I always had a mindset of ''donít think long term''. Ok, itís a career, youíve got an opportunity, do the best you can. Back then I was still using the first Tama kit that I brought with no support.
Your big stadium tour I would imagine was Take That.
Yeah.
How did that gig come about, did you audition?
No. Basically between the beginning of 2004 and 2005 I landed the Miss Dynamite gig, the second time around, so she had her second album and I was doing all the promo for that. At the same time Sugababes had had a record that was out and Dynamite and Sugababes were on the same record label, Polydor. A lot of the gigs we were doing in the same place, all the promo, the TV stuff and festivals, we were on the same bill a lot of the time.
At that time Mike Stevens was MDíing the Sugababes band and little did I know that he had had the call from Gary Barlow saying that Take That were re-forming, they wanted to go back out on tour and whatever. They called Mike, who was the original Take That MD first time round, to put the band back together. Little did I know that Mike was checking me out while I was playing with Miss Dynamite. He kinda liked what I did, he knew that I was into the whole electronic side of things, because the Take That stuff was very disco.
I remember it was New Yearís Day 2006 and I got a phone call from Mike telling me about the tour, basically asking me if Iíd be up for it. I couldnít actually believe it. I was getting married that year and our wedding day was supposed to be the 20th May, but the tour ran till the 27th. I was like ''Yes, yes I wanna do it, cool!''. Then the next person I called was my fiancťe and I was like ''Hun, brilliant news, Iíve landed Take That'' and she was ďWhat? Brilliant!'' ''Thereís just one thing love, the tour it runs to the 27th May'' and she just burst into tears on the phone.
So I drove round to her parent''s house and I was like ''Look, Iíve made some calls and blah, blah, blah'' and our wedding actually cost me about three grand less moving it back two weeks. I was like ''Look, the church is cool, the reception, the honeymoon'' and then she came round. So I got Rachel on side, and then had to explain to the parents! But they were cool. I told my family, everybody was cool. It was meant to be!
We did the tour and I remember the 20th May rained like hell. I was in Manchester and her brother phoned me and said ''All we need now is for the 3rd June to be the hottest day of the year'' Ė and it was! That particular year it was that freak summer we had and it was really nice the way it all worked out. Thankfully, even still at that point, it was always about the long term thinking and six, seven years later, Iím still doing Take That.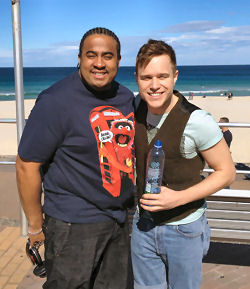 Donavan with Olly Murs
Did you think then that youíd landed on your feet?
No, I think coming from a big family, as I said, they always kept me grounded. I remember thinking, ''Wow, Iíve got married, Iíve got one of the biggest pop gigs going, itís massive. Wow, let me do my best!'' I donít know why, thatís just my default setting. Maybe itís just how Iíve been brought up in the church and whatever, to this day Iím still the same.
I appreciate, I donít take it for granted, but Iím always grateful to be working. Thereís always a lot of guys who ainít. Make the most of it. Like I said before, thereís a difference between maximizing an opportunity and wringing it out; like ''Iím the drummer with Take That Iím gonna call up Evian water'' and all that. I know that with bigger gigs come bigger responsibilities and companies notice you. I had loads of people on the phone saying ''Do you want these?'' No, Iím fine actually.
As they say the higher you are the further you could fall.
Exactly and sometimes the bigger the gig you go on, youíre an easier target for people. So thereís a lot of people saying ''Oh, youíve changed'' and Iím like ''Have I really or is it just because Iím not around as much?'' So, I donít really know.
Are you conscious of that?
Yes I was, but the day that stopped was 15th May 2009 and that was when my daughter was born. So me and my wife, we got married, thatís fine, but now weíve got a dependent that needs all my attention, so I donít concern myself with what other people who might or might not think they know me, might say.
With all the bitterness, thereís a jealousy thing, as well.
Yeah. Because that child needs all of me so, thereís my focus. I come and do my job so I can raise my child and take care of things that matter.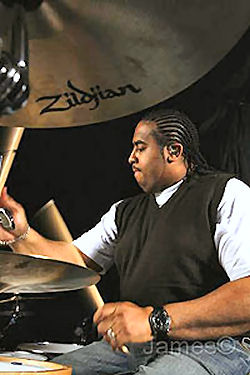 Photo; James Cumpsty
How different was it this time round with Take That? What was the difference between the two, Take That when you first joined then and when Robbie came back?
For me it was quite a surreal feeling because I always spoke to Mike and Milton who were the original two from the original band and ask them how was it back in the day, in the 90s when Take That were at the height. They would say ''Don see how it is now, you get all the fans at the hotel and following the busses multiply that by a hundred''. Iím like ''Oh man''. Their fans are like 30 and over now, imagine when they were kids and Iím like ''Oh man, thatís crazy''. But now weíve got the original fans from the 90s, theyíve all grown up and theyíve had kids and their kids have become fans now and so itís a whole new generation. But I think doing that and doing this Progress Tour, I got a sense of this 90s magic, hearing Robbieís harmony on tracks like ĎPrayí and ĎNever Forgetí and stuff. His whole vibe in the mix of the five of them and to see and hear the magic of the five of them, so it was nice.
What do you think is important as a drummer?
I would say knowing what youíre there to do. Youíre the drummer in a band, focus on playing the track, doing what youíre there to do. Itís not your gig, itís not your show, youíre just hired help, man, so you have to do whatís required - if theyíve asked you to play that certain way just do it. I think when you start to believe your own hype youíre on a roll to failure man. Yep, definitely.
What advice would you give to anyone whoís coming into the music industry?
I would say youíve got to be passionate about your craft for a start. Donít believe the hype. Thereís a lot of hype surrounding the music industry, donít believe it. Take each day as it comes, try and keep level headed and let it be about the music first and foremost. A lot of guys get caught up in that ''right, Iíve got a gig, now so let me call up all these companies and see what I can get for free'', but itís gotta be about the music man, and let the music do the talking.
What advice would you give about the whole endorsement thing? That seems to be something thatís beginning to take over in younger guys now.
I think endorsements are great and I think whatís got lost is what the purpose of an endorsement is. Like you said earlier, if I crack a cymbal, knowing that Iíve got that company support to call up Tina and say ''Iíve cracked my crash cymbal, can you send one?'', thatís brilliant. But first and foremost Iím into Zildjian cymbals, Iím into Yamaha drums, so that Iím playing gear that Iím genuinely into, not because it didnít cost me anything to get it. If I had to go out and buy the kit that Iím playing, I would have bought it and thatís personally what I think an endorsement should be about. Not just what can I get for nothing, youíve gotta be into it. Itís sad to say thatís kinda got lost. Itís a shame and youíve identified I think, thereís gonna be an abrupt end to it all, or it needs to be streamlined down to a handful of players. I know thatís easy for me at my level, thatís recognised and established, it can almost seem like ''Well, itís easy for you to say, but you needed a hand up at one point'', which is fair enough.
As you said, you bought your stuff at the beginning.
Yes, exactly and I always thought that Iíve got to prove myself to the companies that invested in me and I always had that mentality. Iím on my third company now. For whatever reason I left other companies, there was no kind of bad feeling or love lost or anything like that. The fact still remains that as kid coming into the industry, I paid my dues man, I put my hand in my pocket and said ''Iím investing in a kit'', so I put my money where my mouth is. I think, like you said earlier, thatís kind of lost a bit and itís a bit concerning really that people associate getting a gig with getting free gear. Youíve really got to be into the product I think.
Interview: Mike Dolbear

Hi, I'm 16 and have and have an absolute passion for drumming!! I have found out about Donavan Hepburn just recently and I think that he is an amazing drummer and from the interview a great guy! What Donavan is doing is exactly the thing that I want to be doing. I would love to drum professionally, and I can only dream of the gigs that Donavan is doing! At the moment I play in a variety of bands which covers a range of different styles and genres of music, which I think is important so you can cover every aspect of music and gain experience when doing so. I try to take every musical opportunity that comes my way and so far I think I'm doing all right!! I have found this interview really helpful, and there is some fantastic advice in there which I can take away and try to achieve my dream of being a professional drummer! Thank you.


Jack, 9 June 2012
Please log in below if you wish to add your comments on this item. If you are commenting for the first time, you will need to register for security reasons.