Vintage View - Artistry Drums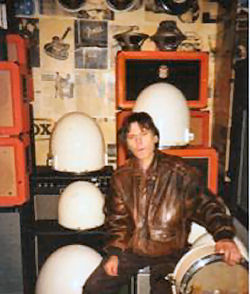 Bob with the Artistry drums in Doncaster
Vintage View - Artistry
[Editorial Note - Unusually for a Vintage View article, we were only able to dig up one photo of the subject matter which is just to the right and was provided by Bob Henrit himself. If you happen to have any photo files of Artistry drums, please email then in and we will slot them into the article.]
The very first parabolic regular sized drums I saw (other than timpani and the strange metal tabla-like toms used by Michael Clarke of the Byrds) were made by a company called Zickos and were, I suspect, owned by Carl Palmer. At the time Emerson Lake and Palmer owned a rehearsal studio in Ealing called Manticore and I would give the drums a cursory glance every time I was working there. This would be circa 1969 and it wasn''t till several years later when my interest in collecting had grown to an obsession that I began to delve more deeply into the origins of Zickos.
There was something about the concept and the shape which made me suspect they were made in California, possibly by somebody who''d done too many mind-expanding drugs. Therefore I was surprised to discover many years after my first close encounter with them in Ealing that they actually emanated from Kansas City and, something like twenty-five years ago whilst in town with the Kinks, I decided to investigate further. I went out to a drum shop owned by a guy called Gary Boyle who filled me in on a lot of the story whilst extracting as much information as he could from me about forgotten British drums like Hayman and Autotune.
Collectors will no doubt be familiar with the regular drum-shaped see-through Zickos but few will recall the company''s somewhat unusual fiberglass drums, allegedly owned by Keith Moon, which were different in that their bottom head was deliberately smaller than the one on top. These ''reducing'' shells had a right-angle lip formed into the bottom of the shell to take the smaller lower head which was held in place with cast claws. As I said Zickos specialised in synthetic drums, some with see-through plexiglass shells others with fibreglass. Towards the end (when the drugs wore off?) they were also responsible for conventional drum shells and amongst the first to sport metal triple-flange bass drum hoops.
To get to the point although I had long heard of a set of parabolic drums at loose in Doncaster and had tried very hard to get a look at them a few years ago when I was playing in Donny. But on turning up at Music Ground (which incidentally is a guitar collectors'' paradise) nobody knew where the bloody things were. However when I happened to find myself back in the city doing a clinic soon after so I decided I wasn''t going to take no for an answer this time. For a train spotter like me it was well worth the wait.
The drums were simply labelled with a piece of paper marked ''Artistry Drums and Percussion'' and ''A product of PROD, Patent Pending''. Like the Zickos they were actually egg-shaped with over-sized bellies (where the mouth of the drum where the head fitted was slightly smaller than the shell like Moonie''s ''reducers'') and this created a right-angle lip where the hank-bushes which accommodated the hexagonal-headed tension screws were situated (which leads me to the conclusion that Artistry were early versions of those Kansas City Zickos). They''d been roughly moulded around an egg-shaped former where I assume the sheets of fibreglass were laid-up one at a time and coated with resin to form the shell. This was the time-honoured way of building boats, cars and other structures until fibreglass was deemed to be carcinogenic, so nowadays it's almost only the poorest of third world countries will work with it.
The Artistry shells had a square-sided block formed into them up at their mouths to enable them to take a hinged, open-jawed holder made from aluminium which tightened via two large socket screws, and seems to have located a half inch diameter rod or tube. I have no real evidence of the company''s mounting method but presume it to have used some sort of tube ratchet holder like those ''pistols'' Ludwig produced in the late sixties which was probably when these drums were made.
I''d hazard a guess that the egg shapes were pretty accurate scientifically in as much as they roughly followed the pattern where their diameters were equal to the distance from head to bottom point. This is how George Way's timpani were made although their bottoms don''t end in quite such a point.
The eight egg-shaped drums I saw up at Music Ground were a strange assortment in that they had a 20 x 20" bass drum; two 12 x 12", two 13 x 13", just one 14 x 14" and a couple of 16 x 16" toms along with a 14 x 6" snare drum. Since you can''t exactly expect an egg to stand still the bass drum had a couple of aluminium runners attached underneath to steady it and the foot-pedal fitted to a wooden block attached to the same triple-flange hoops with stick-saver radius as fitted to all the other drums. For reasons unbeknown to me the larger drums had two holder blocks fitted to them which perhaps suggests the smaller toms were mounted to each side of the larger toms to create some sort of rack, certainly there was no provision for drums to be attached to the bass drum itself.
Artistry''s snare drum was conventional in shape although still with reduced mouth where the head sat, which reminded me of drums produced by Duplex in the thirties. It too was fibreglass with hank-bushes to locate the eight hexagonal-headed tension screws and the drum boasted the most ''Mickey Mouse'' snare throw-off I have ever seen. It looks to me to have been put together (like the rest of the set) by a sixties aircraft engineer from aluminium bits and pieces which might normally have been used for building aeroplane seats. The actual cam lever worked in a 180 degree arc extending from the direction of the bottom head to the top and to this was attached a cable which was joined to the snares themselves. I''d like to say it was simple but effective but actually have my doubts as to whether it could possibly have worked at all.
I must confess to the fact that I''m stumped as to how much these weird drums could be worth since there can''t be too many people out there who''ve heard of them, let alone are interested enough to buy them. That said, the guys at Music Ground haven''t exactly ever said they want to sell them either. So we arrive at the usual figure as to the worth of all vintage drums in the absence of a ''Glasses Guide'' which is whatever the buyer will pay for them. Anybody who knows anything more about Artistry, or who has collectible queries can contact me care of these pages.
Bob Henrit



I am one of the few guys actually built the drums for Bill Zickos in the KC marketplace. I am traveling but will forward some pictures showing the assembly/manufacturing. I will also give some of the history


Steve Elmre, 6 June 2012
Please log in below if you wish to add your comments on this item. If you are commenting for the first time, you will need to register for security reasons.