Forum Member Profile - Haydn Brassington (aka Lee Haydn)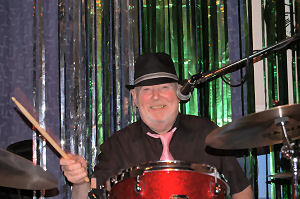 Haydn Brassington aka lee haydn
Forum Member Profile - lee haydn
Name: Haydn Brassington
Date of Birth: 23 September 1951
Status: Married
Tell us about yourself
Although I had a brilliant music teacher at school, playing 2nd Flugelhorn in the school orchestra and learning to read dots, I never sussed out drum dots. So, like a few others on here, I''m a total cowboy - void of any professional tuition and illiterate to boot.
How and when did you get into drumming?
I remember very vividly at infant school the percussion classes we had. I was given hand held castanets. I was really miffed I wasn''t given one of the three snare drums they had and was totally chuffed when I was "promoted" to the snare drum later on. So I've been interested in drums since I was five or six.
When I was nine or ten my parents bought me a blue sparkle Gigster snare drum with a cymbal mounted off the snare stand. After that I got an Olympic white silk pearl snare drum and the bass drum and tom toms followed on birthdays and Christmases. I got paid 10 shillings when I was 14 playing at my dad's local pub and I've been out and about since then.
My first "real" drumming job was a residency at a local Miners Welfare. Most of the clubs had resident organ and drums at that time. The organist was brilliant and we played together for a number of years in different clubs. I received a solid apprenticeship backing different acts, some which we called "fag packet" acts. These were artists who hadn''t got any dots for their show and wrote their playlist on the back of a fag packet. Surprisingly, some of these acts were really good. I remember during the time of my last residency, Marti Cain was on the circuit, an incredible Yorkshire Lass. What a brilliant act she was, a terrific voice but her comedy was exceptional. The last time I backed her she had just won "New Faces" on TV and her career took off. It was so sad to hear that cancer had struck her down.
From there I joined a Country band. That was such a laugh, the lead singer was a natural character and I also found out why steel guitarists don''t sing - just take note of a steel players face if you ever get to see one play, their jaw moves side to side as their hand slides up and down the neck, an incredibly difficult instrument to play. From there, myself and the lead guitarist joined a Professional country band called "Threewheel". It wasn''t uncommon to turn up and find we had been billed as "Freewheel" because the bass player was a ''suvenah'' and he couldn''t pronounce his Th''s.
We did a thirteen week England/Scotland tour with Box Car Willie. I only stuck being pro for around eighteen months as my boy was only three and I missed him, so then it was a country rock outfit for the next ten years, a three piece outfit called "Bullion". In December 1990 I quit the band as my dad was really ill. I never bothered again until 2005. I did the odd dep job and a couple of reunion gigs but I couldn''t find anything to light my fires, until I did a dep job with a rock n roll band. I loved that, so that''s pretty much what I''m doing up till now.
What are you doing musically at present?
My present band "The Top Cats" is more rockabilly than Rock''n''Roll. I just wish I had the material for the obligatory Flat Top haircut.
Most memorable drumming experience?
My most memorable drumming experience would have to be the USAF NCO''s club in Berlin in 1978, not so much for the playing but for the place itself and the getting there. Myself and the steel player had visitors passports at the time (no longer issued) and you couldn''t travel through Eastern Germany unless you had a full Passport, so the promoter had to fly us in with Johnny Tillotson and his guitar player.
I had only flown once before and I was totally terrified. The flight from Wiesbaden to Berlin could only have been an hour or so, at that time there was a corridor that flights had to stick to. What happened next is best described as "the pilot must have been talking to the co-pilot and thought, sh*t, we''re here", and stuck the Boeing 737 on its nose to get us to stop at the end of the runway.
We were met by a USAF sergeant in a VW Mini bus. Fortunately for us Johnny Tillotson was still an A-lister to them and we got the full tour of Berlin. We got to go to checkpoint Charlie where East meets West, the surrounding buildings were still pot marked with bullet holes. This was a tour that couldn''t be bought. As we were eating a huge American buffet breakfast the next morning at the base, the rest of the band showed up. They''d had a nightmare trip, stopped at the check point, had to unload the van etc. They were really "chuffed" we''d had the star tour and a night in a bed. What a gig, I would still have preferred to go back in the van than fly though.
Kit set up?
I''m playing my Gretsch Catalina jazzer with my present band and using my vintage Hayman snare instead of the Gretsch one. I''m really pleased how good this kit sounds for the money, so pleased I ordered a 10" tom for it, that sounded great out the box too, so I have a five piece kit if I need one.
Favourite drummers and why?
My favourite drummers would always start and end with Buddy Rich. His like won''t be seen again. Marco Minnemann for his show stopping performances (especially with the BR orchestra) and Simon Philips for pure control.
Favourite drum DVD?
I don''t buy drummy DVD's, especially with Youtube being around. I had absolutely dozens of great drum clips in my Youtube favourites folder which I managed to delete recently.
Favourite bit of kit?
My favourite piece of kit would have to be my Sabian flat hats. I bought them late seventies. I've tried different hats but these are just so accommodating. I wouldn''t part with my 20" Paiste Stambul crash ride and 18" crash either. My main ride cymbal is a Sabian 22" HH Heavy Ride. I'm always changing kits but my cymbal set up is just right for me now.
Anything you would like to add?
I've had the times of my life playing drums and I've met such a diverse set of people that "normal" people wouldn''t come across. I have been paid for going to places only a small number of people will ever get to, had girls "buy me drinks" just because I was on stage, (I know this because it never happened when I wasn''t).
I''m still enjoying playing and can''t see myself quitting any time soon.
Please log in below if you wish to add your comments on this item. If you are commenting for the first time, you will need to register for security reasons.