Interview with John Riley
Interview With John Riley
John Riley first appeared on the drumming communities radar when he wrote the seminal ''The Art Of Bop Drumming'' for a fledgling oprganisation called Drummers Collective. Roll on many years and the book is rated as one of the most important in drum literature. We talked to John about jazz, bop and the importance of putting in the attention in the right area.
---
How important do you think swing is in todayís music?
Thatís a good question. For jazz players it certainly is important and I think itís more prominent in pop music, with hip hop, than it has been in quite a while. So weíre hearing those kinds of rhythms on the radio more often now than we have in a long time. I donít know if the people involved in creating hip hop are necessarily inspired by the swinging records that you and I were listening to, but there is definitely an interest in shuffle based rhythms.
You know the shuffle was first modification the swing guys made when playing on the early rhythm and blues and rock recordings. Then the shuffle flattened out and became the rock beat. Maybe now itís kind of going full circle and shuffle has come back in as a dominant rhythmic component. The difference is that the pulse is now felt in half time, so the swing thing that we think of as 4/4 with momentum moving forward - 1,2,3,4 - now feels like itís moving slower; now itís 1 Ė 2, 1 Ė 2. Regardless of whatís happening in pop music, swinging is still important for me.
As a educator, do you find more students are interested in that style of music than they were before?
I donít know if more students are interested today. However, I do most of my teaching at the University or Conservatory level and there are many more applicants than we can accommodate. Most of those programs are based on bebop because in bebop thereís such a huge amount of information that melodic instrumentalists need to deal with. So, if every other instrumentalist in the program is dealing with jazz, then the drummers that are attracted to the programs are interested in jazz as well.
From the academic and aesthetic side thereís definitely interest and a need to get the swing thing together, but what people do on the outside is informed that, plus everything else in the air today. It does seem that a large majority of the compositions that young composers are writing are even eighth note rather than swing eighth note. A lot of young players will say to themselves: ďWe canít do it any better than Art Blakey, so weíre gonna try and find a new way to reach an audience.Ē
Do you think anybody can swing. Could you teach any student to swing?
Well, I mentioned Art Blakey. He said ďJazz is not from Africa, Iíve been to Africa and I didnít hear anything that sounded like jazz there. You give me three Chinese guys that have never heard jazz before and let me take them on the road for two years and after two years they will be jazz musicians.Ē So, I think what it is about is exposure to the right stuff, having a curiosity about the specifics of why it works in the way it does, a desire to be part of that specific music and to convey that feeling. I think if people are seriously pursuing those interests then itís possible to learn to swing.
I had this conversation with Peter Erskine and the names will remain nameless, but thereís particular successful drummers out there in their field that are excellent at what they do and theyíve tried to learn to swing and it just wouldnít happen. So, do you think, as an educator, you could take a rock drummer who for twenty years has played that straight eight and everythingís come down in that line, and teach them to swing just purely by exercises or listening to music?
Thatís the key: to have your instincts become aligned with whatever the particular idiom is. They became good rock drummers by listening to rock records and by playing along with them and by playing the music with bands. Just because your hands and feet work the way you want them to, it doesnít mean that your ears are able to edit out all the other habits so that you can naturally play another idiom.
Many of the famous and highly regarded non-jazz drummers can play the swing beat with good time, but a lot of what they play with the left hand and bass drum is well done but out of the idiom. So itís not a matter of; to play jazz you need to play the drums better than to play another idiom. It''s more; to play any style you need coordination but more importantly you need to know what the specifics of that style are.
Just because I can play a rock beat, that doesnít make me a rock drummer. To be a great rock drummer Iíd need to know the history of all the songs and the choices that great rock drummers make. I can play a beat that will work but, because my knowledge is not that deep, the modifications that I might make to that beat wouldnít be the ones that somebody who only plays that music would make. So itís the details of specific idioms that are important. Obviously having control of the instrument helps, but then itís about what you hear. Do you hear it the same way the guys that only play that music hear it?
Can you explain the difference in your view between jazz and bebop?
Jazz is a generic term for a large collection of music. Bebop is a particular strand of jazz created by Charlie Parker, Dizzy Gillespie, Bud Powell, Monk and Kenny Clark in the late 1930s and early ''40s. As you know, the popular music of the Twenties, Thirties and Forties was jazz. Bebop was an offshoot of that music. Using the innovations of the musicians from the Twenties and Thirties as a foundation, in combination with the idea that the jazz rhythm and harmonic language didnít have to be exclusively dance music, bebop was born. Liberated from the tempo restrictions of dance music, bebop has a wider range of tempos, challenging angular melodies and longer solos. As concert music it is more ''virtuosic''.
So, leading up to your books, both have gone into the ''Modern Drummer Top Twenty Five Books Of All Time'' and are excellent drum books. Whatís the background, when did you get into bebop and what made you decide that you wanted to write these books?
I started out playing because I saw the Beatles on TV. There was so much excitement around them, and so much positive energy around them, that I was drawn to that as a kid. The music was part of it, but they looked like they were having more fun than anybody I knew, so I wanted to be part of that. It wasnít necessarily Ringo that I was emulating, other than to have the kind of fun that he looked like he was having.
After a couple of years Carmine Appice was my big guy and then Mitch Mitchell, Bonham, Bruford and eventually Cobham. Then I got a Gene Krupa record and a Max Roach record and started to hear some jazz. My studies with Joe Morello had a profound effect on every aspect of my playing, and he was a magnificent jazz drummer, but our focus was primarily on technique and sound production.
Really my attention on jazz didnít begin to focus completely until I was 17 and got to North Texas. I was there during a period when Ed Soph wasnít teaching there. I wish I had had the opportunity to study with him. Through my exposure to the older musicians there - there were 2000 music majors and 150 drummers there then - the older guys saw I was eager and told me which records to listen to to get more into jazz. I found that I was even more captivated by jazz than by the rock music I had been dealing with previously because it seemed like jazz drummers had more freedom and more affect the overall outcome of the music. I found jazz was a more interactive thing, it was more in the moment and maybe some of the skills required were more challenging. At least, I found them more challenging and more intriguing.

I finished school and moved to New York. After Iíd been here a while, I had a student named Dan Tress who was working in the office at the Drummerís Collective booking lessons and stuff like that. He was taking lessons from me at my house at the time when Drummerís Collective began to put out videos in the early ''80s. When they decided they needed some educational booklets to accompany a couple of the videos, Dan helped put them together. During our lessons Dan would bring me the early videos and ask me to proofread the exercises for the booklets. Then they decided to get into publishing; their first two books were the Frankie Malabe book, Afro Cuban Rhythms for Drum Set and DudukaĒs Brazilian Rhythms for Drum Set. Those authors werenít great at notation so Dan asked me to help; he gave me a cassette of Duduka playing everything that he wanted in the book, I transcribed it and helped with the Frankie''s book.
A short time later Dan said: ďMy lessons with you are really valuable, I think there could be a book in this material. I have access to this publishing company, maybe you should consider writing a book because I think they would be interested in publishing it.Ē I wasnít thinking about writing a book but he kinda made a proposal and I got to work. My original book included most of the Art of Bop Drumming, Beyond Bop Drumming and a chapter on chart reading and big band playing but it was just too big. Dan said: ď We need a book thatís 64 or 80 pages because thatís the way it lays best for the printerĒ so I chopped it up and that helped me focus the content.
Dan mentioned my draft to Rob and Paul (from DCI, Manhattan Music, now Hudson Music) and they were interested. I was a little bit surprised when the only thing they asked me about the book was: ďWhatís the title gonna be?Ē They never looked at any of the content but they asked about the title and had ideas about the cover. They trusted that Dan and I could come up with a good product and they immediately jumped to thinking about how best to market the book. So we made the book, Dan was really helpful with the layout, and it came out and people seemed to like it immediately and Iím really happy and flattered about its continued success and that itís helping people are checking out this music.
The book works in various ways, most obviously with the independence and the comping exercises. Itís also a reference book where you identify variants. How much work did you have to do on the reference side to go with that book?
I did do some research to select the quotes but everything else was all the kind of stuff that I knew from studying the music I loved. Even the exercises came really naturally. I sat down with a piece of paper and I sang rhythms that I liked to hear. I wrote down a page of simple comping with just a snare drum and then I played it. I donít think I had to change a single note from what I sang. Then I wrote a page of snare drum and bass drum comping. It was all based on what I had heard Art Blakey, Philly Joe, Roy and Elvin play and this gets back to what you were asking about before. My hearing was infected by the good stuff that those guys played, so I wasnít going to write down a phrase that was atypical. Thatís the final step in the process of being able to play a style: knowing when youíre not playing it! When youíre playing like Billy Higgins, he really was not affected by the Beatles or by John Bonham or Billy Cobham. If you play something that he wouldnít play then youíre playing the wrong stuff in that iom. So I tried to make the text and exercises pure.
What I found lacking in the books that I used most when I was coming up was a lack of explanation about why you play certain things and not other things. When I grew up in the Sixties and early Seventies and I was taking lessons, the main books we used were Stick Control, Syncopation and the Chapin book and thereís no text in any of those books. I had been doing some teaching before writing the books; while learning a variety of coordination ideas is helpful, knowing which phrases sound appropriate is the next step and having some text about why you might play a certain thing seemed to be essential. So I didnít want to create a computer printout of all the possibilities, I wanted to give a collection of the ďgoodĒ jazz phrases and hopefully the physical conditioning of playing those patterns and the time spent getting them in the ear would inform the students of a kind of methodology and sonic quality that was typical of the music. Because of my experiences with those early books which contain many great phrses but also, simply because of they way they were designed, some atypical phrases, I didnít want readers of my books to have to decide whether the phrases were ďrightĒ or not.
Iíve heard various stories over the years from Billy Ward that you would go and see Elvin or go and have lessons with Elvin. Did you sit down and study with any of these guys? I know most of them didnít give one-to-one lessons as such. But did you learn anything on a one-to-one basis with any of them?
Besides listening to the recordings and seeing people play live, my most important teacher was Joe Morello. When I studied with him the lessons were not about style, they were not about jazz, they were about physical movement. I did have one great marathon lesson with Jack DeJohnette in the early ''80s and we''ve played together and become good friends since.
Actually, when I moved to NYC in 1976 many of the legends would hang out, and do some teaching, at Frank Ippolitoís drum shop on 8th Ave and 50th Street, so it wasnít that hard to connect with them. Tony Williams even advertised every week in the Village Voice. My experience has been that they could be a little hard to crack at first but, once they saw that I was serious about trying to play the music, almost everyone opened up and was very generous.
I had many opportunities to observe Max, Blakey, Elvin, Roy and Philly Joe. I did sit down one-on-one with each of them. My father even took me to see Gene Krupa when I was a kid.
I met many times with Mel Lewis, with Grady Tate, Paul Motian and Arthur Taylor. I had conversations with Buddy Rich, Tony Williams and Steve Gadd and have played opposite almost all my idols. These werenít lessons per se, but I watched them play and I studied the recordings. I did a lot of transcribing; I mean I have books filled with stuff that I transcribed. Some things I transcribed to get a general sense of what was happening and other things I transcribed because the first time I heard them they really tickled my ear. I tend to be drawn to things that I wasnít expecting to hear and I want to understand why those things intrigued me so Iíll look into them.
What do you get excited about now with that style of music? Are there artists that are coming through or drummers that are coming through that excite you like Tony and those guys of that generation?
There are so many great drummers now but it does get a little harder. The more things youíve heard, the less surprises you. I certainly hear an exceptionally high level of playing today. I am inspired by the way Eric Harland, Ari Hoenig, Bill Stewart, Mark Guiliana, Henry Cole, Dan Weiss, Jonathan Blake, Josh Dion, Joe Farnsworth, Kim Thomson, Obed Calvaire and Tyshawn Sorrey look at music. Those guys happen to have been students of mine but my role as a teacher isnít always to show somebody a style; it can be to help them realize their thing. Chris Dave, Justin Brown, Marcus Gilmore and Nate Wood are playing really interesting stuff. Dafnis Prieto is a bad cat. I recently transcribed a bunch of his things and Iíve been practising them. Not that Iím gonna be super fluid in that dialect, but Iím always trying to expand what Iím comfortable with. Iím inspired by so many players Jack, Jeff Watts, Dennis Chambers, Vinnie...
Do you think thereís any other major styles that can come into the music industry like Steve Smith has done with Indian music or El Negro with Cuban etc? Everyone got excited ten or fifteen years ago and got into the Cuban, now everyoneís got excited and started doing the Indian music. Do you think thereís anything else out there?
Yes, I do. Iím sure thereís plenty out there. I was in Australia in August for the first time. Thereís a very good Australian jazz drummer named Simon Barker and he got captivated by Korean folkloric music which involves percussion and flutes and a really wild kind of singing. It can almost sound like free jazz or some really chaotic crazy stuff. Heís been to Korea something like ten times trying to get a deeper understanding of the music and found the Grand Master of this idiom. Through Simon I know there is something interesting to investigate there so there must be other musics to discover. In his journey to contact this Grand Master, who was a very old man, there were all these barriers keeping him from meeting that guy. He had to convince each of the masterís apprentices that he was sincere in his desire to learn in order to get closer. So he went through adventure and somehow the Australian Government heard about this passion and research and they decided to send a film crew along which resulted in a beautiful documentary film about Simonís exploration of this style of music. I donít want to tell you how the story ends, but this master lived as a pauper but the Korean government recognized that he was a significant artist and perhaps the end of an historic line.
You know, Paul McCartney has the special honor of becoming a Sir. The Korean government has a special designation for significant people; they gave this Grand Master musician the designation: Intangible Asset Number 82!
Wow!
So thatís the name of the film, the documentary film about Simon Barkerís investigation of this music and itís a really powerful film.
Itís out?
Itís available on Amazon. Itís out and people like Yo-Yo Ma have written a blurb saying things like: ďthis is the most inspiring movie Iíve ever seen.Ē So, back to your question: Iím sure that there will be new discoveries, but maybe most the big stuff has all been revealed. Weíll see...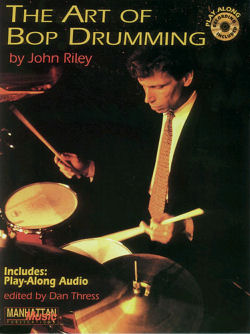 The book that started it all
What are you up to at the moment?
Iím playing a lot, Iím teaching. Doing some recording, travelling. Itís a really great, balanced blend of opportunities to be involved with. I play every Monday night at the Village Vanguard with the old Thad Jones/Mel Lewis Jazz Orchestra. It has been both a privilege and a learning experience to play this very sophisticated music on a regular basis with the band. To embrace the way Mel Lewis has treated the music and then still try to make it sound vital, because the Village Vanguard is not a museum, is a treat. Mel heard me play when I was subbing for him the very first time and he said: ďIt sounds really good. Now donít worry about playing it like I played it, play it the way you hear it.Ē That was a very liberating thing. He probably wouldnít have said that if my instincts were bad or my dialect wasnít correct. So this whole thing we have been talking about is about really learning the dialect.
This is the reason I asked you about this at the end of this interview, because there are always the musician jokes and the jazz drummer being the one who doesnít get the work, but certainly in London the jazz clubs are full, the drummers are working.
New York too. The problem is that there is so many musicians playing at a high level that the competition for venues to play in is very steep. Club owners have discovered that they can get very good, lesser known, musicians to work for very little money.
Thatís in all genres of music. Jazz has always been quite particular - Buddy died with no money in his pocket for various reasons. The point is now, where it was always a little bit of a joke that the drummer would die with no money in his pocket...
Yeah but, I donít know if thatís always the case. I think Peter Erskine, Jeff Hamilton, Brian Blade and many other ďjazz guysĒ are doing okay... but a lot of others have given up. Many very talented people didnít have the temperament to persevere, they may have had the talent, but they didnít have the temperament to keep a positive attitude, to keep improving when no one cared how they sounded and thatís always the biggest hurdle. Hang in there, keep improving, keep letting people see your face and donít let them see you with a frown on your face. ďHowís it going?Ē ďOh well, not so good. I donít have any gigs. Thereís been nothing happening.Ē If you donít have any gigs people are gonna assume that the reason is because you donít sound good. Youíve got to keep a positive attitude regardless of whatís happening at that moment.
You might be the best drummer in your bedroom, but itís not gonna work unless you get out there and play live.
Thatís the way you learn, thatís how you test how effective your practising has been. You gotta test it with people, in front of an audience where you canít stop when you make a mistake. Hopefully the other musicians and the audience will connect with what you are contributing.
Interview: Mike Dolbear
Photos Kengo Oosaka

Hi Mike Thanks for the great interview with John. Just clarifying something. The film John mentions (Intangible Asset Number 82) is directed/written by Australian filmmaker Emma Franz, not a Korean government agency. People can find out about this fantastic movie at www.intangibleasset82.com Thanks again for the interview Peter


peter stynes, 18 March 2012

Great interview, thanks! Loved the insights about how John came to publish his book/s I did want to correct this error about the documentary made about Simon Barker, the Aussie drummer inspired by Korean Shaman Kim Seok-Chul: John says "So he went through adventure and somehow the Australian Government heard about this passion and research and they decided to send a film crew along which resulted in a beautiful documentary film about Simonís exploration of this style of music. " In fact this film was made by intrepid independent film maker Emma Franz, who seems to be constantly forgotten as the instigator, producer, director and supporter of the film. She's done something really beautiful with intangible asset No. 82 and deserves the recognition. If you'd like to read more about it, there's an interview with her on Jazz-planet that will tell you more :-) http://www.jazz-planet.com/2011/06/intangible-artisan-a-chat-with-emma-franz/


Miriam, 31 March 2012
Please log in below if you wish to add your comments on this item. If you are commenting for the first time, you will need to register for security reasons.