West End Drummers - The Percussionists From Lion King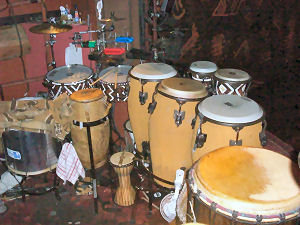 Damien's Set Up
West End Drummers Part 7 - Damien Manning, Mike Hamnett, Dave Elliott (Dep)– The Lion King percussionists
The Lion King is one of the most richly rhythmical shows in the West End with Dave Adams on drums (see part 6), Mike Hamnett, Damien Manning and Chris Baron on percussion. Mike and Damien play from the theatre's boxes so they are visible throughout the whole show, which is an integral part of the musical and is especially great to watch as a drummer.
The percussionists form a very close team and are passionate about their playing, which adds a unique and magical element to the musical. I caught up with Damien Manning, Mike Hamnett and Dave Elliott, Chris Baron's dep, to hear about their experiences as percussionists in the West End.
---
What are your backgrounds as percussionists and what other shows have you done?
Damien - I''m classically trained but always had a passion for world/ethnic/hand drums. On leaving college I played with many orchestras, bands and theatre companies here and on tour abroad. Since 2002 I''ve been Director of bateria (drums) at Paraiso School of Samba and have been to Brazil many times to take part in carnival; Samba is my passion. I''ve been depping on the Lion King since 2000 and when Thomas Dyani left in 2009 I was invited to take over.
Mike - I''m from Manchester and I'm a graduate from the Royal Northern College of Music. I studied with Dave Hassell, Ian Wright and Heather Corbett and graduated in '92, going straight into the first UK tour of Les Miserables when I left. I did other shows like Cats, Evita, Phantom, Fame, Oliver and I finished that and got a call to come and play for the American producers on this on a Wednesday. I went back home to Manchester, had a few beers with my friends, got a phone call asking if I wanted the gig. I asked when it started, ''Tomorrow morning is the first rehearsal at 10am''.
I've also worked freelance with BBC Philharmonic, BBC Concert Orchestra, BBC Scottish Symphony Orhestra. I''ve done about 35 world premières of marimba pieces and played piano in Dave Hassell''s latin band. I play 4th trumpet in the Hertfordshire Big Band and I teach kit and percussion at Canterbury Christ Church University and direct the big band.
Dave - I''m from Bournemouth and I studied at Chetham''s School of Music in Manchester. I graduated from Trinity College of Music this summer where I studied jazz and classical and I''ve been depping on the Lion King for about 16 months for Chris Baron. More recently I began depping on Legally Blonde (drums) Jersey Boys (drums) and I currently hold the percussion chair on Mamma Mia! World Tour.
I've studied with Dave Hassell, Gene Calderazzo, Gary Kettle and various others along the way such as Eliott Henshaw and Ralph Salmins. I was involved in the youth music organisations like NYO, NYJO and BBC Young Musician and was a finalist in Mike Dolbear's Young Drummer of the Year. I''ve also worked with the London Sinfonietta and English National Opera.
Tell me about your set ups
Damien - Mine is the most African, drum wise. I''ve got djembe, djun djun, kpanlogo, congas, bongos, timbales, shekere and a taiko drum, which is actually a surdo. Also caxixi, a talking drum (tama or dondo; it depends where you are in Africa but the variable pitched drum). A few bits and pieces of bells and sounds, colours, shades.
Mike - I''ve got pretty much the same set up but I''ve also got berimbau (used in capoeira) and some cheesy pop tambourine, soft shaker, tam tam and the wind gong. I have the slightly classical side. The London show differs from all the others; we were the first 17 piece set up. The New York show has 24 because New York theatres have numbers regulated by their size so that version was orchestrated to that. When they brought it over to us we had to reduce from kit and four percussionists to kit and three percussionists.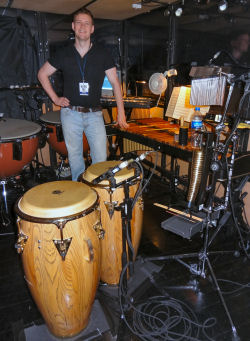 Dave Elliott
Dave - The marimba set up has congas, djun djun, djembe, cowbell, a couple of cymbals, shakers, shekere and African Gyil, which is like a small marimba. Also a wind gong and caxixi, so it's a real mix in that chair. You have to have quite a strong tuned and rhythmic background to really do it justice.
Mike - From our point of view, we can always tell if it is a marimba dep who plays kit or doesn''t because the marimba part itself needs to groove in time and sit as part of the rhythm section in the same way as the guitar and bass do. If it''s somebody who doesn''t play kit, they may play it perfectly in time but it sits in a completely different way, which makes it more difficult to play with. We treat it as a kit player who has specific notes.
What styles do you play within the show?
Damien - It''s a varied mix of music and elements of it are film music. There''s rock, New Orleans shuffles…
Mike - Where the music is derived from the film it''s flavours of this and that, but it isn''t truly authentic…
Damien - But then there are a couple of occasions when the drums are the only thing going on and we''re looking at dancers on the stage. That is a very African thing and so is the phrasing. We try and make everything sound African and make the dancers happy on stage. Some of them are African so they know and can hear the difference between something that's sharp or not. We get that feedback in the boxes. There are Cuban elements as well but it''s not salsa, it''s a flavour. We're lucky to have four percussionists in the show cos in other places they''d be doing that on keyboards or with electronic sounds. There are percussion sounds on the keys here as well so it''s a very rich show rhythmically.
It''s quite unusual that you two play in the boxes right out at the front
Mike - The visual aspect is a very deliberate choice by the producers of the show and in every production across the world the two box percussionists are featured soloists. We get individual bows after the orchestra as featured players. I get the biggest cheer being the most handsome...
What are your favourite moments during The Lion King?
Dave - I really enjoy the Scar and Simba piece where there are lots of crossing rhythms. I''m in 5/8 and there's 5/4 over the top...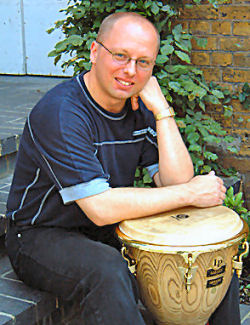 Mike Hamnett - Photo Martin Cohen
Mike - The Gyil has this static 5/8 rhythm and as various things happen on stage it has a melodic or rhythmic line. When the giraffe comes on the drummer starts marking it with a triangle but then others come on and the brass start playing a 3/4 pattern, then the strings play 3/4 while the marimba is still in 5/8. Whenever I do the marimba chair myself I switch everything else off otherwise it gets so confusing!
Damien - Most West End shows have a little desk and headphones with every instrument so you can adjust what you hear and customise your mix. In some tunes we want different things so we have to know what to change in our mix. Also deps play in different ways so we have to be our own sound man as well.
Mike - And there''s a click track to deal with. Different deps you like more or less or, in some cases, none of. You have to do what''s practical and there have been times where my mix has just been kit out of the entire orchestra.
Damien - We''re human so even the best players make mistakes and that''s why we have people playing, not pre-recorded tracks.
Some deps are preferred...how do you deal with that pressure as a dep, Dave? Everyone must want to be liked and accepted
Dave - This was my first show so it was all new territory. I quickly realised you have to go in, know the show, respect the community that is in place and respect the fact that everyone there has played it so many times. You've got to know the music inside out, listen to everyone and do your homework. That was one of the things I got told after my first show. I had a couple of people say, 'You've done your homework' so that was nice to hear.
I got the call back so I knew I'd done OK but I still kept on top of it cos sometimes you might go for two months without being called and then you'll get four in a week. I was called this morning for today's afternoon show so it could be at any time and you have to stay on top of it; that might just be putting it on your iPod and listening every now and then. I realised that although you're going in and others might be listening to you, at the end of the day you're just part of a bigger picture so if you play as though everyone's listening to you you'll come across as too soloistic. You've got to know your place within the music. People might listen out to see what the new guy is like but mostly they just want the show to go well so they want you to play well.
Mike – From our point of view the best compliment you can give to a dep is, 'I didn't realise you were in, I thought it was a regular guy!'. If you're doing that as a dep then you're doing it right.
Do you have any pre-show warm ups?
Damien – I stretch cos I've realised it's very important. Also I go to the gym and look after myself, I eat healthy food. When I started this show, for me to do six shows a week was quite a challenge for my body. I want to do eight shows a week, so to do that I need to look after myself. Then there's injury; if you're doing the same thing repetitively, even typing on a keyboard, you've got the risk of RSI. By living healthily, stretching, eating well, drinking water, I feel in a position to do eight shows a week for however many years.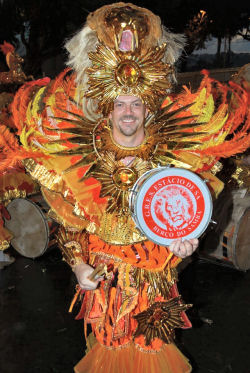 Damien in full Carnival gear 2008
Mike – In theory what Damien says is right, but in practice hours are limited. I tend to do a couple of hours a day marimba practise as I enjoy it. I don't like to do congas as I play them in the show and cos I'm warmed up already from playing marimba I don't feel the need to. Relaxation is relaxation. More than anything the preparation I do is mental cos after doing it for so long it's important to recognise the people in the audience are seeing it mostly for the first time and are paying £60 for a ticket. Regardless of what I think or how bored I might feel on any particular day, I'm being paid to present the show today in the same way it was in 1999 and if I'm not doing that I'm letting myself down. When you do that in any aspect of music then you've lost the plot.
Dave – I always buy a Lucozade and a big bottle of water from the little shop over there [points].
Mike – That does not count as preparation!
Dave – Dave (Adams) always gets in a little bit early and starts warming up and I've normally been in and worked out a few of the trickier bits. As soon as he starts playing I get out the practice pad and start locking in with him.
What are the pros and cons of playing in West End shows?
Damien – You have the longevity issue. How can you deal with it in the long term? That''s a different challenge to being a performer and player. Everyone has there own spin on that. I''ve been on the show for 2 years.
Mike - I''ve been doing it for 11 years, 9 months, 8 days...
Damien - You're playing the same music every night but it's up to you to bring your energy to it and not make that an issue. The pros are that as a musician it's a very up and down world but even during the credit crunch the West End here is thriving and it's never been so good. There's a lot of work, which means there's more for deps. There are shows now that quite often have a drummer and percussionist.
Mike – The problem with West End theatre is that over the last 30 years the encroachment of electronics on to the scene has had quite an impact; from the early days of synthesizers trying to replace instruments and then using a keyboard and a string quartet. In about 2007 Cameron Mackintosh decided to relocate Les Miserables from the Palace Theatre to the Queen's Theatre and he claimed not to realise that the pit was too small for the band; therefore he could use this machine called a 'Sinfonia', which used audio samples of real instruments and has a guy playing a keyboard. The conductor goes '1 2 3 4' and the guy on the keyboard has got to follow those beats and it reproduces the sounds. As it turns out, that has fallen on its backside and they're re-orchestrating it. The danger is that if people don't value live music, not the compressed sh*t you get on Radio 1 but live music by real musicians, you will lose music to become a niche and marginalised art form in every style.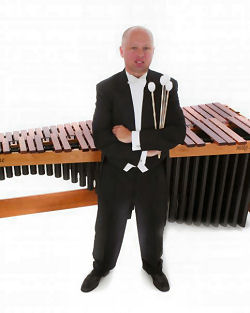 Mike
Damien – There is a conflict of interests because we're coming from a creative side with a passion for music that drove us to go to college, do auditions and do all the work. The West End works in conflict with that because it is here to make money. I feel the only reason they're using live bands is because some shows can't physically happen without them and also because of musicians' unions. Musicians cost money and if they could pre-record it all I think they would. These shows, although they're very artistic and contain creativity for musicians, they're here for business and the day that they don't make money something else will be put on in the theatres that will. It used to be cinemas in this country.
Mike – That's why it's down to the audience because it is their money that is keeping live music alive in the West End. There was a show 'Lautrec' at the Shaftesbury where they used a completely pre-recorded soundtrack and you would have expected a lot of people in the audience to be up in arms - 'Where's the band?' - and unfortunately that wasn't the case.
Damien -I know people that have been to the Lion King and they haven't even seen the percussionists. They're not switched on.
Mike – I don't know why. I mean we're such handsome chaps!
Dave – This is a good show to have some creativity. I don't know any drummers who play exactly as the part is written. There's that saying that 99% of music is not on the page
Damien – I do improvise and feel free but I pay attention to what's on stage. Although I'm improvising I think of myself from the point of serving the show and will do whatever it takes to make it sound good. That's why we want humans there and not computers. If someone goes a little bit out of time should I be arrogant and play in time or should I be human and move slightly to match so we play together.
Mike – In the finale in the graveyard I'm playing a part that is just written as tam tam, a dotted minim every bar. If you give that to a computer they'll play it but I looked at that and thought, 'They're in the graveyard so we're thinking funerial'. I was playing with a double ended mallet that had a felt head and a rubber head. If I use the rubber head in the middle of the tam tam there's more of a funeral bell sound about it and it's aspects like that, which we bring to it, that go past what's on the page.
The graded exam system fails to address that, which ends up producing automatons with no powers of interpretation or musical understanding who then find themselves on Bmus courses without the musical wherewithal that should be commensurate with that level of learning. It's the equivalent of learning a foreign language from textbooks but never conversing in that language. The notes are only a starting point, no more.
Damien – That's how music is passed down (from person to person), it's an African tradition. It's not written down or recorded. The Lion King was created in 1997 but it's alive and is living and breathing here and we're part of that. It changes all the time.
---
www.mikehamnett.com
www.hertsbigband.co.uk
Damien runs a samba school with weekly workshops for drummers and dancers, training people to take part in Notting Hill Carnival. For more information visit www.paraisosamba.co.uk
Interview by Gemma Hill


I am happy to say both Dave and Damien are friends of mine, and while I am insanely jealous of them having such a fantastic job, I am sure there aren't two finer players in london. (ps I dont live in London).


ron vint, 1 February 2012
Please log in below if you wish to add your comments on this item. If you are commenting for the first time, you will need to register for security reasons.