Interview with Rex Hardy Jr - Mary J. Blige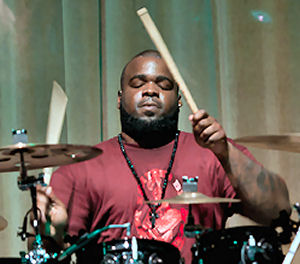 Rex Hardy Jr
Interview with Rex Hardy Jr
Rexsell Hardy Jr grew up in Chicagoís gospel scene and has gone on to play for Wyclef, Chaka Khan and Michelle Williams (Destinyís Child), amongst others, and all before the age of 30. He is currently musical director and drummer for Mary J Blige and has held the drum chair for American Idol for the last year, which had an estimated 20 million viewers for its finale in May.
Rex played an inspiring set for his Sunday appearance on the Live Stage of 2011ís London Drum Show. This showcased his playing on several Mary J Blige tracks while at the same time, stunned the audience with his gospel licks. He gave some wise words on being a successful musician during the Q & A part of the clinic, including, ĎNever look down on people; only look down on someone to help them upí.
Rex took time out of his weekend in London to speak to mikedolbear.com about his current duties as a drummer, MD and producer, his plans for the Sunday performance and who he likes to follow on Twitter.
---
Describe your background as a drummer and what you think was your big break.
I started off in church like most, but not all, musicians like myself. I was just playing around church and then eventually I met certain people and got the call to play with an artist called Avant, whoís an R&B artist. I toured with Avant for about a year and from there Mary J Bligeís management made a call to a few people and eventually lay it back to me. That was in 2004 so from there itís been a whirlwind. That was my big, big break which started to get my name out there, and people started to know who I was.

Tell me about your role as MD
Itís me and a keyboard player, Omar Edwards, who are Mary J Bligeís MDís, or music directors. You have to know the artist better than the artist knows themselves, musically speaking, as they may try to get some things across to you. You have to take that and explain to the other band members what it is they want. Itís a task, but I know her music so well - itís easy in that type of environment. Itís pretty easy, but I have to know all the parts; keyboard, bass, everything and then the drums fall in there somewhere.
Have you played those instruments yourself?
I used to take guitar lessons when I was little but Iím not good at it. I play keyboard a little bit because I produce too, but my main instrument is drums, of course. I know different keys and I know if somebodyís playing it wrongÖthatís what it boils down to for me!
How do you keep everyone happy in the band? Are there any methods that you use?
You lead by example, so if they see you slacking off you canít really get on them. Iíve always been a good follower to whoever was in control, even before I was MD. I always followed their lead and tried to help out where I could. Thatís karma; you put out respect, you get it back. Thatís basically the only method I have.
Letís talk about American Idol. How did that happen?
Well, the funny thing is that it sort of happened through Mary. She would do a lot of TV shows where she couldnít take her whole band but she would take me to play drums with whoever the house band was. Ray Chew, who is a keyboard player and MD, was on one of the shows that I sat in on for her. He eventually got the call to be MD for American Idol and he then called me.
I did some shows with him before that playing different kinds of music and I think it was a test to see if I could play other stuff outside of hip hop or R&B, gospel, that type of thing. Ray called me and I thought it was a joke at first. He was like, ĎIím going to need you for four or five monthsí but he didnít tell me what it was for, which was a good business move cos you donít want to get somebody excited. He finally told me it was American Idol and that was a big seat to fill cos thereís so many different types of music. There was stuff Iím used to listening to but not used to playing, so it was a whole different arena.

Whatís your typical working day on the show?
We had some long weeks but the typical week is four days. The band usually rehearses on Mondays, maybe for a couple of hours, just to get the music together cos thereís so much. On Tuesdays we rehearse with the singers for a couple of hours, then itís dress rehearsal with all the props. You really donít get a lot of time to sit with the music and you read everything, which helps so you donít have to remember it. Then Wednesdays and Thursdays weíre in there 7.30 or 8 am with a run through, then itís the live show. So itís really Monday through to Thursday, basically all day. Friday to Sunday youíre pretty open.
A lot of our UK TV shows are mimed by musicians and have a bad reputation in that respect; we have great musicians to play on TV but they donít get heard! What is your view on shows choosing to use playback?
I think thatís the easy way out for production, because itís easier for them. Even on Idol it would be easier for them to just play the tracks because then you donít have to mix anything; how you send it is how itís going to be and you donít have a lot of on-stage issues. From that aspect itís OK but from a musical aspect I donít think itís good. Whatever is on the tracks is what is on the track so if the singer starts feeling it a different way then the track is going to stay the same, but with live musicians they can follow how the singer is feeling. Itís a Catch 22 but Iíd rather play live. People used to ask on Twitter or Facebook, ĎAre yíall really playing?í and we were like, ĎYeah! Weíre not just sitting up there!í. Itís a great experience.
When did you start playing on the show?
This was my first year doing Idol, 2011. The first two shows we had were last December that were pre-taped and it was a Beatles segment at the Love Theatre in Vegas. They sent us the song list but when the rehearsal came they just gave us 45 charts and said ĎWeíre starting rehearsal in an hourí. Thatís never happened to me before, ever! Iím not a great reader but Iím good enough to take my notes and do whatever I have to do, but it was an experience, doing 45 songs in an hour.
How big is the band on Idol?
It was a six piece band with three backing singers so it was two keys, one guitar, bass, drums and percussion.
You have a very busy schedule and are flying about all over the place. How do you deal with jet lag and taking care of yourself?
I just try to rest whenever I can. I donít make up things to do. You get some people who make up things to do to act like theyíre busy, but if Iím not busy then I try to rest.
In a place as big as the USA how do you find the competition for work?
The funny thing is that a lot of guys that are at the top, and I donít mean at the top talent wise, I just mean the calibre of gigs theyíre doing or artists theyíre working with; weíre all friends so itís really not a competition. When it comes to us, itís just a thing of whoís going to get the job. To me competition is negative but itís a friendly going back and forth. A lot of the stuff Iíve done I havenít had to audition for, itís pretty much on the job training or something I did where they may have wanted to use me again. Iíve done maybe two auditions back in the day and I didnít even get those jobs. I donít like auditioning but if I had to I would. Some people look at it like it is a competition but I donít.
What do you do for nerves or confidence problems? Or if you donít suffer from them yourself, what would you suggest people do?
I think we all have nerves and if you donít get nervous then youíre not human. Michael Jackson said he got nervous and he was the best entertainer, period. For me, before I play I try to relax. With the band we crack jokes and donít even think about the show. Once we get out there you can be playing in front of five thousand people or fifty thousand people. I think the most Iíve played to at a venue was eighty thousand or maybe a little more. The funny thing is itís easier to play in front of eighty thousand than in front of eighty because when there are fewer people you can see every face. When itís eighty thousand you donít know whoís out there and it doesnít really matter. I just try my best not to think about what Iím about to do and I take it easy.
How have you approached preparing for the clinic youíre doing tomorrow at the London Drum Show?
Thatís a good question because itís a drum show and Iím not necessarily a show drummer. Iím an artistís drummer so I play really well with bands and people around me. When you do drum clinics theyíre just you and all the focus is on you. I have backing tracks, some open solos and basically just show the things I do to get ready, like different rudiments. On a drum show you need to try not to make any mistakes because everybody is a drummer and whoever isnít a drummer loves drumming; thatís why theyíre here! So Iíve been trying to relax and take it all in. Iím just excited about being here anyway. Itíll be fun!
Are there any drummers in particular that you are looking forward to seeing?
I have a friend here who is playing earlier tomorrow, Jonathan Hamilton. My boy Dave (Elitch) is playing today and I was talking to Kenny Aronoff but I didnít know he played earlier so I wish I could have got to see him. Everybody though! A lot of these guys I havenít seen in person, just videos or heard records. So everybody, honestly.
My last question is about TwitterÖyouíre on there a lot and you seem to enjoy the site. Who are your favourite people to follow?
On Twitter? I donít know! Everybody on Twitter is funny because a lot of people say things that they wouldnít normally say in person. I follow my big brothers Teddy Campbell and Nisan Stewart and they talk in person like they talk on Twitter. I follow a lot of different artists like Kevin HartÖheís hilarious! Marlon Wayans, Mary my boss; sheís on there but she talks the same way in person. I just like seeing what everybody tweets! Are you on there? Why arenít I following you?
Iíll tweet you later! Is there anything else youíd like to add?
I just appreciate London and the UK; to be known over here is a whole different ball game. You can be known in your city and the USA but for people to know who you are overseas is a blessing, itís a whole different group of people. To be respected over hereÖI appreciate it and Iím so happy to be here.
Interview by Gemma Hill
Photos by Dave ''The Drummer'' Hughes
Please log in below if you wish to add your comments on this item. If you are commenting for the first time, you will need to register for security reasons.