Interview with Daniel Glass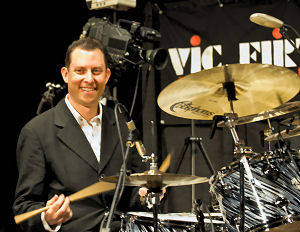 Daniel Glass. Photo Marco Soccoli
Interview with Daniel Glass
Daniel Glass' website describes him as 'An award-winning drummer, author, historian and educator'. He has published three books, including 'The Commandments of Early Rhythm and Blues Drumming', which won 'Book of the Year' in both Modern Drummer and DRUM magazine readers poll. Daniel has been a professional musician for more than 20 years, 17 of which have been with LA retro-swing creators, Royal Crown Revue.
He writes a history column for DRUM Magazine, and last year he was a clinician at the Modern Drummer Festival. I was fortunate enough to interview him during his day of guest teaching at Mike Dolbear's studio in December.
Describe your drumming style and background
I've been in a band called Royal Crown Revue for the last 17 years and what we do is very unique and unusual musically, which is great. It's one of the reasons I've stuck with it and had a ball for so many years; I get to do so many things as a drummer. We're all guys that grew up in the ''70's and ''80's but we're very attracted to classic American music, by which I mean styles like swing music from the ''30's, be bop and rhythm and blues from the ''40's and ''50's, pre-rock styles like Rockabilly. We grew up listening to punk, ska, metal and all these different styles so when we created the band the idea was to take some of the older music but to play it in a way that brought it in to the modern era and infuse our own influences in to the presentation of that music.
Because there was no scene or place for our band – really there never has been - we got to perform in a lot of different musical environments. We were put on to rock festivals, jazz and blues festivals, and we've played with a lot of different artists over the years; Bette Midler, Gene Simmons from Kiss. Everything we do is related to classic American sound and style, but we try to put the rock''n''roll into those things because we want people to understand that in their day, these classics styles were what the kids listened to piss off their parents, these styles made mum and dad nervous.
My drumming style is a reflection of that and it's neat because in one gig I get to play a wide variety of stuff. We'll do a straight up bebop thing like 'Salt Peanuts', then a Dizzy Gillespie song, or a lot of shuffles and rhythm and blues type of things, then a Frank Sinatra/Bobby Darren big band chart with a lot of hits. Then we'll turn around and I'll put in a 1920's press roll type of thing and all of it is done really high energy. So my style is whatever I want it to be in the context of Royal Crown Revue. Out of working with the band I got interested in learning how to play these classic American styles of music and I realised there were no instructional books out there and most drummers today don't know that much about it. I set out to learn and teach others about what was really going on in music prior to rock''n''roll, and how to approach something like that so I can help people with their vocabulary. It doesn't matter if you're an electro pop drummer, say… you might be able to add a press roll in at a certain point. It might be the right thing to do in a song and give you an edge in coming up with something creative that another drummer might not know.
You studied with renowned teacher, Freddie Gruber for a long time. How was that?
Freddie is one of a kind. I went to music school in 1991 in Los Angeles and when I was done I wanted to continue and study privately, as I had done off and on since I was 8 years old. Many people in LA recommended Freddie. I called him up about 11 o'clock in the morning, thinking that would be safe and I woke him up! He groused at me, 'What are you doing? Who is this? What do you want?'. He consented to teach me and I started going out to his house and it wasn't even like taking a lesson. It was a hang and it was the hang of all hangs.
Freddie was best friends with Buddy Rich, he was very tight with classic jazz drummers like Philly Jo Jones. It couldn't have been more perfect that about a year later I got involved in Royal Crown Revue. So as I'm playing all this music I'm studying with Freddie and asking him questions about it.
I like to say Freddie is tied in to what I call the dark arts, which is like how in 'Star Wars' Luke Skywalker goes to Yoda and he learns all these ancient secrets about The Force. It's very similar studying with Freddie! He's this course, kind of grumpy, grouchy, curmudgeon but at the same time he's one of the sweetest, most beautiful people I've known in my whole life. I had been playing since I was 8 years old and I got my first drum set when I was 13. I played in bands my whole life, I went to music school. But I felt that when I started with Freddie in 1992 I learned what the drum set was for the first time and what I should be doing behind it.
It all fit perfectly because with Freddie I had a link back to the early years of the drum set and got into all of this understanding of really what this instrument is all about. Freddie taught me that to play the drums you have to dance with your whole body. In order to dance you gotta learn about what it is to be a dancer, meaning all four of your limbs have to work in a way that just flows naturally and they all work together in some co-ordinated way. It's hard to explain what Freddie teaches in a short interview.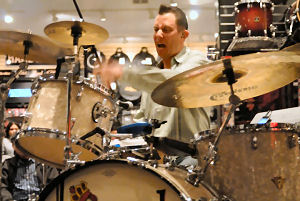 Photo Nick LaBran
At the time that I started studying with him he was a best kept secret. Steve Smith was his student and Anton Fig; a lot of tremendous drummers. Joey Waronker used to come by, who's in REM. All these different guys from different discipline like Ian Wallis, a British guy who played for King Crimson for many years. After I'd moved on and was on the road with Royal Crown Revue I heard Dave Weckl was showing up, then a couple of years after that, Neil Peart. I've been so blessed to have spent those 5 or 6 years studying with him and he really just opened my eyes in a whole new way to what this instrument is all about.
There are pictures of him with Mitch Mitchell in the house and (Jim) Keltner and (Peter) Erskine. Everybody that's crossed through his world, if you spent any time with him, at first you're highly confused and then things start to make sense in a whole new way. But you have to work your way through that cos he's not gonna just hand it to you.
I read that he was roommates with Buddy Rich?
There are some picture in his house of him and Buddy, probably from the 1940's when they were both really young men and they're both sitting there with practice pads. He was very close with Buddy and I think they had a parting of the ways for a number of years but at the end of Buddy's life, the last few years in the ''80's, they became very tight again. Buddy was known as a grumpy type of guy as well. I think he and Freddie come from that tough New York old school way of thinking about things so they were well suited to each other.
I remember some of Freddie's longterm students used to tell stories about going over to the house in the 80's. There'd just be some guy in a bathrobe sitting on the couch with a newspaper and suddenly he'd make some crack and they'd realise, 'Oh my God, it's Buddy!', just hanging out at Freddie's. I know when Buddy was in his final days Freddie was there at the hospital with him.
Tell us about the books that you've written, the history side and how you got into that.
In the late ''90's, the retro swing that we had invented blew up and became a big phenomenon all over the world. Today, we'll go to Russia and there are fans there. We went to Athens for the first time ever and there were 500 people at our show and they were all dressed up and had been waiting for years for us to come. South America… Australia we've been to 10 times. There's a big scene in Japan. I mean, it's really cool.
People would come up to me and say, 'Who are these artists that you're influenced by? Who are the drummers that played this stuff and how do I get my kit to sound that way?'. I realised I didn't have very good answers so I started researching and looking into the origins. I started calling up guys who had actually played on these records. Guys who played with Louis Prima, Louis Jordan, Duke Ellington, Benny Goodman, a lot of the rhythm and blues drummers like Earl Palmer who had played with Fats Domino and Little Richard. Guys who played with Chuck Berry, played on Chess Records, on all the early rock''n''roll things. The rockabilly stuff, guys who'd played with Carl Perkins and Elvis. Everywhere I went I would try to track these guys down.
I found that a lot of them were still alive and no one had ever told their story before. No one had ever expressed any interest in them and yet in my opinion these guys were responsible for the origins of rock''n''roll. When we sit down and just play 'boom, bap, boom boom, bap', someone had done that for the first time ever. Somebody had decided that rather than playing a shuffle they were going to straighten it out. I wanted to find the guys that did that for the first time; these things that we just take for granted when we sit down to play a basic thing.
I've now interviewed about 60 drummers. I did so many interviews then wrote the books and I have stopped a little bit because I got to take a breath. But the more I did that I became very good friends with a lot of them and that was what was so exciting to me, not only the opportunity to learn about this stuff but to understand the world that these guys lived in and what they had been through in their lifetime.
Buddy Harman, who in my opinion was the man who invented country playing… he was the first drummer in Nashville to be allowed to play a drum set on country records. He's the guy who invented the Country Shuffle, which is one brush and one stick cos he wasn't allowed to play with two sticks on full kit. Everybody that plays in the country world now has this guy to thank for breaking down those barriers. You know the song 'Pretty Woman' by Roy Orbison? The Everly Brothers' 'Wake up little Susie', Patsy Cline's 'Walkin' after midnight', that's Buddy Harman. I became really close with Buddy; I stayed at his house, I videotaped a two hour video of his whole life story that I made into a DVD for his family when he was getting older and he was ill.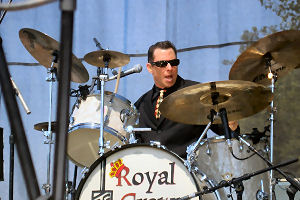 Photo Gina Granados
Earl Palmer, who played on all the Little Richard records and for Fats Domino in New Orleans, moves to LA and he's the drummer on ''La Bamba,'' he's the drummer on the Eddie Cochran records. There are so many hits that he played on. He played with Sinatra and Count Basie, it's just mind blowing. Earl and I became really tight and he gave me really fantastic photos that he let me take and use in the books. These guys' stories have to be told - we have to say their names and put them down in a book because otherwise the amazing stuff that they've done will be lost. At least a third of the guys I've interviewed have passed away already and the rest will be gone probably in another ten years so I need to get back to doing the interviewing again and gathering that knowledge. I've tried to distill it down and put it into book form and I'm going to be working on a DVD project, hopefully in 2011 that will present 100 years of drumming.
Everything that I do I try to present in a way that says to the modern drummer, 'You are not so removed from all this stuff that I'm talking about. You have a lot in common with this and there's a lot that you can learn from it'. Come and check out my world and you'll realise that it's just a short jump to get to where these guys are at and that it has a bearing for anybody, any drummer out there.
Tell us about Gene Simmons and Bette Midler and your experiences working with them
Well it was great. We've been really fortunate to have interacted with a lot of amazing musicians over the years. The Derby, which was our house gig in Los Angeles when we were first coming up, is a very cool club and it became the place to be in LA. Springsteen, Quincy Jones and all these really heavyweight people would show up: tonnes of Hollywood actors and some celebrity types would sit in with us. Brian Setzer used to sit in with us all the time; he's a good friend of our band, we run in the same circles and we used to do stuff with him. James Brown used to come see us as well. We did several shows with him, he used to come see us in Las Vegas and he would dance and do his thing, so we got to hang with him.
We first met Gene Simmons in 1996 when Kiss reunited and put their make up back on, all the original members. Through a series of bizarre circumstances their management came and saw us perform and we happened to be on the road at the same time, the 2 bands, them and 14 tour buses and us in an RV! We were on the same routing so their management saw us, loved us and invited us to the Kiss show. We got front row tickets to see Kiss in Denver, then we saw them again in Atlanta and they were using all kinds of different bands to open for them so they invited us to open for them in Omaha, Nebraska, for 2 nights in 1996.
Then they happened to be throwing a party cos the tour was really grinding the crew down and they wanted to do something nice for them. They were all there and we got to hang with them a little bit, and Gene had seen us at The Derby as well. So fast forward, he has a very successful reality show called 'Gene Simmons' Family Jewels'. He called us and we recorded four songs with him at the A&M studios in LA, which is where they did 'We Are The World' and all these huge mega productions. We recorded some rhythm and blues, early rock n roll and soul things, cos Gene's influenced by that music himself. Then we went to Vegas with him, put on a concert of that music and all of it was filmed as part of the storyline in the reality show. It was a cool experience.
Bette Midler, also throughout her whole career she's done swing, big band and rhythm''n''blues. She's a huge fan of that music, so we recorded four songs with her, several of which were on her album 'Bath House Betty', which was around 1999 or 2000. Then we performed on the Billboard Music Awards with her. We actually got to perform live on a major national award show, which was great. Then our horn section went on tour with her for about a year and a half. It was her very first tour ever with a horn section, and she called the tour 'Kiss My Brass' cos she's crazy like that, so that was really fun.
Are you up to much with your own group at the moment?
I have a group called the Rhythm Club All Stars, which is in LA where I do a lot of ''20's and ''30's stuff. There's a pretty big scene for that out there, more on the authentic tip than what Royal Crown Revue does. The Rhythm Club All Stars is in your face 1930's swing; it's really cool fun, danceable music. I work a lot with all those musicians and I decided I wanted to put together a small group that I could be a leader of so I could decide what tunes we do and how we do them. In addition to the books, I sell three different CD's and an instructional DVD on my website. People can listen to tracks and check out what I do.
You write a column for DRUM, 'A Moment in History'. How do you pace yourself on the content of that?
That again is an attempt to introduce people to little tidbits about drumming history in a short period of time. I try to pinpoint examples of something that might help them to understand a little bit more about classic eras. It's a three hundred word column, which is really three short paragraphs and I've had all kinds of different things in there. Maybe I'll choose an album, song or one drummer to focus on or one particular thing to do with the gear.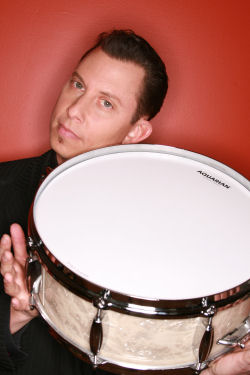 Photo Daniel Glass
The most recent article I wrote was all about the creation of the cymbal tilter - that thing at the top of the cymbal stand that allows you to tilt the cymbal - and how important that was to bebop. Prior to the bebop era of the 1940s, drummers didn''t use big ride cymbals. There were sound issues around recording, and a big cymbal would drown out other instruments cos they only had one microphone. Instead, drummers use smaller cymbals that were mounted on these straight rods. In order for the bebop style to exist, which is predicated on the ride cymbal being the main timekeeper, they had to find some way to tilt the cymbal, otherwise you couldn't ride on it. That little invention helped to change music and allowed the drummer to play in a completely different way.
I wrote another article about Ringo Starr and how most drummers today play matched grip. Before Ringo Starr about 95% of drummers played traditional grip. When The Beatles played on the Ed Sullivan show an entire new generation of kids - the baby boom generation - all saw Ringo playing matched grip and overnight they all just said, 'I want to play matched grip'. So little moments like that that are game changers.
You've just done some dates in London, including the 100 Club. How did you find that?
I didn't know that much about the 100 Club to be honest, but I went and read the history on it. It's an amazing place; since the late ''50's everyone has played there. To all the mikedolbear.com readers, if you haven't been to the 100 Club you need to get down there asap because it is super cool and they may be closing it soon! They have pictures of everybody on the wall from cool old blues players from America and the early ''60's and late ''50's to the Rolling Stones. There are pictures of the Sex Pistols and Metallica when they were first starting out. All of these different bands played at the 100 Club from every decade. We loved playing there.
Our promoter chose some really nice venues for us here in the UK. We played at The Hammersmith Club, which is an old dance hall with a beautiful old dance floor. We played in a place in Brighton called the Brighton Ballroom, which is an old mausoleum. It had this incredible old domed ceiling that's beautiful and the sonic qualities of the room are absolutely incredible. Unfortunately we've had the worst weather in the last hundred years to go with it! That was tough but this is England, you've got to deal with it!
What have you got planned for 2011?
We're going to Australia in January. We have a really nice following down there and this will be our 11th trip in the last 10 years. We've just put out a new record, which is a holiday CD but there's a lot of original material on there and it's not your typical cheesy Christmas carol rendering that so many holiday albums are. It's a Royal Crown Revue CD - in other words we've put our own spin on everything and so it's not just for the holidays any more! It's a really cool, fun record that you could play at any time of the year.
Last year we did a tour of Egypt and the US State Department took us over there because of the music that we do. It's a very terrific way to express something about America to the Arab world that's fun and is not just, 'We want your oil! Bomb, bomb, bomb!'. It's a good way to show a friendly side of America and we had a really great tour. We played the Cairo jazz festival and the US State Department took great care of us. We did workshops for kids and interacted with the Egyptian people in a beautiful way so now they want to send us to a lot of other places. We have offers for Kuwait, Kazakhstan, and Iraq (in the Green Zone, the American area). We'll see, I don't know if those are going to happen for sure yet but I would love to go to some of those places.
You get treated really well on these things because you're guests of the government and they want to make sure that you're well taken care of. I'm sure we'll do some more touring in the States next year. We're going to work on a new record, a studio album, because we had a great experience with the Christmas record.
Anything else you'd like to tell us about?
Yeah, I would say there's a drum history section of my website that people might want to check out. When I pitched my 'Moment in History' column to Drum! It was based on these little audio segments that I put together and those are called 'The Drum History Minute'. They're fun little things. One takes the intro to Led Zeppelin's 'Rock and Roll', the famous John Bonham intro, and I show how he actually borrowed that intro pretty much note for note from a 1955 Little Richard song called 'Keep a'' Knockin' (But You Can't Come In)'. If you listen to the drum intro it's exactly the same as 'Rock and Roll' and Bonham totally copied that. But the song 'Keep a'' Knockin'' was actually written in 1937 by Louis Jordan, and I play the original version of that song too. So I try to take people from 1937 to 1972 and back to 1937 in a minute or two so they can understand that what they like today has origins from beforehand that they should know. If you like Bonham then you should check out what Bonham liked. If you like Little Richard then check out what influenced him because there's value in that as well.
www.danielglass.com
www.rcr.com
Interview by Gemma Hill
Please log in below if you wish to add your comments on this item. If you are commenting for the first time, you will need to register for security reasons.