MikeDolbear.com was set up in November 2000 with the philosophy to use the power of the internet to bring the drumming community together, to share knowledge and experience for the mutual benefit of all.
We offer the opportunity for industry manufacturers and distributors to update the drumming community on their latest products and developments, while also giving our visitors the opportunity to objectively review these products. Our overriding philosophy is the promotion of the UK drum industry from grass root to professional and retailer to manufacturer.
We aim to continually promote our instrument, and to positively encourage all players, irrespective of age, ethnicity, religion gender or ability, to value their unique contribution to the drumming community. Our commercial aims are to meet the costs of maintaining and running the site. To this end we offer advertisement space to companies. We run the now very popular UK Young Drummer of the Year competition, clinic tours, The Ultimate Drum Experience and the masterclass suite at The London Drum Show.
Mikedolbear.com is now read in over 100 countries around the world and is translated into eight languages all by the push of a button!
Mikedolbear.com is run by a core team including...........

Mike Dolbear
Mike has been a professional drummer for over 30 years having studied with some of the greatest teachers including Kenny Clare, Max Abrams and Bob Armstrong. He has worked in a variety of musical situations, including studio, TV, musical theatre, backing cabaret covers bands.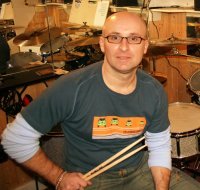 After ending a 10 year residence at The Talk Of London Mike set up his teaching studio in North London teaching and helping many professional students and teachers including Brian Bennett (The Shadows) Cherisse Osei (Mika), Kapil Trivedi (Mystery Jets), Steve Forrest (Placebo), Mark Richardson (Skunk), Emily Dolan Davies (Bryan Ferry/ Tricky) just to name but a few.
Mike consults for a couple of major record labels and management companies, various TV station coordinating drum feature for the BBC, CBBC and ITV
In 2000 Mike wrote the tutor book "Rhythm and Fills" which is now one of the biggest selling drum tutor books in Europe. But he has yet found the time to write book 2 which is still in manuscript.

In October 2011 Mike was asked to coordinate, audition and teach the 1000 drummers for the London Olympics 2012 opening ceremony, an experience that he says was one of the highlights of his career. " To coordinate that number of drummers and then play on what is reported to be the biggest TV audience of all time was a true honour and one that I will never forget".
After the olympics Mike started getting known as the guy to do "big mass drumming features" and worked for UEFA to co-ordinate the 500 drummers for the UEFA London champions final at Wembley in 2013. 2014 Mike then had a call from Hans Zimmer to co-ordinate the drum features in Hans first ever solo concerts in London featuring Johnny Marr, Lebo M and Pheriel Williams.
Watch a show reel featuring Mike's work with mass drumming features:
Mike tries to balance his time between running his busy teaching practice, mass events, looking after the new "Mike Dolbear affliatead drum schools" around the UK and is soon to open some in the US and Europe, run the mikedolbear.com events including the "Young drummer of the year", "London drum show room", clinic tours and now the NEW Mike Dolbear web show, a chat show about drums and drummers hosted on the Mikedolbear.com YouTube page "Drumclips"
---
Simon Edgoose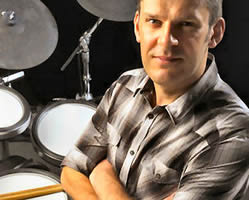 After originally moving down to London to study music, Simon Edgoose has found himself working in many different areas of the music industry from being a member of various signed bands to occasionally teching for some of the biggest drummers around.
A self confessed geek, he has used electronics since he was young and he now finds his more visible work to be in this field. Whether it's recording, programming for major artists, demonstrating all over Europe for the biggest names in the business, or advising companies both large and small, Simon does it and also finds time to play gigs around London, dep on shows and answer emergency calls from artists in electronic hell.
He can often be found at the airport, laptop under arm and is proud of the fact that a few of his ideas are being used by drummers all over the world.
Simon was one of the earliest contributors to mikedolbear.com and has been editor of the site since 2007.
He lives in Essex with his wife and family.
---
Bob Henrit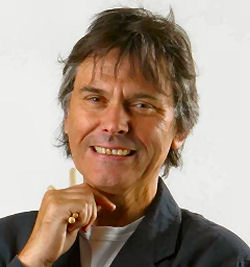 Bob Henrit, like many others of his generation, began musical life in a skiffle group. His ex-next door neighbour, Cliff Richard, helped get him a gig with Adam Faith's Roulettes. Five years later he played on 'Concrete and Clay'.
Henrit recorded with punk bands as well as Leo Sayer, Russ Ballard, Ringo Starr and Roger Daltrey. While touring and recording with Ian Mathews, Mike Rutherford, Richie Havens and Don McLean he opened Drumstore in London.
Having played on albums for Dave Davies he came to Ray Davies' notice who invited him into the Kinks. Later they entered the Rock 'n' Roll Hall of Fame and he received an 'Ivor Novello Award'.
While writing Ivor Arbiter's biography he was coerced into his 'Advanced Tuning' project which gave rise to 'Flats'. Traps arrived later.
Henrit's writing career began with Beat Instrumental, Melody Maker and International Musician then Rhythm, Modern Drummer, Rimshot and Drum!
Having written two electronic drum books he's just finished 'Banging On' his autobiography and working on the Arbiter drumbook.
These days he responds to the telephone for gigs with various pals from Argent and the Kinks.
---
Vicky O'Neon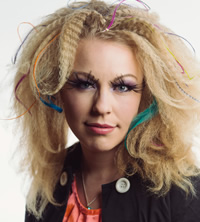 Originally from Finland, Vicky arrived in London 2010 to study drums and has received a BMus (Hons) in Popular Music Performance from Tech Music School. She is working as a freelance drummer and percussionist and has played many of the major stages in the UK. She is also involved with a few originals projects like The Mostar Diving Club (Chrysalis).
Vicky teaches drums on a regular basis and she has started up many projects in Finland and UK where she encourages the participants to gain confidence through exploring different ways to create music (Rock Donna, RACUMA, Girls With Groove).
There is a documentary made about Vicky called "Girlpower @V_FemaleDrummer" that will be broadcasted in November 2014.
Vicky is a Premier Endorsee and has a funky custom made kit on the way from the factory that reflects her personality perfectly. She is honored to be a part of the mikedolbear team and enjoys her role as a journalist.
For more information about Vicky go to www.vickyoneon.com
---
Rob Crisp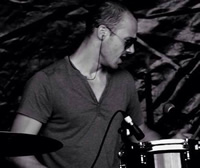 Rob didn't start playing until he was 13 years old, but regardless of this he knew at immediately it was something he wanted to do for a career.
He escaped his home town on the Isle of Wight at 19 and worked as a radio presenter for the best part of ten years; all while working on his playing, taking his grades and attending DrumTech for private tuition. Around 2008 he went to New York to study technique with Dom Famularo and a couple of years later he started studying with Mike Dolbear.
As well as playing in original and function bands Rob is a busy teacher, maintaining a full schedule based out of Guildford. He also does reviews, the occasional interview and a few other things behind the scenes at MikeDolbear.com
For more information see www.robcrisp.co.uk
---
Tobias Miorin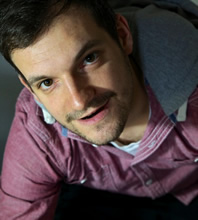 Born and brought up in southern Germany, Tobias got hold of his first pair of drumsticks at the age of 3. Thanks to the influence of one of his first drum teachers, Michael Porter, it soon became clear that drumming should be it.
In 2009 then Tobias packed his suitcase and swapped the Swabian countryside for London, starting a BMus in popular music performance.
During his time at uni he was lucky enough to meet some amazing musicians and slipped into the session side of the business. Since then Tobias works as a drummer for various projects in pop as well as in musical theatre, live and in the studio.
Always keen to share experiences and sponging up stories from the greats he took a step into journalism. That's where he met Mike Dolbear who invited him to join the team. Besides all that Tobias also works as a drum tutor and programmer.
For more information visit: www.TobiasMiorin.com
---
Dave Bateman
Dave has had a life long fascination with the drums which has exploded over the years to where it is now. He's an active player with nearly twenty years gigging experience and a self confessed gear head. The first thing that people find out about him is that he's a drummer before anything else and few conversations go by without mentioning drums.
He has been a rather obsessive collector of snare drums and cymbals for the last twelve years with 'the collection' extending to nearly a hundred high end snares, including nearly two dozen Craviottos, vintage and other popular boutique models and over a hundred and fifteen cymbals. And then theres all the kits and electronics... acoustic kits galore and one somewhat extended electronic setup that lives in the drum room at the end of his garden.
There is indeed enough for a small shop.
He's currently playing in a number of cover bands around London and the Home Counties as his delusions of fame, money and grandieur are long gone.
---
Ashley Hallinan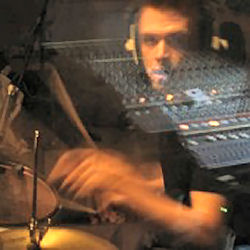 Ash is 25, based in North West London and has been playing drums since he was thirteen.
He plays a variety of styles in various environments, ranging from punk and metal bands in sweaty Camden hell holes, to session work for solo artists and rock/pop bands. He also finds himself doing residencies at Holiday Camps and The Three Monkeys Club in Israel, and has done so many weddings and parties over the years with various function bands that his head hurts just trying to count them.
Since 2008 he has been having lessons with Mike Dolbear, through which he's had the opportunity to tour with Benny Greb and Gavin Harrison selling merchandise and learning a lot along the way. He writes reviews for the website and help out at events (Young Drummer of the Year, London Drum Show, etc.) so he's usually around if you want to say 'Hi!'
---
Gemma Hill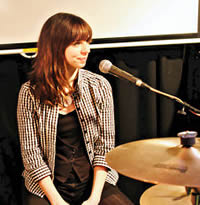 Gemma has enjoyed making a living out of drums and percussion as a teacher and player since graduating from the ACM's degree course in 2005. She's been fortunate enough to play in Europe, Japan and the UK with a wide range of musicians and artists, including Cee Lo Green, Cyndi Lauper and indie electro duo, Robots In Disguise.
Gemma began regularly contributing to mikedolbear.com in 2009 with a series of interviews on female drummers from both sides of the Atlantic, which included Samantha Maloney, Crissy Lee and Emmanuelle Caplette. Non-feature interviews followed with the likes of Steve Forrest, Mark Richardson, Ash Soan and Craig Blundell, as well as a new feature on West End Drummers in 2011.
In her spare time Gemma is most likely to be found stroking cats, reading books, working on 'The New Breed' or tweeting.
For more information see www.gemmadrums.com
---
Jeremy Peake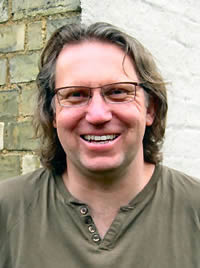 Jeremy Peake, a.k.a. "FenTiger" on the Mikedolbear.com forum, started playing the drums when in his early teens. His gigging career developed whilst playing psychedelic rock music in questionable establishments in and around Northampton, before leaving for Manchester to study design.
After a drumming lull of about 15 years he decided it was time to retrieve his faithful, but battered, old Pearl kit from a friend's attic and dust it down. He joined a blues and rockabilly band, started gigging pubs and small festivals and he's never looked back. Currently he drums an originals band that performs around Cambridgeshire.
Jeremy lives with his wife and family in deepest Cambridgeshire and works in art and education. He spends much of his free time restoring neglected vintage kits to their former glory and he takes a keen interest in contemporary UK drum makers.
---
Chris Dennis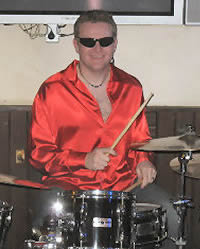 Chris has been a drummer over 20 years but started out as a piano and voila player. His classical musical background finds him playing many big band, jazz and theatre shows, although tribute bands, pop, rock and disco and various dep jobs are also a big feature of his calendar commitments.
Having working in musical instrument and PA system sales for many years Chris is a stickler for detail with all things drums and percussion, especially regarding cymbals and drum/hardware design and build quality.
By day he provides sales and tech support for PA installation and can sometimes be found behind the mixer when not on stage. He also teaches drums and music theory, performs stage manager and tech duties for various outfits and squeezes in drum repairs, hiking, a young family and, of course, reviewing for MikeDolbear.com.


---
Dave Hughes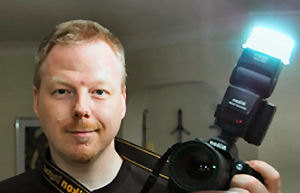 Dave has been playing for 20 odd years and has worked with many bands over that time. He has a massive and unique Starclassic Maple kit with a Bell Brass snare which he is particularly proud of, which he plays when he can fit it in around the rest of his life.
By day he's a programme manager for night vision and radar with a defence company - his background is in electronics and physics - and by night he's asleep like everyone else.
Dave is the president of the Hampshire Skeptics Society. Physics is a big passion and he's got a wide interest in anything science-y. In fact he's a general all 'round Übergeek.
Dave does lots of stills photography for mags and websites and is responsible for filming, editing and uploading all the NAMM footage for mikedolbear.com.